A compilation of Nazi crimes by witnesses, victims, historians and perpetrators taken from hundreds of sources.
(Scroll down to begin.)
​​​​​​​​​​​​​​​​​​​
​"The ghettos were dissolved in 1943 at the latest.  Of course, many died before it came to that, including my grandparents who were both 80 years old.  After being unloaded in Lublin, all of them were forced to run.  Naturally there was no way my 80-year-old grandmother could keep up and they beat her until she couldn't get up anymore.  She was the first to die.  My grandfather died of natural causes the very next night."
VOICES FROM THE THIRD REICH
Steinhoff, Pechel and Showalter
Has anyone ever confessed to you or to one of your fellow priests any atrocities they took part in during the extermination process?
"No, I can't think of anyone…though yes, there was one situation, though I'm not sure it's exactly what you're looking for. A man came to me shortly before he died. In his confession he told me that in all the years since it had happened, the brown eyes of a six-year-old girl had given him no peace. He had been in the Wehrmacht, he was serving in Warsaw at the time of the uprising in the ghetto. They had been ordered to clear out the bunkers, and one morning a six-year-old girl came running towards him out of one of these bunkers, her arms outstretched. He still remembered the look in her eyes, terrified and full of trust at the same time. Then his NCO ordered him to bayonet her, which he did. He killed her. But the look in her eyes haunted him for the rest of his life."
MY FATHER'S KEEPER
Stephan and Norbert Lebert
"When on the way we stayed in a barn for the night, a large number of dead women lay in the barn. One woman screamed that she was freezing. This SS man ordered the woman to lie down on the corpses, saying, "Now you will be warm." He beat the victim so long until she expired."
HITLER'S WILLING EXECUTIONERS
Daniel Jonah Goldhagen
In Daugavpils, the second-largest city in Latvia, southeast of Riga and approximately equidistant from Riga, Kaunas and Minsk, Obersturmführer Joachim Hamann of Einsatzkommando 3 directed massacres during August 1941that ended more than nine thousand lives…Among the murdered were four hundred children from a Daugavpils orphanage trucked to a military training ground and shot. At a dinner party later in the war, Viktors Arajs would explain why his experienced killers often threw children up into the air to shoot them: not because of a boyish exuberance, he said, but because the bullets often passed completely through the children's bodies, so that shooting children on the floor or the street risked dangerous ricochets.
MASTERS OF DEATH
Richard Rhodes
"Do you know what it means – to kill Jews, men, women, and children as they stand in a semicircle around the machine guns? I belonged to what is called an Einsatzkommando, an extermination squad – so I know. What do you say when I tell that a little boy, no older than my youngest brother, before such a killing, stood there to attention and asked me 'Do I stand straight enough, Uncle?' Yes, he asked that of me; and once, when the circle stood round us, an old man stepped out of the ranks, he had long hair and a beard, a priest of some sort I suppose. Anyway, he came towards us slowly across the grass, slowly step by step, and within a few feet of the guns he stopped and looked at us one after another, a straight, deep, dark and terrible look. 'My children,' he said, 'God is watching what you do.' He turned from us then, and someone shot him in the back before he had gone more than a few steps."
WHEN I WAS A GERMAN
Christabel Bielenberg
"I went out to the woods alone. The Wehrmacht had already dug a grave. The children were brought along in a tractor [-drawn wagon]. I had nothing to do with this technical procedure. The Ukrainians were standing round trembling. The children were taken down from the tractor. They were lined up along the top of the grave and shot so that they fell into it. The Ukrainians did not aim at any particular part of the body. They fell into the grave. The wailing was indescribable. I shall never forget the scene throughout my life. I find it very hard to bear. I particularly remember a small fair-haired girl who took me by the hand. She too was shot later…The grave was near some woods. It was not near the firing range. The execution must have taken place in the afternoon at about three-thirty or four… many children were hit four or five times before they died."
MASTERS OF DEATH
By Richard Rhodes
On a spur off the main rail line to Munich they stumbled on thirty-nine stationary boxcars. Usually they were used for transporting coal. As they neared, they were overwhelmed by the stench of death. All the cars were piled high with rotting human corpses. In total, they contained the bodies of some 2,300 men, women and children. All were either totally naked or clad in their striped blue-and-white concentration camp clothes smeared with blood and excrement. Most had starved to death while being transported from Buchenwald nearly three weeks before. The train had reached the siding only two days prior to the arrival of the Americans, and the few prisoners who had survived the journey had been shot or clubbed to death by the SS.
ENDGAME, 1945
By David Stafford
After entering Bialystock on the twenty-seventh of June, a city which the Germans had captured, like many others, without a fight, the battalion commander, Major Ernst Weis, ordered his men to round up male Jews by combing through Jewish residential areas. Although the purpose of congregating the Jews was to kill them, instructions about the manner in which the Germans would extinguish their lives were not given at that time. The entire battalion participated in the ensuing roundup, which itself proceeded with great brutality and wanton murderousness. These Germans could finally unleash themselves without restraint upon the Jews. One Jew recalls that "the unit had barely driven into the city when the soldiers swarmed out and, without any sensible cause, shot up the entire city, apparently also in order to frighten the people. The incessant shooting was utterly horrible. They shot blindly, in fact, into houses and windows, without regard for whether they hit anyone. The shooting lasted the entire day." The Germans of this battalion broke into people's homes who had not lifted a finger in hostility, dragged them out, kicked them, beat them with their rifle butts, and shot them. The streets were strewn with corpses.
HITLER'S WILLING EXECUTIONERS
By Daniel Jonah Goldhagen
One witness claimed she had heard prisoners screaming in the punishment cells [at Auschwitz]. These 'standing cells' (height: 2 meters; Size: 50 by cm; air vent: 5 by 8 cm) guaranteed a slow death through starvation and lack of air. The bodies of the dead had to be scraped out of the cells with iron pitchforks. Some of the victims had eaten their own fingers.
THE WAGES OF GUILT
By Ian Buruma
In 1940, a visitor to the Warsaw ghetto offered the following description of living conditions there: "On the streets children are crying in vain, children who are dying of hunger. They howl, beg, sing, moan, shiver with cold, without underwear, without clothing, without shoes, in rags, sacks, flannel which are bound in strips round the emaciated skeletons, children swollen with hunger, disfigured, half conscious, already completely grown up at the age of five, gloomy and weary of life. They are like old people and are only conscious of one thing: 'I'm cold.' 'I'm hungry.'"
THE HOLOCAUST: A CONCISE HISTORY
By Doris L. Bergen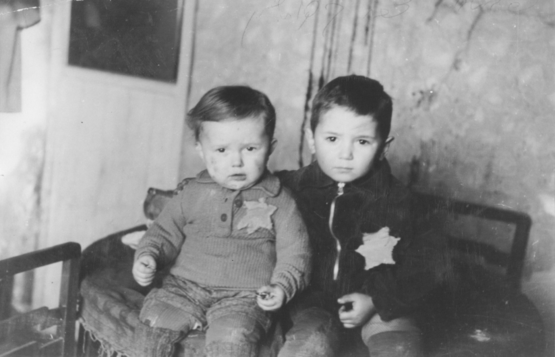 Five-year-old Avram Rosenthal and two-year-old Emanuel Rosenthal in the Kovno ghetto in Lithuania, before their deportation and murder.
"The stunning thing about the Bucharest bloodbath," Sebastian recorded a few days after the events, "is the quite bestial ferocity of it…It is now considered absolutely certain that the Jews butchered at Straulesti abbatoir were hanged by the neck on hooks normally used for beef carcasses. A sheet of paper was stuck to each corpse: 'Kosher Meat.' As for those killed in Jilava forest, they were first undressed (it would have been a pity for clothes to remain there), then shot and thrown on top of one another."
NAZI GERMANY AND THE JEWS 1933-1945
By Saul Friedlander
One morning, the guards asked all educated Jews [at the Minsk ghetto] – engineers, doctors, accountants – to register for work. Two days later, they were pulled out of the camp and shot. The Jews starved on nettles and potato peels, and lived in terror. "Suddenly, the Gestapo swoop down on the ghetto in trucks and began seizing men," wrote Mikhail Grichanik, a tailor who worked at a garment factory in Minsk and spent several months in the ghetto before escaping; the Nazis executed his mother, his wife, his three children, and three other relatives. "They go into apartments, beat people with rubber truncheons and lead them out under the guise of sending them off to work: to the peat bogs and such places. No one ever saw any of those taken away alive again." In September, the patriarch of the Kovarsky family reportedly watched, hidden with one of his sons, while the police stormed into his home and murdered his other two boys, both of his daughters, and their grandmother. The oldest girl was first ordered to take off her clothes and dance for them on the table.
THE DEVIL'S DIARY
By Robert K. Wittman & David Kinney
"I then set out with a friend, and with my own eyes saw how the people were slaughtered; in two days, 25,000 men, women, and children and in the most beastly way. I saw how they had to undress in front of the tank traps and many other things.  And the absolute worst thing I saw was how this man took a screaming baby and beat it headfirst against a wall until it was dead."
WHAT WE KNEW
By Eric A. Johnson and Karl-Heinz Reuband
There was, he said, "every imaginable kind of beating, immersion in bathtubs, squeezing of testicles, hanging, crushing of the head in iron bands, and the torturing of entire families in each other's sight. I have, in particular, seen a wife tortured before her husband; and children tortured before their mothers."
THE NUREMBERG TRIALS: THE NAZIS BROUGHT TO JUSTICE
By Alexander MacDonald
In late October, one company from the Twelfth SS Totenkopfstandarte occupied the town of Owinsk and began the systemic liquidation of the patients in the large psychiatric hospital there. The mentally ill were hauled away from the hospital in truckloads of fifty and shot by SSTV soldiers in groups on the edge of a mass grave. In less than a month, one company of Totenkopf soldiers murdered over 1,000 innocent, helplessly ill men and women.
SOLDIERS OF DESTRUCTION
By Charles W Sydnor, Jr.
Two weeks after entering the camp [Bergen-Belsen], the British Army's medical services were still so overburdened that they called desperately on the help of ninety-six medical students from London…One student left a vivid account of his hut: "It was full of the most emaciated people I have ever seen in my life. There was supposed to be a loo at the far end but they couldn't get up to go to it. [The hut] was almost up to the top of one's boots in excreta. One just stumped about in it. People by now were too weak to use [the toilet] and were just lying in their own feces and urine which dripped down from one bunk to the next." Another student captured a singular moment of horror: "I was standing aghast in the midst of all this filth, trying to get used to the smell which was a mixture of post-mortem room, a sewer, sweat, and foul pus, when I heard a scrabbling on the floor. I looked down in the half light and saw a woman crouching at my feet. She had black matted hair, well-populated [by lice] and her ribs stood out as though there was nothing between them, her arms were so thin that they were horrible. She was defecating, but she was so weak that she could not lift her buttocks from the floor and, as she had diarrhea, the liquid yellow stools bubbled over her thighs."
ENDGAME, 1945
By David Stafford
​So then came the Children's Hour [their parents had been deported, probably to Auschwitz]. It was decided in the next few days to transfer three thousand, ranging in age from two to twelve (older ones had already been deported) from Pithiviers and Beaune-la-Rolande to Drancy [France]. The buses began arriving at Drancy on August 15, their engines grinding, raising clouds of dust in the courtyard. The children got off the buses and stood there, bewildered. They looked around and saw barbed wire and uniformed guards. They were hostages to the gods of darkness, but where was the God of children? He was not in strict attendance.
In the courtyard, silent and confused, children four and five years old picked through the rows of bags, looking for their baluchon (bundle). The youngest ones did not know their names. One of them said: "I am Pierre's little brother." Some of them had cardboard name tags around their necks, but more often they had lost their tags, or the rain had washed out the names. Many were barefoot. Physically, they were in a pitiful state, undernourished and covered with vermin and open sores. Mentally, they were in a state for which childhood does not prepare one. What does a child, who feels life in every limb and breath, know of death?
Drancy was not equipped to receive large numbers of children. They were kept in what was called the escalier de depart (departure stairway), where they slept in large barrackslike rooms, one hundred to a room, on straw mattresses on the floor. Many got diarrhea from the cabbage soup that was served at every meal. It was useless to wash their clothes or their mattresses, for a few hours later they would be soiled again. There were pails on the landing, as there would be pails in the cattle cars. And they waited. And they wept at night. On the day of departure, the children were awakened at five and dressed in the semidarkness. Some refused to move. They lay on the damp straw crying. The gendarmes, who had to carry them downstairs past the overflowing pails, were unnerved. They heard a four-year-old boy addressing his absent mother, repeating, "Maman, je vais avoir peur" ("Mommy, I am going to be afraid").  The children lined up in the courtyard, where bus engines were already running. It was still dark enough that the camp searchlights were on. Some children were pulling suitcases that seemed bigger than they were, and some were carrying bags made from bed sheets, and some were holding dolls and teddy bears, and it took two and a half hours to process them on the buses…Seven trains with children together with adults left Drancy on August 17, 19, 21, 24, 26, 28, and 31. Their progress from then on is painful to record…Children in the freight cars – like the subway at rush hour – for three days, in a closed and windowless car in the heat of August, with the stink, the lack of air, and the difficulty of relieving oneself. Those who survived the trip arrived ill and dehydrated at Auschwitz and were taken at once to the gas chambers. Not one survived. And some of those children were two years old. And they had been escorted to the border by French police, in the land of Voltaire and The Rights of Man.
AN UNCERTAIN HOUR
By Ted Morgan
"On this day, over 5,000 Jews from the ghetto of Peresika were massacred. Among them was our whole family from Karelitz: my grandmother Gitel Gurevitz, my uncle Yosef Gurevitz, his wife Breine Feigel and their daughters Nachama and Hassia (as mentioned earlier, their eldest daughter Rachel whose name today is Rachel Konigsberg was sent to her uncle in England), and my aunt Malke Kapushevski with her little son Nahum. My cousin Srolik Sucharski who worked at the military barracks didn't join us at the court-house. He was killed at the barracks while trying to escape."
SURVIVING THE HOLOCAUST WITH THE RUSSIAN JEWISH PARTISANS
By Jack Kagan and Dov Cohen
A Jewish person helping another Jewish person to evade justice constituted a very serious offense …On 6 November 1942, the Gestapo suddenly decided that Helene Krabs should be transported to the notorious Auschwitz-Birkenau concentration camp in Poland. Paul Krabs begged the Gestapo for mercy on behalf of his wife in two letters in early December 1942. In one letter he writes, "My wife was only acting in a compassionate manner. She simply felt a loyalty to her relative. It was an impossible situation for her. I beg for mercy on her behalf." The Gestapo refused to change its decision. On 10 December 1942, the Gestapo reported that Helene Krabs had been sent to Auschwitz-Birkenau. Rudolf Hoss, the camp commandant, was informed about her pregnant state.  On 3 January 1943, Helene Krabs was murdered, along with her unborn child, in Auschwitz.
THE GESTAPO: THE MYTH AND REALITY OF HITLER'S SECRET POLICE
By Frank McDonough
"On the concrete forecourt of the petrol station a blond man of medium height, aged about twenty-five, stood leaning on a wooden club, resting. The club was as thick as his arm and came up to his chest. At his feet lay about fifteen to twenty dead or dying people. Water flowed continuously from a hose washing blood away into the drainage gully. Just a few steps behind this man some twenty men, guarded by armed civilians, stood waiting for their cruel execution in silent submission. In response to a cursory wave the next man stepped forward silently and was then beaten to death with the wooden club in the most bestial manner, each blow accompanied by enthusiastic shouts from the audience."
"THE GOOD OLD DAYS"
By Ernst Klee, Willi Dressen, and Volker Riess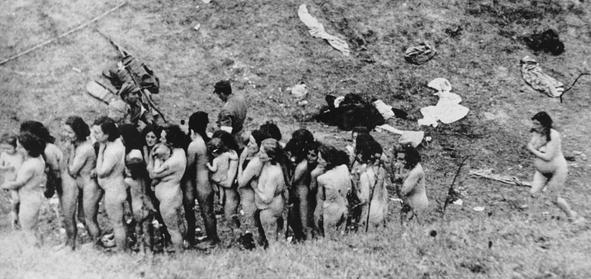 Jewish women from the Misotch ghetto (Ukraine) forced to undress before being executed. Notice the small children and infants in their mother's arms. These babies were shot along with their mother's.
At the collection point I could see many acquaintances from Radzyn. I also saw my child with her aunt and uncle. Apparently all Jews had been caught during the raid. The ghetto was to be destroyed and all the Jews liquidated. Terrible scenes took place. Most people sat there apathetically for hours, others had already been shot. Children cried; mothers who tried to console them, thereby attracting attention, were worked over with rifle butts.
As we lined up in rows of five, the Nazis noticed that some children without parents remained in the marketplace. They were probably lost in the chaos or their parents had been shot. The SS men would hold their pistols against the children's necks and fire.
Many Jews grasped each other's hands tightly so as not to be lost. There were men and women, sisters and brothers, friends, lovers, sons and daughters who did not want to leave their feeble parents in their hour of need. Small children in the arms of their mothers, who clasped them to their chests. One often heard muted crying, then shots and silence.
In great disarray, accompanied by shouted commands, we were beaten and shoved by rifle butts into waiting cattle cars. Families and friends were mercilessly torn from each other. Those who managed to stay together felt like they had won. Dogs were let loose to bite us and tear our clothing to shreds.
THE DEAD YEARS: HOLOCAUST MEMOIRS
By Joseph Schupack
Five thousand more Jews were forced on to two trains and deported to the south. Crammed on board sealed freight trucks, the Jews found it hard to breath, and the Romanian guards refused to let them drink any water. After several days their thirst was all but unbearable. Nathan Goldstein, a Jew from Iasi, witnessed what happened when his train stopped near a river: "An eleven-year-old child jumped out the window to get a drink of water, but the [deputy of the train's commander] felled him with a shot aimed at his legs. The child screamed, 'Water, water!' Then the adjutant took him by his feet, shouting, 'You want water? Well, drink all you want!', lowered him head-first into the water of the Bahlui River until the child drowned, and then threw him in."
THE HOLOCAUST: A NEW HISTORY
By Laurence Rees
The men of Police Battalion 309's First and Third Companies [at Bialystok] drove their victims into the synagogue, the less compliant Jews receiving from the Germans liberal blows of encouragement. The Germans packed the large synagogue full. The fearful Jews began to chant and pray loudly. After spreading gasoline around the building, the Germans set it ablaze; one of the men tossed an explosive through a window, to ignite the holocaust. The Jews' prayers turned into screams. A battalion member later described the scene that he witnessed: "I saw…smoke, that came out of the synagogue and heard there how the incarcerated people cried loudly for help. I was about 70 meters' distance from the synagogue. I could see the building and observed that people tried to escape through the windows. One shot at them. Circling the synagogue stood the police members who were apparently supposed to cordon it off, in order to ensure that no one emerged." Between 100 and 150 men of the battalion surrounded the burning synagogue. They collectively ensured that none of the appointed Jews escaped the inferno. They watched as over seven hundred people died this hideous and painful death, listening to screams of agony. Most of the victims were men, though some women and children were among them. Not surprisingly, some of the Jews within spared themselves the fiery death by hanging themselves or severing their arteries. At least six Jews came running out of the synagogue, their clothes and bodies aflame. The Germans shot each one, only to watch these human torches burn themselves out.
HITLER'S WILLING EXECUTIONERS
By Daniel Jonah Goldhagen
There had been many Jews among the sixty-five thousand men, women, and children who died in the camp. Buchenwald was not a death camp, like Auschwitz or Treblinka, specifically designed to annihilate the Jews. Prisoners at Buchenwald were worked to death or they died of disease, hunger, torture, and executions. All prisoners were treated horribly, but according to the most accounts, the Jews were treated worst of all.
THE WAGES OF GUILT
By Ian Buruma
For Victor Klemperer, professor of French literature in Dresden, routinization of Nazi rule meant an ever-tightening trap. The university dismissed Klemperer in 1935…One insult and deprivation followed another. Klemperer was forbidden to publish. He lost borrowing privileges at the library, and eventually library staff refused even to let him use the reading room. Over the years Nazi regulations robbed Klemperer of his car, his house, his driver's license, even his pets.
THE HOLOCAUST: A CONCISE HISTORY
By Doris L. Bergen
"On March 31, they started searching for the handicapped and old people, and later several thousand young and healthy people were taken. We were hiding in the attic and through the window I saw the transports of Hungarian Jews…I saw children from the orphanage wrapped in bed sheets. The houses around the ghetto were on fire. I heard some shooting, crying children, mothers calling, and Germans breaking into the neighboring houses."
SALVAGED PAGES: YOUNG WRITERS' DIARIES OF THE HOLOCAUST
By Alexandra Zapruder
The final year of the war had brought a rapid deterioration in the condition of Thereisenstadt's inmates. Already in the fall of 1943, Jakob Edelstein had been arrested for having helped some inmates to escape the camp and was sent to Auschwitz with his wife, Miriam, his son, Aryeh, and old Mrs. Olliner, Miriam's mother. While Edelstein was kept in block 11 of the main camp, his family was kept detained in the 'family camp' in Birkenau. On June 20, 1944, they were all reunited in front of crematorium III and shot. Jakob was shot last, after he had witnessed the killing of his son, his wife, and his mother-in-law.
NAZI GERMANY AND THE JEWS 1933-1945
By Saul Friedlander
A woman in a small town near Minsk saw a young German soldier walking down the street with a year-old baby impaled on his bayonet. "The baby was still crying weakly," she would remember. "And the German was singing. He was so engrossed in what he was doing that he did not notice me."
MASTERS OF DEATH
By Richard Rhodes
For Jews in the Reich, Kristallnacht was the event that finally extinguished any hope that they could stay put in Germany. The time for patience had passed. Their countrymen were not going to overthrow Hitler and bring back the age of tolerance. Rosenberg's diatribes and Goebbels's speeches could no longer be dismissed as empty words. The Nazis wanted the Jews gone, and if they were not willing to leave on their own, they would be run out of their homes by force. Over the next ten months, more than one hundred thousand Jews would flee the country. Twice as many would be left behind.
THE DEVIL'S DIARY
By Robert K. Wittman & David Kinney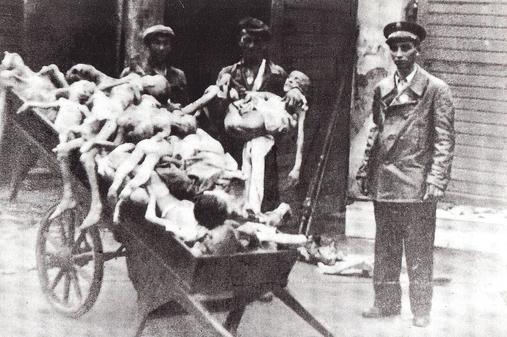 Emaciated corpses of children in Warsaw Ghetto.
"On January 18, 1945, they took us on a death march. We were 3,800 prisoners. We walked three days and three nights. There was snow and it was very cold. It is very cold in that part of Poland. The majority of the prisoners were left behind. Those who couldn't go on were machine-gunned. All five of us friends ended up being wounded. I wasn't wounded badly, but some of my friends were – one got a bullet in the lung, another in his neck, but I had better luck. We ended up surviving. Out of thirty-eight hundred prisoners, eighteen of us survived."
WHAT WE KNEW
By Eric A. Johnson and Karl-Heinz Reuband
[Testimony of Dr. Franz Blaha, Czech prisoner ordered to perform autopsies at Dachau]:
"In 1942 and 1943 experiments on human beings were conducted [at Dachau] by Dr. Sigmund Rascher to determine the effects of changing air pressure. As many as 25 persons were put at one time into a specially constructed van in which pressure could be increased or decreased as required…Most of the prisoners used died from these experiments, from internal hemorrhage of the lungs or brain. The survivors coughed blood when taken out. It was my job to take the bodies out and as soon as they were found to be dead to send the internal organs to Munich for study. About 400 to 500 prisoners were experimented on. The survivors were sent to invalid blocks and liquidated shortly afterwards.
THE NUREMBERG TRIALS: THE NAZIS BROUGHT TO JUSTICE
By Alexander MacDonald
"At the end of June 1943, we were deported from Berlin. After approximately two days and a night in a freight care, we reached Auschwitz. The stench in these cars, the hysterical screaming and so on, were terrible. Having arrived in Auschwitz-Birkenau, we were driven out of the cars by shouting guards. Our luggage was left behind, and we never saw it again. Next we had to file past a checkpoint, where the SS officers asked our age and occupation. I made myself two years older than I was and told them I was a mechanic. I'd estimate that of us 300 men – there were also 50 to 60 women – maybe 100 were admitted to the camp. The rest were given 'special treatment.' In other words, they were gassed. When married couples with children arrived, the man would not even be asked; he automatically went along to be gassed with his family. In practical terms, humans were a commodity, and there was so much of this commodity that they didn't know what to do with it all.  That was the horror of it. Those SS men who worked at Auschwitz were more or less forced to keep enlarging its capacity for annihilation because the transports were arriving from everywhere."
VOICES FROM THE THIRD REICH
Steinhoff, Pechel and Showalter
In the early afternoon, a column of trucks drove a contingent of Jews from the camp to an empty school building on the northern edge of Hamburg. It contained twenty-two children between the ages of four and twelve, two women and twenty-six men. All had been used for medical experiments. They were taken to the school's gymnasium and hanged so that none should bear witness to Nazi atrocities.
ENDGAME, 1945
By David Stafford
They chose to walk into a hospital [at Josefow, Poland], a house of healing and to shoot the sick, who must have been cowering, begging, and screaming for mercy. They killed babies. None of the Germans has seen fit to recount details of such killings. In all probability, a killer either shot a baby in its mother's arms, and perhaps the mother for good measure, or, as was sometimes the habit during these years, held it at arm's length by the leg, shooting it with a pistol. Perhaps the mother looked on in horror. The tiny corpse was then dropped like so much trash and left to rot.  A life extinguished.
HITLER'S WILLING EXECUTIONERS
By Daniel Jonah Goldhagen
By 1943, the Nazis had decided that no Jew was to be spared, and Zeiler's mother was picked up and sent to Theresienstadt. Soon after, Zeiler, at the age of twenty, was arrested too, for harboring Jews – that is to say, his own mother. He was sent to Buchenwald. Before long, he weighed only ninety pounds.
THE WAGES OF GUILT
By Ian Buruma
By the spring and summer of 1942, the area around the Chelmno was filled with the stench of rotting bodies. German officials ordered ovens brought in so that the mass graves could be opened and bodies exhumed and burned. Of course they delegated this gruesome job to members of the Jewish Sonderkommando.  Mordechai Podchlebnik, a man assigned to the task, found the bodies of his wife and two children in a mass grave. He begged the SS guards to shoot him. When they refused, he tried to commit suicide. This time his comrades stopped him. Eventually he escaped. One of very few survivors of the killing center at Chelmno, Podchlebnik later served as a central witness at the postwar Chelmno trial.
THE HOLOCAUST: A CONCISE HISTORY
By Doris L. Bergen
After the end of the Babi Yar massacre, a few elderly Jews returned to Kiev and sat by the Old Synagogue. Nobody dared to approach or leave food or water for them, as this could mean immediate execution. One after the other, the Jews died until only two remained. A passerby went to the German sentry standing at the corner of the street and suggested shooting the two old Jews instead of letting them starve to death. "The guard thought for a moment and did it."
NAZI GERMANY AND THE JEWS 1933-1945
By Saul Friedlander
The Jews in the first row were ordered forward to the tables [Uman area, Russia], made to surrender their valuables and belongings, made to undress and pile their clothes to one side. Whereupon the troops menaced the row of naked people to the brink of one of the pits:
"The commandos then marched in behind the line and began to perform the inhuman acts…with automatic pistols…these men mowed down the line with such zealous intent that one could have supposed this activity to have been their life work.
"Even women carrying children a fortnight to three weeks old, sucking at their breasts, were not spared this horrible ordeal. Nor were mothers spared the terrible sight of their children being gripped by their little legs and put to death with one stroke of a pistol butt or club, thereafter to be thrown on the heap of human bodies in the ditch, some of which were not quite dead. Not before these mothers had been exposed to this worst of all tortures did they receive the bullet that released them from this sight.
"The people in the first row thus having been killed in the most inhuman manner, those of the second row were now ordered to step forward. The men in this row were ordered to step out and were handed shovels with which to heap quicklime upon the still partly moving bodies in the ditch…
"The air resounded with the cries of the children and the tortured. With senses numbed by what had happened, one could not help thinking of wives and children back home who believed they had good reason to be proud of their husbands and fathers."
All day, relentlessly, the killing went on, row after row of human beings shot or smashed into the filling pits and dusted with quicklime glaring white in the September sun.
MASTERS OF DEATH
By Richard Rhodes
On November 7, 1941, the police rousted the entire population of the Minsk ghetto out onto the street. "The howls of mortal fear and horror, the cries of desperation, the weeping of children, the sobbing of women…could be heard throughout the city."…The Nazis ordered some of the Jews to don their finest clothes and then, led by a man hoisting a red banner, march through the streets singing patriotic songs. When the parade was over, all the Jews were pushed into trucks and driven off to a nearby camp, where they were herded into granaries to await the end. Over the next few days, they were dragged out to trenches and, one by one by one, shot down. The operation killed twelve thousand people.
Two weeks later, another seven thousand were rounded up and shot. A Jewish barber named Levin, known to some of the Nazi officers and protected as a skilled laborer, frantically begged the commander to also spare his wife and daughter. Instead the German agreed to save one or the other; the man would have to choose. "Levin took his daughter."
THE DEVIL'S DIARY
By Robert K. Wittman & David Kinney

German soldier from an army mobile killing unit shooting a Jewish woman with a child in her arms.  
"He told me that…they had rounded up all the people in a Polish village, women and children, locked them up in a church and then shot at them from the church's gallery before setting the church on fire.  'We then lay around the church in radiant sunlight while the church burned. Those who had not gotten out were screaming, and then the door suddenly opened and a small child came out. One guy then got up, rat-a-tat-tat, dead.'…He even told me about things that were still worse. I don't want to talk about them here. They are that dreadful."
WHAT WE KNEW
By Eric A. Johnson and Karl-Heinz Reuband
They brought an aged woman with her daughter to this building. The latter was in the last stage of pregnancy. She was brought to the "Lazarett," was put on a grass plot, and several Germans came to watch the delivery. This spectacle lasted two hours. When the child was born, Menz asked the grandmother – that is the mother of this woman – whom she preferred to see killed first. The grandmother begged to be killed. But, of course, they did the opposite; the newborn baby was killed first, then the child's mother and finally the grandmother.
THE NUREMBERG TRIALS: THE NAZIS BROUGHT TO JUSTICE
By Alexander MacDonald
On 4 February 1943, the day of the third massacre, all the Jews remaining in the ghetto of Novogrodek at Peresika were killed. The ghetto ceased to exist and only the labor camp in the court buildings remained, with a little over 500 Jews, all that was left of a community of 10,000 Jews from Novogrodek, Karelitz, Lubcz and surrounding areas.
SURVIVING THE HOLOCAUST WITH THE RUSSIAN JEWISH PARTISANS
By Jack Kagan and Dov Cohen
"I couldn't pick up a German newspaper anymore. Jews…Jews. It seemed as if there were no other subjects. They exceeded themselves in insults, threats, ridicule."
THE GESTAPO: THE MYTH AND REALITY OF HITLER'S SECRET POLICE
By Frank McDonough
A prisoner would be brought in for 'questioning,' stripped naked and handcuffed onto a meter-long iron bar that was linked by chains from the ceiling…A guard at one side would shove him – or her – off in a slow arc, while Boger would ask questions, at first quietly, then barking them out loud, or at least bellowing. At each return [as the prisoner swung around on the bar], another guard, armed with a crow bar, would smash the victim across the buttocks. As the swinging went on, and the wailing victim fainted, was then revived, only to faint howling again, the blows continued – until only a mass of bleeding pulp hung before their eyes. Most perished from this ordeal, some sooner, some later; in the end a sack of bones and flayed flesh and fat was swept along the shambles of that concrete floor and dragged away.
THE GESTAPO: THE MYTH AND REALITY OF HITLER'S SECRET POLICE
By Frank McDonough
"The third day after the execution we were taken back to the execution area [Babi Yar, Kiev]. On our arrival we saw a woman sitting by a bush who had apparently survived the execution unscathed. This woman was shot by the SD man who was accompanying us. I do not know his name. We also saw someone waving their hand from among the pile of bodies. I don't know whether it was a man or a woman. I should think that this person was finished off by the SD man as well, though I did not actually see it."
"THE GOOD OLD DAYS"
By Ernst Klee, Willi Dressen, and Volker Riess
Those driven together at the collection point were encircled by the SS and the police. Older people who could not walk were shot on the spot. Screaming women were beaten with rifle butts, and children standing in the way were shot. Only a few Jews had suitcases, blankets, or coats. Watching the moving lips of some, one knew that they were saying their last prayer.
The time at the collection point was our last moment together. Each of us knew that the road to Treblinka led to the gas chambers. We looked into each other's eyes for the last time. There was not hysteria and hardly anyone cried; the pain seemed to silence our speech. Our quiet glances said everything…That day marked the end of the Jews of Radzyn. It was also the end of my world. Like all others, I had lost my family, my beloved parents, my second and last sister and my brother-in-law.
THE DEAD YEARS: HOLOCAUST MEMOIRS
By Joseph Schupack
A prominent member of the Jewish population in Iasi remembered, "I saw the crowd flee in total chaos, fired on from rifles and machine guns. I fell onto the pavement after two bullets hit me. I lay there for several hours, seeing people I knew and strangers dying around me…I saw an old Jewish man, disabled after the war of 1916-1918 and wearing the Barbatie si Credinta [Manhood and Faith] decoration on his chest; he also carried with him papers that officially exempted him from anti-Sematic restrictions. However, bullets had shattered his thorax, and he lived his last moments on a garbage can like a dog." Further along the street lay the son of a leather merchant who "was dying and sobbing, 'Mother, Father, where are you? Give me some water, I'm thirsty'…Soldiers…stabbed [the dying] with their bayonets to finish them off."
When Vlad Marievici of the city's sanitation department arrived at police headquarters on the morning of 30 June, he found "a pile of corpses stacked high like logs" that made it difficult for his truck to enter the courtyard. So many Jews had been murdered the previous night that "the floor was awash with blood that reached the gate; the blood came up to the soles of my shoes."
THE HOLOCAUST: A NEW HISTORY
By Laurence Rees
"I saw them do the killing. At 5:00 p.m. they gave the command, 'Fill in the pits.' Screams and groans were coming from the pits. Suddenly I saw my neighbor Ruderman rise under the soil…His eyes were bloody and he was screaming: 'Finish meoff!'…A murdered woman lay at my feet. A boy of five years crawled out from under her body and began to scream desperately. 'Mommy!' That was all I saw, since I fell unconscious."
DEBUNKING HOLOCAUST DENIAL THEORIES
By James and Lance Morcan
"There was a young couple among the hundred Jews in the hiding place. The woman was a pretty, blond haired lady named Malka. They had a baby that was only a few weeks old. The baby's grandmother was the woman who let my daughter and me stay in her apartment our first night in the ghetto. During the first night in hiding the baby cried often. Every time the baby cried the other people would tell the parents to keep the baby quiet, but the parents could not keep it quiet for long. The more the baby cried the angrier the other people grew and the more frantic the parents became. We knew that the SS would be prowling the streets and buildings looking for the hiding places. We all had to walk slowly and talk only in whispers. The baby's crying put all of us in danger of being found.  In the morning the noise outside got louder. The SS had come back into the ghetto. This time they had tanks, and the shooting started once again. The noise started the baby crying and the parents just could not stop it. A group of men told the young couple that they had to either leave the hiding place, give them the baby, or put it to sleep themselves. They couldn't leave the hiding place. We were all sure that going out into the ghetto meant certain death, either from being shot on the street or from being sent to Treblinka. They also couldn't kill the baby themselves. The couple talked quietly together for a while. Then the husband took the baby from his wife and gave it to one of the other men. The husband sat back down next to his wife, and they started to cry. The men took the baby to the other side of the room. The group of men stood around the baby so the parents could not see what was happening. They laid the baby on a table. One of the men held a pillow over the baby's face. There was no sound in the room except the muffled crying of the baby's parents. In a few minutes it was over, and the baby's body was wrapped in a white tablecloth. By the next morning the baby's body was gone. I don't know what was done with it, and nobody talked about it again."
THE BLEEDING SKY: MY MOTHER'S JOURNEY THROUGH THE FIRE
By Louis Brandsdorfer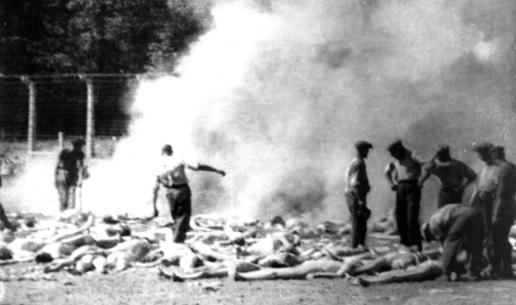 Corpses of gas victims waiting to be burned at Auschwitz. This could be the only photo of the endless cremation at the death camps.
In August 1942, 15,000 women were the first to be transferred to the camp. The appearance of these inmates has been described by Desire Haffner: "Their skeletal appearance, their shaved skulls, their blood-streaked bodies, their scaly skin – all this made it hard for an observer to recognize them as women. The lack of any hygiene was even more perceptible among them than in the men's camp because of the pungent odor that came from their blocks, the smell of thousands of women who had not been able to wash for months. Their work is as hard as the men's, and as a rule they are even worse dressed. They are usually seen bareheaded and barefoot, and sometimes they are naked."
PEOPLE IN AUSCHWITZ
By Hermann Langbein
"Jews who thought they were welcome in Germany, Jews who were Germans themselves, couldn't comprehend what was happening to them. They refused to believe it. Once, the best-known gynecologist in Berlin, a good friend of my mother's, called to ask her to visit him and his wife so they could say good-bye. My mother assumed they had received permission to leave the country. They said their farewells, and two days later the doctor and his wife were found dead. They had committed suicide. That sort of thing was not uncommon."
VOICES FROM THE THIRD REICH
Steinhoff, Pechel and Showalter
Even more remarkable than the fact that the Nazis went on killing people after the end of the war was that this was not discovered until early July, when American medical personnel finally entered the hospital. "What met their eyes was beyond belief," writes one historian. "Some 1,500 disease-riddled patients confined to the most squalid conditions…and a stifling morgue filled with bodies that had not been buried and that could not be disposed of quickly, as the shining new crematorium, finished in November 1944, had been closed down.…The mortuary, it noted, contained bodies of men and women who had died between twelve and thirty-six hours beforehand and weighed as little as sixty pounds. Among the children still alive was a ten-year-old boy weighing just twenty-two pounds, with calves only two and a half inches in diameter."
ENDGAME, 1945
By David Stafford
The fact is that the German personnel's beating of the prisoners was so routine that a survivor, when describing one of the more outstanding tortures in camp can remark upon the camp's routine cruelty in passing, as if it had been an ordinary expectation: "Wagner was a sadist. He would not only beat the women; that was done by all the SS men." Elsewhere, she provides a fuller description of Wagner's singularity: "He was active not with a gun, but with a whip, and he frequently beat women so terribly that they died of the effects."
HITLER'S WILLING EXECUTIONERS
By Daniel Jonah Goldhagen
When you drive into Furstenberg, you are greeted by two signs. One reads: "Furstenberg greets its visitors." The other shows the way to the town's main attraction, the former Ravensbruck concentration camp, where 130,000 people, mostly women and children, were imprisoned between 1939 and 1945. Half of them died.
THE WAGES OF GUILT
By Ian Buruma
In the summer of 1942, Adam Czerniakow was head of the Jewish Council in Warsaw. When the Germans ordered him to hand over the children of the ghetto, he knew that they would be killed. Powerless to stop the slaughter, Czerniakow took the only way out still left to him: he committed suicide.
THE HOLOCAUST: A CONCISE HISTORY
By Doris L. Bergen
Whatever the assessment of the Dutch Council's early behavior may be, the Germans did not ask for its approval when it came to dispatching the four hundred young Jewish men arrested after the Koco incident to their death. At first they were deported to Buchenwald, then to Mauthausen. They arrived in Mauthausen on June 17, 1941. A batch of fifty was immediately killed: "They were chased naked from the bathhouse to the electrical fence." The others were murdered in the main quarry of the camp, the 'Vienna Ditch.' According to the German witness Eugen Kogon, these Jews were not allowed to use the steps leading to the bottom of the quarry. "They had to slide down the loose stones at the side and even here many died or were severely injured. The survivors had to shoulder hods, and two prisoners were compelled to lead each Jew with an excessively heavy rock. The Jews then had to run up the 186 steps. In some instances the rocks immediately rolled downhill, crushing the feet of those that came behind. Every Jew who lost his rock in that fashion was brutally beaten and the rock was hoisted on his shoulders again. Many of the Jews were driven to despair the very first day and committed suicide by jumping into the pit. On the third day the SS opened the so-called 'death-gate,' and with a fearful barrage of blows drove the Jews across the guard line, the guards on the watchtowers shooting them down in heaps with their machine guns. The next day the Jews no longer jumped into the pit individually. They joined hands and one man would pull nine or twelve of his comrades over the lip with him into a gruesome death. The barracks were 'cleared' of Jews, not in six but in barely three weeks. Every one of the 348 prisoners perished by suicide, or by shooting, beating, and other forms of torture."
NAZI GERMANY AND THE JEWS 1933-1945
By Saul Friedlander
"I was holding a whip or a pistol [at Slonim, Russia]. I was loading or unloading. The men, children and mothers were pushed into the pits. Children were first beaten to death and then thrown feet [first] into the pits…There were a number of filthy sadists in the extermination commando. For example, pregnant women were shot in the belly for fun and then thrown into the pits…Before the execution the Jews had to undergo a body search, during which…anuses and sex organs were searched for valuables and jewels."
MASTERS OF DEATH
By Richard Rhodes
Villagers, including children from the Hitler Youth and the League of German Girls, stood outside the home of Salomon and Elise Frank, breaking open the shutters and smashing the windows. Nazis rampaged through their house with their axes. They destroyed the furniture and the dishes and shoved the family out onto the street, where they beat Salomon, who was disabled, with clubs.
THE DEVIL'S DIARY
By Robert K. Wittman & David Kinney
"I attended lectures on anatomy by Professor August Hirt, who later went to Strasbourg. He was a repulsive man. He told us that he went to concentration camps and picked out the skulls of the Jews that he wanted to measure. That was his hobby, measuring skulls. When he found skulls that interested him, the Jews were killed."
WHAT WE KNEW
By Eric A. Johnson and Karl-Heinz Reuband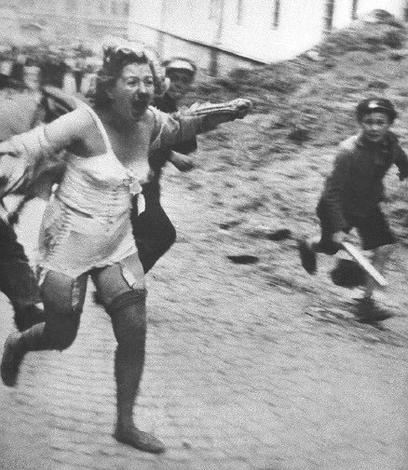 A Jewish woman in the Lvov Ghetto fleeing for her life.
Hermann Grabe, a German engineer witnessed a massacre in Dubno in the Ukraine
on 2 October 1942:
"I drove to the site…and saw near it great mounds of earth, about 30 meters long and 2 meters high. Several trucks stood in front of the mounds. Armed Ukrainian militia drove the people off the trucks under the supervision of an SS man. The militia men acted as guards on the trucks and drove them to and from the pit. All these people had the regulation yellow patches on the front and back of their clothes, and thus could be recognized as Jews…My foreman and I went directly to the pits. Nobody bothered us. Now I heard rifle shots in quick succession from behind one of the earth mounds. The people who had got off the trucks – men, women and children of all ages – had to undress upon the order of an SS man who carried a riding or dog whip. They had to put down their clothes in fixed places, sorted according to shoes, top clothing and undergarments. I saw heaps of shoes of about 800 to 1,000 pairs, great piles of under-linen and clothing. Without screaming or weeping these people undressed, stood around in family groups, kissed each other, said farewells, and waited for a sign from another SS man, who stood near the pit, also with a whip in his hand. During the fifteen minutes I stood near, I heard no complaint or plea for mercy. I watched a family of about eight persons, a man and a woman both of about fifty, with their children of about twenty to twenty-four, and two grown-up daughters about twenty-eight or twenty-nine. An old woman with snow white hair was holding a one year old child in her arms and singing to it and tickling it. The child was cooing with delight. The parents were looking on with tears in their eyes. The father was holding the hand of a boy about ten years old and speaking to him softly; the boy was fighting back tears. The father pointed to the sky, stroked his head and seemed to explain something to him. At that moment the SS man at the pit started shouting something to his comrade. The latter counted off about twenty persons and instructed them to go behind the earth mound. Among them was the family I have just mentioned. I well remember a girl, slim with black hair, who, as she passed me, pointed to herself and said, 'Twenty-three years old.' I walked around the mound and found myself confronted by a tremendous grave. People were closely wedged together lying on top of each other so that only their heads were visible. Nearly all had blood running over their shoulders from their heads. Some of the people shot were still moving. Some were lifting their arms and turning their heads to show that they were still alive. The pit was nearly two-thirds full. I estimated that it already contained about a thousand people. I looked for the man who did the shooting. He was an SS man, who sat at the edge of the narrow end of the pit, his feet dangling into the pit. He had a tommy-gun on his knees and was smoking a cigarette. The people, completely naked, went down some steps, which were cut in the clay wall of the pit, and clambered over the heads of the people lying there to the place to which the SS man directed them. They lay down in front of the dead or wounded people; some caressed those who were still alive and spoke to them in a low voice. Then I heard a series of shots. I looked into the pit and saw that the bodies were twitching or the heads lying were already motionless on top of the bodies that lay beneath them. Blood was running from their necks. The next batch was approaching already. They went down into the pit, lined themselves up against the previous victims and were shot."
THE NUREMBERG TRIALS: THE NAZIS BROUGHT TO JUSTICE
By Alexander MacDonald
"The head of our commando was called the Shef, which meant master or boss. He was a man who drank a lot. He wore a green SS uniform and when he was drunk he was a terror. And he was drunk quite often. At times he would stagger among us drunk and would start beating one of us for no reason at all. Sometimes for fun he would sit himself on a pile of clothing. He would make us line up and march passed him as he hit us. Once he took a liking to one of the girls. He walked up to her, and in front of all of us grabbed her. As he tried to kiss her he put his hands up her dress. She struggled with him until he became angry. He then started beating her. He beat her for so long that when he stopped she was almost dead."
THE BLEEDING SKY: MY MOTHER'S JOURNEY THROUGH THE FIRE
By Louis Brandsdorfer
"One case I witnessed was that of a female patient at an advanced stage of starvation whose soles were chewed off at night by rats in such a way that on the surface only the carefully preserved tendons were left. The woman did not react at all. After a bandage was applied, she lived for two more days."
PEOPLE IN AUSCHWITZ
By Hermann Langbein
Hundreds of thousands of Jews were imprisoned in more than 100 ghettos and camps in Belorussia. The largest ghetto was in Minsk (100,000 people); others were in Brest (34,000), Bobruisk (20,000), Vitebsk (20,000), Borisov (10,000), Baranovitz Lida Grodno (2,000), Slonim (24,000), Novagrodek (65,000) and so on. During the years of occupation about
400,000 Jews perished.
SURVIVING THE HOLOCAUST WITH THE RUSSIAN JEWISH PARTISANS
By Jack Kagan and Dov Cohen
The local German authorities at Karelitz issued an order: all men over 16 must report to the town square within one hour. Anyone who disobeyed would be shot immediately. I reported to the market-place with my uncle Yankel. All the town's men were there, we formed straight lines and waited anxiously. We were told that a list would be prepared, in which the residents of Karelitz would be identified by their verified names, and classified according to profession and place of work. I was terrified. I wasn't a resident of Karelitz, and I knew that if the Germans found out, I would be questioned, tortured and finally shot. A short while later, the SS and gendarmerie men arrived. They brought Rabbi Vernik, the head of the town's congregation. He was given a list and told to read the names. The Jews whose names were called out were ordered to line up separately. I will never forget this scene. The venerable Rabbi Vernik, with his well-combed beard, stood between two SS officers, bareheaded and without a coat, in a torn shirt. His belt had been removed, and once in a while he pulled up his trousers. With tears streaming down his face, the rabbi read out 105 names. The men whose names had been called, mostly the dignitaries of the congregation, were locked in the cellar of the synagogue. Rabbi Vernik was one of them. Those who remained in the square were sent away with blows and gunshots. The 105 men imprisoned in the cellar were taken to Novogrodek the next day, and shot in pits prepared ahead of time.
SURVIVING THE HOLOCAUST WITH THE RUSSIAN JEWISH PARTISANS
By Jack Kagan and Dov Cohen
On our left side an SS officer stood in the company of an attractive woman. Talking and laughing together, he never even gave us a glance. As we ran past him, he motioned with his finger to the left, or to the right – to the left, or to the right – on and on. Some of us ran the distance quickly, while others just managed to limp past the officer. We soon learned that our speed or lack of it didn't matter at all. Waiting for us at the end were a few capos who, under the watchful eye of SS guards, pushed us to our assigned direction, left or right. Those headed to the left boarded a waiting truck, while the others were steered to a nearby barracks. When it was my turn to run, I remember seeing the SS officer laughing heartily and embracing his female companion with his left arm, while giving signals with his right hand. When I completed my run, a capo immediately pushed me toward the barracks on the right and my immediate fate was determined. As I came through the door, confused and bewildered, an inmate grabbed my left forearm, pushed up my sleeve, and whispered in my ear, "You're a lucky one, you've just passed Dr. Mengele's inspection." Still holding my arm, he told me to look at the scene outside the window. "Look at your friends on the truck, look at them well – it will be the last time you'll ever see them. All those on the trucks," he said, "are being taken to the gas chambers." As I looked in horror, I recognized Leo Hirschel and his sons, Benno Mendelsohn, the Klein brothers, Hermman Blumenreich, a former captain in the German army, Felix Gompert and Abram Herschkowitz, and Leon Blumethal, well-known actors of the Yiddish stage in Paris, among this group. Why was I spared from the gas chambers? Why was I selected to be in camp? My friends, now on the truck, didn't look any different than I did, or the others who stood at my side.
MY DARKEST YEARS
By James Bachner
"In Birkenau we didn't have fleas. Instead we had rats. They gnawed not only at corpses but also at the seriously sick. I have pictures showing women near death being bitten by rats. These animals were bold and impudent; they were not deterred by anything and at night even helped themselves to the bread the prisoners had saved in their pockets from the evening meal because at "breakfast" there was nothing except a coffee-like brew. Then the prisoners would often accuse each other of having stolen bread from each other, but it was the rats.
"One hurried to get to the latrine [at Birkenau]. That was a concrete trough across which lay boards with round holes. There was room for 200 to 300 at one sitting. Latrine details watched to see that no one stayed too long and used sticks to chase the prisoners away. But some couldn't move so quickly, and others weren't through, and because of the strain a portion of the rectum would still protrude. When the latrine detail hit them they would run away and then once more get in line. There was no paper. Those who had jackets with linings would tear off a little piece at a time to clean themselves. Or they would steal a piece from somebody during the night to have some in reserve. The waste water in the washrooms was piped into the latrines to wash away the excrement. But again and again there were major stoppages, especially in places where the water pressure wasn't strong enough. When that happened a terrible stench spread throughout. Then pump details – 'shit details' – would come to pump out the mess.
"The people in the camp [Birkenau] were so hungry that if a bit of soup spilled over, the prisoners would come running from all sides and like a swarm of wasps converge on the spot, dig their spoons into the mud, and stuff the mess into their mouths.  Hunger and extreme want made them into animals."
CHRONICLES OF THE HOLOCAUST
By Roselle K. Chartock and Jack Spencer
"When the last layers of subcutaneous fat had vanished, and we looked like skeletons disguised with skin and rags, we could watch our bodies beginning to devour themselves. The organism digested its own protein, and the muscles disappeared. Then the body had no powers of resistance left. One after another the members of the little community in our hut died. Each of us could calculate with fair accuracy whose turn would be next, and when his own would come."
MAN'S SEARCH FOR MEANING
By Viktor E. Frankl
Uncle Nachman, who lives near the Polish border, came to visit us a few days ago. He told us that a Jew who crossed from Poland came to his house covered with blood. The man said he crawled out of a mass grave. Everybody else was shot, but because he fainted as the German SS were shooting, he lived. He said hundreds of people were killed. It's hard to believe that this could happen.
I CARRIED THEM WITH ME
By Sara Lumer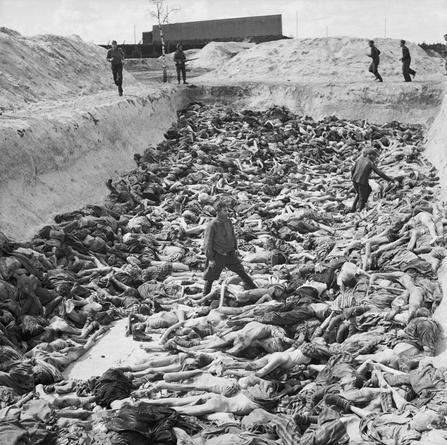 Dr. Fritz Klein, camp doctor and convicted war criminal, standing in a mass grave at the Belsen concentration camp.
One day, I was sweeping the kitchen floor when the German guard who was in charge of us – a tall, ugly man in his forties – began shouting at a young, fourteen year old girl. "Get up, get to work you lazy Jew!" He prodded her with his rubber truncheon and she started crying, at which point he hit her hard in her back, until she really started screaming. I turned away and just kept sweeping.
I CARRIED THEM WITH ME
By Sara Lumer
One day in the Ghetto, while eating my meager portion of soup, I found a piece of meat in the bowl. I couldn't believe my eyes, so I picked it up with my spoon and smelled it. In my spoon were part of an ear and a short whisker from a rat. I tried not to throw up since I didn't know when we would eat again. Some other people with the same experience had the courage to complain the next day. We were told that the previous day's soup had been prepared with dead rodents; a good joke on us.
OUTCRY: HOLOCAUST MEMOIRS
By Manny Steinberg
In June 1942, Erna Petri arrived with her 3-year-old son in Lwow. They had left their farm in order to join her SS husband, and they took over the former manor house of a Polish noble outside the city. With its white-pillared portico and wide meadows, it looked more like the dwelling of a plantation owner than the modest family farm she had left in Thuringia. True to the precept that the Germans should assert themselves physically over the natives, within two days of her arrival she witnessed her husband flogging his farm laborers. Soon, Erna too was beating the workers. As she served coffee and cake to her husband's SS and police colleagues on the villa's balcony overlooking the gardens, talk inevitably turned to the mass shootings of Jews. In the summer of 1943, she was returning from shopping in Lwow when she saw a group of nearly naked children crouching by the side of the road. She stopped the carriage, calmed the six frightened children and took them home, where she gave them some food and waited for her husband to return. When he did not turn up, she took matters into her own hands. Pocketing an old service revolver which her father had given her as a parting gift, Erna Petri led the children through the woods to a pit where she knew other Jews had been shot and buried. There she lined them up in front of the ditch and went along the line firing into the back of each child's neck. She remembered that after the first two, the others "began to cry," but "not loudly, they whimpered."
THE GERMAN WAR
By Nicholas Stargardt
Here is a woman – she walks quickly, but tries to appear calm. A small child with a pink cherub's face runs after her and, unable to keep up, stretches out his little arms and cries: "Mama! Mama!" "Pick up your child, woman!" "It's not mine, sir, not mine!" she shouts hysterically and runs on, covering her face with her hands. She wants to hide, she wants to reach those who will not ride the trucks, those who will go on foot, those who will stay alive. She is young, healthy, good-looking, she wants to live. But the child runs after her, wailing loudly: "Mama, mama, don't leave me!" "It's not mine, not mine, no!" Andrzej, a sailor from Sevastopol, grabs hold of her. His eyes are glassy from vodka and the heat. With one powerful blow he knocks her off her feet, then, as she falls, takes her by the hair and pulls her up again. His face twitches with rage. "Ah, you bloody Jewess! So you're running from your own child! I'll show you, you whore!" His huge hand chokes her, he lifts her in the air and heaves her on to the truck like a heavy sack of grain. "Here! And take this with you, bitch!" and he throws the child at her feet. "Gut gemacht, good work. That's the way to deal with degenerate mothers," says the SS man standing at the foot of the truck. "Gut, gut, Russki."
WE WERE IN AUSCHWITZ
By Siedlecki, Olszewski, Borowski
"I once met a man in Metz who had come back in 1945. He was a Jew and had been in Auschwitz. His duty there was to pull the dead bodies out of the gas chambers and take them to be burned. He had been arrested with his wife and grandchild, and together they had been transported by train to Auschwitz. One day the gas chamber was opened and he pulled out a body. It was his wife. She was still holding the grandchild in her arms. The child must have been terrified because it was still clutching tightly onto its grandmother's shoulders."
VOICES FROM THE THIRD REICH
Steinhoff, Pechel and Showalter
At the marketplace during the last large deportation from Miedzyrzec, the Germans forced the Jews to sit or squat huddled together.  The Jews were praying and crying, and therefore making much noise. This disturbed their German masters: "Intermittently, Hiwis beat the people with their rifle-butts, in order to enforce silence. The SD men had knotted whips, similar to horse whips. They walked along the rows of the squatting people, sometimes beating them vehemently." The men of the Police Battalion 101 themselves were not to be outdone by their eastern European minions. Although they also degraded and tortured Jews at Miedzyrzec in the most gratuitous, willful manner, their deeds are entirely absent from their testimony. The accounts of survivors tell a different, more accurate, and revealing story. Survivors are adamant that the Germans were indeed incredibly brutal, that their cruelty that day was wanton, at times turning into sadistic sport. At the marketplace, the Jews, who had been forced to squat for hours, were "mocked" and "kicked," and some of the Germans organized "a game" of "tossing apples and whoever was struck by the apple was then killed." This sport was continued at the railway station, this time with empty liquor bottles. "Bottles were tossed over Jewish heads and whoever was struck by a bottle was dragged out of the crowd and beaten murderously amid roaring laughter. Then some of those who were thus mangled were shot." Afterwards, they loaded the dead together with the living onto freight cars about for Treblinka.
HITLER'S WILLING EXECUTIONERS
By Daniel Jonah Goldhagen
One of the largest ghettos was established in Lodz in the incorporated territory in the incorporated territory in the winter of 1939. By April, 1940 it had been sealed off completely from the rest of the city. The Lodz ghetto lasted in part at least until August 1944, when the Jews remaining there were shipped to Auschwitz…The ghetto was disastrously overcrowded. In Lodz, an average of seven people occupied a single room – that is, in 1940 an estimated 230,000 people were crammed into some 30,000 apartments, most of them one room only. Only about 725 of those lodgings had running water. Many had electricity, but it did little good; police forbid those in the ghetto from using their lights most of the time…Food was extremely scarce – potato peels became a prized item. Lice and rats thrived; such diseases as typhus and tuberculosis ran rampant. Nevertheless, hard work was required of everyone in the ghetto who wanted a chance to stay alive. By 1943, ghetto workshops were churning out uniforms, boots, underwear, bed linen for the German military; ghetto workers produced goods of metal, wood, leather, fur, down, and paper, and even electrical telecommunication devices. Children as young as eight slaved away for pathetically small rations of food…Under these conditions it was no surprise that people died in terrible numbers. In 1940, some six thousand Jews died in the Lodz ghetto. By the following year the number had almost doubled, to eleven thousand. In 1942, there would be eighteen thousand dead. Of course, by the end of 1941 the primary cause of Jewish death would no longer be starvation and illness in the Ghettos, but deportation to the new killing centers.
THE HOLOCAUST: A CONCISE HISTORY
By Doris L. Bergen
According to the historian Jonathan Steinberg, "Serbian and Jewish men, women and children were literally hacked to death. Whole villages were razed to the ground and the people driven to barns to which the Ustasha set fire. There is in the Italian Foreign Ministry archive a collection of photographs of the butcher knives, hooks and axes used to chop up Serbian victims. There are photographs of Serb women with breasts hacked off by pocket knives, men with eyes gouged out, emasculated and mutilated."
NAZI GERMANY AND THE JEWS 1933-1945
By Saul Friedlander
[SS officer] Hesse particularly noticed one young woman in the cellar. "She was a beautiful woman," he testified, "aged between twenty and thirty." After the night visit Hesse began to worry that she would fall into the hands of the Untersturmführer. He resolved to protect her. He watched for his chance, and when it was possible to do so he went down into the cellar and ordered her out, telling her that Taubner wished to speak to her. Outside, Hesse mad the woman walk in front of him, heading toward the killing pit, which still gaped empty awaiting its burden. "My only thought was that if I had to do something I should cause the person as little pain as possible. I did not want the Jewess to suffer fear of death." As she walked ahead of him, he raised his carbine and shot her suddenly in the head from behind. "I was glad to be able to shoot her," he testified, "but please don't take that to mean that I enjoyed it."
MASTERS OF DEATH
By Richard Rhodes
The deportations had become routine. On October 22, Frieda and Max arrived at the assembly camp. They registered their remaining assets, which were then confiscated. Their bags were searched for stray valuables. Early in the morning four days later, they walked form the camp to the freight depot two miles north. Along with nearly eight hundred others, including eighty-eight children under fifteen years old, they boarded third-class passenger cars and set off for the East. Their luggage did not make the trip. Back in Berlin, their apartments were in demand. On October 29, Frieda and Max and the rest of the Jews condemned to death arrived at a station on the outskirts of Riga, Latvia, more than seven hundred miles away from Berlin. After they disembarked, they were taken into the forest and shot.
THE DEVIL'S DIARY
By Robert K. Wittman & David Kinney
"They [the Jews] were led up to this mound of dirt [Pinsk, Belarus], and there were those guys standing there with the sub-machine guns at the top. And then they were shot down and they simply fell right in. One row of them were crying, especially the children being held in their arms. The little children being held in their arm, they were crying. And then something happened. One of those guys went over to them and snatched a child from [its mother's] arms and threw it against a wall. Such [awful] things were happening there that one should simply not be allowed to think about them anymore. There were some who were crying, perhaps a hundred, but not very loudly. They were simply resigned to their fate, especially since they had been forced to go up there stark naked and they knew that now it was the end."
WHAT WE KNEW
By Eric A Johnson and Karl-Heinz Reuband
Marie-Claud Vaillant-Couturier had been sent to Auschwitz in 1942. She described a roll call on 5 February 1943:
"In the morning at 3.30 the whole camp was awakened and sent out on the plain, whereas normally the roll call was at 3.30 but inside the camp. We remained out in front of the camp until five in the afternoon, in the snow, without any food. Then when the signal was given we had to go through the door one by one, and we were struck in the back with a cudgel, each one of us, in order to make us run. Those who could not run, either because they were too old or too ill, were caught by a hook and taken to Block 25,  'waiting block' for the gas chamber. On that day, ten of the French women of our convoy were thus caught and taken to Block 25.
"When all the internees were back in the camp, a party to which I belonged was organized to go and pick up the bodies of the dead which were scattered over the plain as on a battlefield. We carried to the yard of Block 25 the dead and the dying without distinction, and they remained there stacked up in a pile…from time to time a hand or a head would stir among the bodies, trying to free itself… It was a dying woman attempting to get free and live. The rate of mortality in that block was even more terrible than elsewhere because, having been condemned to death, they received food or drink only if there was something left in the cans in the kitchen; which means that very often they went for several days without a drop of water."
THE NUREMBERG TRIALS: THE NAZIS BROUGHT TO JUSTICE
By Alexander MacDonald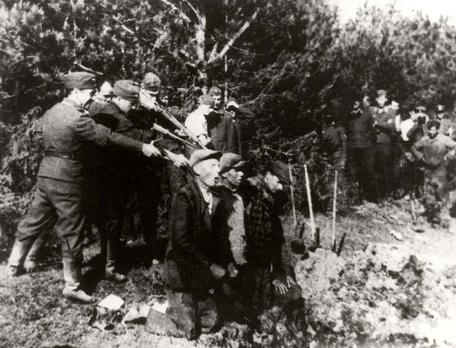 Einsatzgruppe members execute Jews in Lithuania, 1942.
"You have to remember I would be passing shops that said 'Jews, Don't buy here.'  It was all around. I think I was frightened with all these endless brown shirts and black shirts everywhere. All around the town were these little advertising towers on the streets on which they would show terrible pictures of Jews. I thought what a disgusting, horrible time, but we'll get through this and in a year or two these horrible people will be gone. It then began to be one's main consciousness that one was Jewish and the sense of danger gradually increased."
THE GESTAPO: THE MYTH AND REALITY OF HITLER'S SECRET POLICE
By Frank McDonough
"At further gassings of the Jewish people in May 1942, Stark often took some Jewish women to one side before the gassing. When the other Jewish people were in the gas-chambers he lined the women against the wall of the yard of the small crematorium. Then he would shoot one or two women in the chest and feet. When the other women were trembling, falling on their knees and begging the accused Stark to let them live, he would shout at them, 'Sarah, Sarah, come on, stand still!' Then he would shoot them all, one after the other."
"THE GOOD OLD DAYS"
By Ernst Klee, Willi Dressen, and Volker Riess
Vera Alexander, a Kapo who looked after twins selected by Mengele, recalls how they often returned to the block screaming with pain after his attentions.
THE HOLOCAUST: A NEW HISTORY
By Laurence Rees
"Once I was standing outside of our barracks with a woman named Frana. She lived in the same section of the barracks as I did. I never did know her last name. Most of us did not know each other's last names. I do remember that she was from Lodz. We knew that she had not passed the last selection. She knew that in the morning they would come for her. I asked her if there was anything she wanted. She said, 'Mala, if you have some extra food I would like to have it. I would like to not feel hungry when they come for me in the morning.'  I had some bread and some margarine. I gave it to her, and she ate it. Eating calmed her down, and in the morning she went without a fuss."
THE BLEEDING SKY: MY MOTHER'S JOURNEY THROUGH THE FIRE
By Louis Brandsdorfer
In the lingo of the camp this procedure was called Spritzen (injecting). A letter smuggled out to Cracow in November 1942 by the Polish resistance organization in the HKB states that "thirty to forty people, among them four to six Poles, are killed every day by means of injections in to the heart with a ten-cubic-centimeter syringe containing 30 percent phenol." Most of the victims were Jewish, and according to the letter they were already earmarked for such a death when they were just slightly ill.
PEOPLE IN AUSCHWITZ
By Hermann Langbein
During one roundup in the Kaunas ghetto, an officer named Wilhelm Goecke ordered the Jews to relinquish all children, announcing that severe punishment awaited those who evaded the order. A couple named Zeller was publicly executed for failing to hand over their child to the butchers. The unfortunate parents were beaten, forced to sit on a red hot stove, and had needles shoved under their fingernails. When they lost consciousness, they were carried to the gallows. Holding their victims in the nooses in a way that was calculated not to kill them, the Germans took them down and put off completing the execution until the next day. Then they lashed the father to a stake and lit a fire beneath his feet. They stripped the mother naked and continued to torture her.
THE UNKNOWN BLACK BOOK
By Joshua Rubenstein and Ilya Altman
For us women, our fate was much worse than one could imagine. There was a rule that had been laid out by the Nazis, especially when it came to Jewish women. No one was supposed to marry us or have any children with us. There was no room for any babies that carried mixed blood in what was to become the new Germany.  This however, did not stop us from being 'broken in' by the soldiers that were in in the camp. The very first day, even before we were taken to the quarters that we were to stay in, Elka and I and most of the other young girls in my group were separated from the rest of the women. We were led into a room, and suddenly, the room filled with soldiers. We were terrified and tried to huddle together, knowing that letting out a scream would result in our death.  The men grabbed one of the girls that was next to us. She struggled which we found out to be her biggest mistake. They took off her striped clothes so that she was in front of us all, completely naked. Then I watched slowly as they took off their own trousers, four of them in total, and proceeded to rape her. Her screams rang out and then the next four soldiers came when the others were spent. They did the same thing, took off their trousers but this time, they sodomized her. She screamed until all that was coming out of her mouth was a rasping and gasping sound. When they were done, they let in what appeared to be a mad dog which mauled her until there was no sound coming from her. After this, they urinated on her and kicked her to the side. We were all completely dumbfounded and stood and watched.
The soldiers said that if we looked away [from a rape], we would be punished. When they were done with her, they told us that this was a warning. Unless we agreed to intercourse, we would suffer the same fate. Resistance was not permitted, and screaming meant death.  We all had to take off our clothes and lie down, as the soldiers used our bodies as objects for their own satisfaction. By the time I had left the room, I had been used by three soldiers, all with different levels of brutality. As a virgin, I had never experienced anything like this before and words could not describe the pain that I was in.
HOLOCAUST: A JEWISH SURVIVOR TESTIMONY
As Told by Regina Weinkrantz
Edited by Dan Myers
Captain Hera and his men burst in to look over our things…Hera commented to one of the soldiers, "Clean, very clean." The men carted boxes of my father's books down from the attic and spilled them over the kitchen floor. Hera's anger at seeing volumes of German poets and a set of Nietzsche in a Jew's library drove him to a fit of frenzy. He trampled the pages underfoot, ripped covers apart and ordered the books destroyed. My mother faded backwards toward the wall but my father, tears running down his face, stepped toward to retrieve a book. Hera battered him repeatedly with one heavy, torn volume, the jagged edge cutting into my father's cheeks and forehead. "Jew-pig," he said, "now it's losing your books that makes you cry, soon it will be your children."
LOVE IN A WORLD OF SORROW
By Fanya Gottesfeld Heller
By the summer of 1941 the conditions in the [Warsaw] ghetto – the overcrowding, the general privation and poor sanitary standards – led to a serious outbreak of typhus that went on unabated until the spring of 1942. According to official statistics, in the winter of 1941-2 200 people died daily. Typhus is spread by lice and the incubation period is 9 to 14 days. The onset of the disease is marked by a high temperature, accompanied by severe headaches and prostration, a feeling of utter physical exhaustion. After three days a rash appears, the patient descends into a stupor and keeps slipping into a coma. Most patients die. Like the lice which carry it, typhus respects no social barriers. We all dreaded the disease.
SAVED BY MY FACE
By Jerzy Lando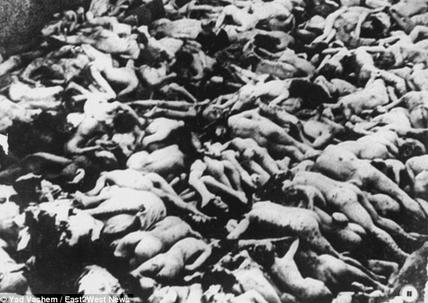 Blood reportedly oozed from the soil of mass graves of Jews all over Ukraine.
Every September, at the beginning of the school year, the brass band of the renowned Jewish High School of Bedzin, the Furstenberg Grammar School, would march at the head of a procession of the students and teachers to the Great Synagogue, situated on the hillside below the ancient and dominating castle of Bedzin. There, in a ceremony directed by the Rabbi, the school would receive its blessing for the coming year. But not so in September 1939. Following the German invasion of Poland and the rapid conquest of this border region, the school was closed down. Within days, the Great Synagogue was set on fire, and, locked inside it and the surrounding houses, several hundred Jews were burnt alive, or shot dead as they jumped out of windows and sought to flee their burning homes. Local Polish people could hear the screams as Jews plunged into the water of the nearby river, in a vain effort to put out the flames, but were shot at if their heads popped up to get some air. Others were luckier, and found sanctuary in the nearby Catholic church. For days, the river ran red with blood; and people had to step over dead bodies in the streets between the ruins of the burnt-out houses.
A SMALL TOWN NEAR AUSCHWITZ
By Mary Fulbrook
The marching column comes to a sudden halt. An officer in a gray SS uniform [Mengele] stands facing the lines. Dogs strain on leashes held by SS men flanking him on both sides. He stops each line and regroups them, sending some to his right and some to his left. Then he orders each group to march on. Fast. I tremble as I stand before him. He looks at me with friendly eyes. "Goldene Haar!" he exclaims and takes one of my long braids into his hand. I am not certain I heard right. Did he say "golden hair" about my braids? "Bist du Judin?"  Are you Jewish? The question startles me. "Yes, I am Jewish." "Wie alt bist du?" How old are you? "I am thirteen." "You're tall for your age. Is this your mother?" He touches Mommy lightly on the shoulder. "You should go with your mother." With his riding stick he parts Aunt Serena from Mommy's embrace and gently shoves Mommy and me to the group moving to the right. "Go. And remember, from now on you're sixteen." Aunt Serena's eyes fill with terror. She runs to Mommy and grabs her arm.  "Don't leave me, Laura. Don't leave me!" Mother hugs her fragile older sister and turns to the SS officer, her voice in a shrieking plea, "This is my sister, Herr Offiizier, let me go with her! She is not feeling well. She needs me." "You go with your daughter. She needs you more. March on! Los!" With an impatient move of his right hand he shoves Mother toward me. Then he glares angrily at Aunt Serena. "Move on! Los! You go that way!"  His stick points menacingly to the left. Aunt Serena, a forlorn, slight figure against the marching multitude, the huge German shepherd dogs, the husky SS men. A savage certainty slashes my bruised insides. I give an insane shriek, "Aunt Serena! Aunt Serena! I will never see you again!" Wild fear floods her hazel eyes. She stretch out her arms to reach me. An SS soldier gives her a brutal thrust, hurling her into the line marching to the left. She turns again, mute dread lending her added fragility. She moves on. I never saw Aunt Serena again.
I HAVE LIVED A THOUSAND YEARS
By Livia Bitton-Jackson
One night, around midnight [Langenbilau Camp], we heard screaming.  "Everybody out!" we were instructed. We were lined up. They brought us to a place between the fence and the guards' barracks where a dog had just defecated. We were sadistically ordered to lick the dog's feces with our tongues until it was all cleaned up. This kind of mockery went on very often. It was done simply to humiliate us.
MEMOIRS OF A HOLOCAUST SURVIVOR: ICEK KUPERBERG
By Icek Kuperberg
I got into line [at Auschwitz] next to Ernst, Max, and Emil Stern – my father's cousins – and Max Rosenstein from Warburg. Rosenstein was holding a one-year-old child in his arms. We saw nothing unusual about this – until all of a sudden the SS men discovered the child and one of them rushed in our direction yelling at Rosenstein – hadn't he heard that children were to stay with their mothers? Rosenstein started to excuse himself. "My wife already has to take care of four little children and I just wanted to give her some relief. I…" The SS man didn't listen to what Rosenstein had to say. He simply went up to him, snatched the child out of his arms, and walked off. Petrified, we saw him smash the child's head against the nearest pole. Rosenstein let out a scream and was about to rush over to his dead child, but we restrained him – the child was now beyond help…
THE UNWELCOME ONE
By Hans Frankenthal
One night in September 1943, I overheard a story about another Jewish family. A couple with a child were caught hiding in an underground grotto in a forest. A Ukrainian family who had previously hidden them reported them to the Ukrainian police in Suchowola. The Jews had run out of ransom money and fled to a hiding place in the woods. Their "friends" promised to supply them with food, but instead betrayed them, never letting on that they had once hidden them. The villagers of Suchowola were called out to witness the Jews' execution. "Now watch this," one of the Ukrainian policemen said. "Any Jews, or anyone hiding a Jew, will meet with similar fate." First they undressed the woman and asked if anyone wanted her. Mrs. Symchuck said she was very pretty. Since no one would lower himself to have sex in public with a Jew, not one person stepped forward. Her eight-year-old daughter stood by her mother's side. "The child screamed hysterically," Mrs. Symchuck said. "Most of the people laughed. The police shot the husband first, then the wife, and in the end, the poor child."
I'M NO HERO
By Henry Friedman
"Fifty!" the voice says, much louder and much clearer this time. "Fifty more!" [for the train from Theresienstadt to Auschwitz]. Mother's hand goes up to her mouth. Suddenly all kinds of horrible noises from down the hall begin pouring into our room. Voices, screaming, and dogs barking viciously. I hurry back to Mother and grab her arm, waiting for the dogs to stop. The boy starts in with his crying again. Mother puts her arm around me and grabs Marietta's hand with her other hand. She squeezes me much too tightly.
"All of you!" the voice screams, with the dogs barking a split second after he finishes screaming. "No!" a woman shouts, completely terrified. "No, no, no! Please!" Again and again she shouts this, though after a while it's more a cry than a bunch of words. I break free of Mother's grip and run back to the door. "Misha!" she shouts at me in a kind of whisper. But I can't help it. I grab hold of the doorknob and press my ear against the door. "You!" the same voice orders. "Now!" Then more vicious barking and crying and begging. And walking. People from that first room must be walking down the stairs. Someone keeps screaming and begging. "No, no, no," over and over and over, the dogs answer with their terrifying barks…
Then another door opens. "Twenty-one! Get up! Move!" And now I want to get away from the door, but something won't let me, even though I can feel my body shaking. "Not him, not him!" a woman shouts begging. A dog's bark explodes and someone shrieks, bitten probably. The hall fills with children crying and a woman screaming. Their voices are so powerful and so terrified, I feel like I'm hearing them through my skin, like they're cutting straight through me. A man yells, "Let go of him now!" and then loud footsteps and a deep, hard thud, like a body hitting the wall between our rooms. For a second the screaming stops, only to start up again even louder. Layers and layers of screaming, all of it making my entire body tremble. "Over there, all of you!" a man shouts above the screaming and the barks of the dogs
cutting through the air.
All of you. Does that mean he's taking everyone from that room? And if it does, then our room is next, because he's definitely just down the hall. He's definitely in the room right by ours. And so if he needs any more, our room is next! He'll click down the hall and swing our door open, the dogs growling and snapping at us. He'll say "thirteen" and that will mean all of us. And we'll beg like those other people begged, but it won't matter, because they don't care about begging, they don't care about anything, because if they're fine stuffing one hundred people into a boxcar with no seats and no windows, why would they care at all about people begging?
SOMEWHERE THERE IS STILL A SUN
By Michael Gruenbaum
I am tired of being vigilant. I am tired of watching the sun rise on despair [at Auschwitz]. The girl-women around me mirror my thoughts; my face must looked as doomed as theirs. The filth, the smell, the sounds of guard dogs barking in the distance – it is too much. The whole night I crouch on the floor, exhausted yet alert. There has been no water for days, no food, not a drop of anything. I don't fall asleep, but quite a few do. Dropping off into unconsciousness, they collapse on the floor, no longer able to feel the gnawing bites of these terrible bugs.
RENA'S PROMISE
By Rena Korneich Gelissen with Heather Dune Macadam
Over the course of time, stories about German atrocities in the East filtered back from German troops. Knowledge about the terrible fate that awaited Jewish deportees became increasingly diffused among both Jews and non-Jews. So too, with the passage of time, did the Nazis' approach to the deportation of Berlin Jews become more and more openly brutal.
REFUGE IN HELL
By Daniel B. Silver
Sometimes, after a transport had already been gassed, some late-arriving cars drove around filled with the sick. It was wasteful to gas them. They were undressed and Oberscharführer Moll either shot them with his rifle or pushed them live into a flaming trench. Once, a car brought a young woman who had refused to part from her mother. Both were forced to undress, the mother led the way. The man who was to guide the daughter stopped, struck by the perfect beauty of her body, and in his awe and admiration he scratched his head. The woman, noticing this coarse, human gesture, relaxed. Blushing, she clutched the man's arm. "Tell me, what will they do to me?" "Be brave," said the man not withdrawing his arm. "I am brave! Can't you see, I'm not even ashamed of you! Tell me!" "Remember, be brave, come. I shall lead you just don't look." He took her by the hand and led her on, his other hand covering her eyes. The sizzling and the stench of the burning fat and the heat gushing out of the pit terrified her. She jerked back. But he gently bent her head forward, uncovering her back. At that moment the Oberscharführer fired, almost without aiming. The man pushed the woman into the flaming pit, and as she fell he heard her terrible, broken scream.
WE WERE IN AUSCHWITZ
By Siedlecki, Olszewski, Borowski
"On one of the barges, the SS guards called for volunteers to shove people into the sea. According to one eyewitness, a few Ukrainians stepped forward. 'They picked out some people from among us,' she recalled, 'whom they threw overboard. Those selected were undressed, dragged up a steep iron ladder, and thrown through the hatch into the sea. This was their method of relieving congestion.'…The prisoners on the other barge were simply dumped ashore. Most were shot. According to some sources, the killing was carried out by marines from the Neustadt U-boat school.  'The beaches for a good few hundred yards were covered with bodies.'… 'The children had been clubbed to death and judging by the shape of their wounds, rifle butts had been used.'"
ENDGAME, 1945
By David Stafford
"Dietrich did not confine himself to old-fashioned cudgeling, however brutal and fatal they might have been. Fischer, with another German, one day followed the trail of ghastly screams, to discover Dietrich 'once again in one of his tantrums,' and to witness a scene of this 'work' leader's making that is hard to fathom could occur in an institution devoted to economic productivity: 'There I saw that Dietrich beat the Jew so long until he lay unconscious on the ground. Then Dietrich ordered other Jews fully to undress the unconscious Jew and to pour water on him. When the Jew regained consciousness, Dietrich grabbed the hands of the Jew, who had defecated all over himself, dunked them in the excrement and forced him the eat the excrement. I walked away, as the spectacle sickened me.' Fischer found out that evening that this Jewish worker, nourished on his own excrement, was dead."
HITLER'S WILLING EXECUTIONERS
By Daniel Jonah Goldhagen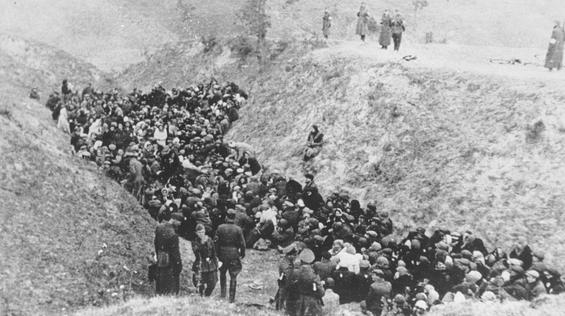 Preperation for mass murder in Sdolbunov G. (Ukraine). All were shot on
14 October 1942.
"Many Jews, terrified by the open attack and acutely aware of their vulnerability, became desperate to leave Germany. So-called Aryans benefited from that desperation as they scooped up Jewish property at bargain-basement prices."
THE HOLOCAUST: A CONCISE HISTORY
By Doris L. Bergen
"The number of deaths from starvation and disease between the closing of the [Warsaw] ghetto in November 1940 and the beginning of the deportations in July 1942 may have been as high as one hundred thousand."
NAZI GERMANY AND THE JEWS 1933-1945
By Saul Friedlander
"The men had packed newborn Jewish babies into gunnysacks, like unwanted kittens, and threw the sacks out the second-floor window."
MASTERS OF DEATH
By Richard Rhodes
On one of my wanderings through the fort I lost my way as I was not sure where the entrances were. On this occasion a Jewish woman of about thirty ran across my path. She had been shot through both cheeks and the wounds had swollen up considerably. Seeing the red cross on my armband she begged me for a bandage, which I wanted to give her. I was just busy getting the pack of dressings I'd brought with me out of my jacket when an SS or SD guard with a rifle came up to me and told me to make myself scarce, saying that the Jewess had no further need of a pack of dressings. The Jewish woman was then pushed back by the uniformed German.
"THE GOOD OLD DAYS"
By Ernst Klee, Willi Dressen, and Volker Riess
One day some Gestapo agents came to our neighbor, the hairdresser Mr. Neumann. They claimed that they had smelled burnt fur and therefor proceeded to shoot Mrs. Neumann and her daughter. [In the severe winter of 1941-42 the German requisitioned furs for their troops.]
THE DEAD YEARS
By Joseph Schupack
It was one thing to talk about extending the killing in the abstract, quite another for SS men to stand up close and pull the trigger, a few feet away from naked Jewish women and children. Nonetheless, in the summer and autumn of 1941 thousands of SS men became murderers for the first time as they killed in just such an intimate manner. The 1st SS Infantry Brigade, for example, murdered Jews in Ostrog in the west of Ukraine at the start of August 1941. Ostrog was a predominantly Jewish city, with a population of 10,000 Jews, now swelled by several thousand more who had sought refuge in the city from the surrounding area. On 4 August the SS forced Jews out of Ostrog into the countryside. "They treated us as cattle," says Vasyl Valdeman, then a twelve-year-old Jewish boy. "They [the SS] were armed and had dogs with them. They made strong [Jews] carry the ill people, and those who had beards were beaten, because they thought they were rabbis, and we saw much blood on their faces. They [the Jews] were crying out, I remember their words, 'They are beating us, beating us as dogs.'"
When the Jews reached a large sandy field the SS ordered them to sit down. The SS had told the Jews that they were needed to dig fortifications, but it soon became clear that they were to be murdered.  "We were looking at our parents," says Vasyl, "and when we saw our grandmother and mother crying we realized that this was something horrible." The Jews waited hours in the scorching heat until, one group at a time, they were ordered to undress and all their valuables were stolen. Next they were marched forward to an open pit and shot. But the SS didn't possess the manpower to kill all the Jews in one day, so in the evening the remaining Jews were marched back to Ostrog. The next day, the killing began again and continued until the military commander of Ostrog said he needed the remaining Jews to act as forced labor. Almost the whole of Vasyl's family were murdered by the Nazis – including his father, two brothers, two uncles, his grandmother and grandfather. Vasyl and his mother were hidden by non-Jewish neighbors and survived the war. "They even ran risks so that we could survive," he says. "Nobody told the Germans that we were hiding."
THE HOLOCAUST
By Laurence Rees
"It is horrible to see the women in Birkenau. How they have changed! They are completely bald and barefoot; on their bodies they have nothing but a piece of jute tied together with string. These are not women anymore; they are sexless creatures."
PEOPLE IN AUSCHWITZ
By Hermann Langbein
One night, three young Jewish men were laying the water line to the villa. The ground was frozen so solid that digging was impossible. In order to warm it up, the workers lit a fire. Suddenly the governor, SS officer von Traub, and some of his mates came out of the villa and started shooting, using the Jews as live targets. The three laborers were hit, and the governor ordered the guards to put the bodies on the fire.
SURVIVING THE HOLOCAUST WITH THE RUSSIAN JEWISH PARTISANS
By Jack Kagan and Dov Cohen
Another painful incident which I will always remember occurred one afternoon when we were pushing a heavy load of lumber toward the kitchen. Crossing our path was a guard escorting a young girl in her teens, holding on to what could have been her little brother. Judging from their ragged appearance, they must have been hiding someplace inside the ghetto and were found by the Germans. It didn't take long before I heard gunshots coming from the area to which the two children had been led.
MY DARKEST YEARS
By James Bachner
"A German officer, followed by his aides, was walking alongside the Jews and with a thumb pointing to the left or right. Soldiers immediately shoved the people to the side directed by their superior. All the old people, those who looked ill, and small children were being sent to the left. There were desperate cries as families were separated. I saw one woman, sent to the right, bolting out of her line and joining her little girl on the left. An SS guard tried to push her away. 'I don't want to live any longer!' the woman shouted, clinging to the sobbing child, its little arms clutching her mother's neck. Magnanimously the SS officer waved the guard off.
'Lassen sie da! (Leave her there!)'"
CHRONICLES OF THE HOLOCAUST
By Roselle K. Chartock and Jack Spencer
When I reached home, there was no need to tell my parents what I had seen. They had watched the soldiers from our window and were grief-stricken. Both were pale and trembled with fear, not knowing what to expect. The Nazi beasts had not finished with our small town. There was much more horror to inflict… A chilling scream caused me to jump out of my seat. We ran to the window and witnessed the most savage and cruel act I thought could ever be seen. I was nauseous as I watched young Polish girls with their legs tied apart, their bodies exposed in the most humiliating and degrading way. The soldiers were raping, mutilating and subjecting these women to unbelievable acts of sadistic torture.
OUTCRY: HOLOCAUST MEMOIRS
By Manny Steinberg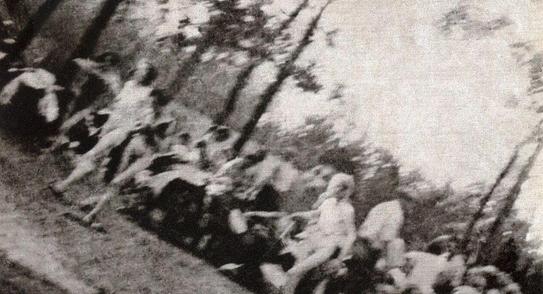 Naked women at Auschwitz being marched to the gas chambers. The poor quality of this picture is probably from an unsteady hand, since anyone caught taking photographs at Auschwitz would be immediately shot or gassed.
Several men are carrying a small girl with only one leg. They hold her by the arms and the one leg. Tears are running down her face and she whispers faintly: "Sir, it hurts, it hurts." They throw her on the truck on top of the corpses. She will burn alive along with them.
WE WERE IN AUSCHWITZ
By Siedlecki, Olszewski, Borowski
Within days of the first births at Ravensbrück, Treite received orders to stop the offerings of extra milk and porridge from the kitchen, so from then on the feeding mothers received only the usual diet of watery cabbage soup and a slice of bread. Very quickly none had any milk to speak of in their breasts and the babies began to starve. The deliberate starving of babies was a long-established Nazi technique of killing. Baby starvation was first carried out during the Euthanasia killings in 1939, when physically or mentally handicapped babies were deliberately left to die…
Mothers had almost no milk, but still they came each day and queued outside in the corridor, sobbing as they waited to see their babies and try to feed them. "The pretty little face the mother had known at first was soon transformed into the face of an old person, the body covered in ulcers and sores. The mother was powerless to do anything."…
Hanna Wasilczenko broke in one night to see her baby boy. "It was a dreadful sight. At first it was quite dark but when I managed to turn on a light I saw vermin of all sorts jumping on the beds and inside the noses and ears of the babies. Most of the babies were naked because their blankets had come off. They were crying of hunger and cold, and covered in sores." In these conditions the babies lived for a few days or perhaps a month. Vitold Georg lived for sixteen days before dying of pneumonia. After thirty days, the first 100 babies were all dead.
RAVENSBRÜCK
By Sarah Helm
Bruno Blau describes how the radiologist who successfully treated him for cancer disappeared one day along with his assistant. They made it all the way to the Swiss border, where they prepared to sneak across into Switzerland with a group of Jews who were escaping Germany. After successfully getting across the border, the radiologist turned back to help another member of the group who had lagged behind. The result of this act of kindness was that both the radiologist and his assistant were arrested by the border police and taken back to Berlin. At police headquarters in Berlin both swallowed poison. The doctor died immediately; his assistant lingered for a while at the hospital before she died.
REFUGE IN HELL
By Daniel B. Silver
"'We have about four hundred and fifty reports of death today.' Frinke shouted. 'You must finish the records by five o'clock in the morning. Any of you who misspells a name or makes a mistake in the numbers may prepare for Block 25.' Block 25 faced our office and it contained those destined for the gas chamber. The women in it lay in rags, mud and excrement. Some of them grasped the iron gates of the windows, moaning and yelling. They knew that soon SS men, together with SS Arbeitsfuhrerin Dreschler and three or four of her assistants, would throw them onto a truck headed for the gas chamber and then the crematorium. Every night I would look out of the office. Punctually at half-past eight, a truck would arrive with the SS guard. Shortly after I would hear the cries of the victims, who beaten with guns and truncheons, were pulled by their hair and limbs and flung onto the truck. I would also hear the callous laughter of the SS who were usually given a supplementary ration of two or three liters of brandy to carry out this job. Through the square window of the office, one could see the beams of huge searchlights illuminating the entire camp, the electrical wires with their white poles and the guardhouse with the SS-sentinels.  Truck after truck would leave with its cargo, until Block 25 was empty. In the morning, immediately after roll call and before the prisoner details left for work, the block would again be crammed with fuel for the chimneys, which operated day and night. There were five such chimneys in Auschwitz. They consumed their innocent victims, transforming them to ashes, which, in conformity with practical Nazi economy, were utilized as fertilizer."
SOURCES OF THE HOLOCAUST
By Steve Hochstadt
The little children cried mostly because of the unusual setting in which they were being undressed. But after their mothers or the Sondercommando encouraged them, they calmed down and continued playing, teasing each other, clutching a toy as they went into the gas chamber. Once a woman with her four children, all holding each other by the hand to help the smallest ones over the rough ground, passed by me very slowly. She stepped very close to me and whispered, pointing to her four children. "How can you murder these beautiful, darling children? Don't you have any heart?"
DEATH DEALER: THE MEMOIRS OF THE SS KOMMANDANT AT AUSCHWITZ
By Rudolph Höss
Edited By Steven Paskuly
The living conditions deteriorated day by day not only in many labor camps, but also in the ghettos. The Warsaw ghetto was formed in October 1940 according to 1939 plans. In May 1941, 500,000 people had to live there. No food was delivered to the ghetto after January 1941…Food had to be obtained by the ghetto. Thus, only 336 calories per person could be distributed.
JEWISH FORCED LABOR UNDER THE NAZIS
By Wolf Gruner
Translated by Kathleen M. Dell'Orto
Even with the end so near, the Nazis and the Arrow Cross continued to commit unspeakable acts of horror on what Jews they could find. If anything, they now became even more frantic in their Final Solution. Many thousands of Jews were shot against the banks of the Danube by Hungarian fascists that were sometimes only fourteen years old. Their bodies were pushed into the gray waters – but not before they had their gold teeth removed. Those who still lived in the two Ghettos were skating on very thin ice. Daily, their tormentors would come for them, killing and torturing at their whim.
CHILDREN OF SEPARATION AND LOSS
By Gertrude Pollitt
"Komarowka Drucker's Second Platoon of Second Company had two Jewish kitchen workers known as Jutta and Harry. One day Drucker said they could not stay any longer and there was nothing left to do but shoot them. Some of the policemen took Jutta to the woods and engaged her in conversation before she was shot from behind. Shortly thereafter, Harry was shot in the back of the head with a pistol while he was picking berries. The policemen had clearly taken extra pains to shoot unawares victims who had prepared their food for over the past months and whom they knew by name. By 1942 standards of German-Jewish relations, a quick death without the agony of anticipation was considered an example of human compassion!"
ORDINARY MEN
By Christopher R. Browning
Newspapers, if an internee could get a hold of them, served a new purpose in Dachau; tucked under one's clothes as insulation, they could provide extra warmth. But there was nothing Pauson could do about the woefully inadequate diet. Like so many Jewish men imprisoned during Kristallnacht, he returned home emaciated, a piercing shock to the family member who opened the door. "My mother," Eva remembers, "was desperately trying to feed him but he couldn't eat the food. He had to eat a real [special] diet to get his stomach system working again."
EXIT BERLIN
By Charlotte R Bonnelli
The November 11 train, the last of 1942, was short, with 745 passengers. To help fill it, the SS raided the Rothschild nursing home and removed thirty-five elderly patients, six of them were over eighty and twenty of them were over seventy, according to Jacques Levy, a survivor of the November 11 transport. There were about seventy to a car with two buckets of water per car to be used as toilets when the buckets were empty. On the second day a man in Levy's car, went mad and had to be bound and gagged. Levy had never before seen a complete moral and psychological disintegration of a human being.
AN UNCERTAIN HOUR
By Ted Morgan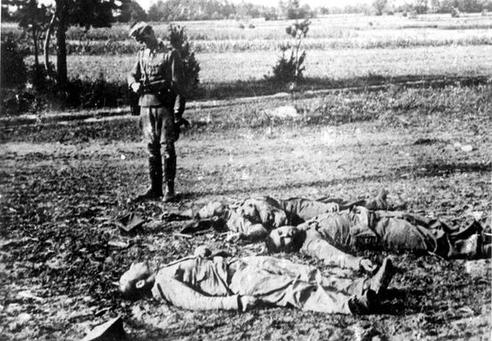 A German soldier with three victims.
On June 22, 1941, the Germans invaded the Soviet Union with its five million Jews. Four million were concentrated within a few hundred miles of the June 22 border and in the White Russian and the Ukrainian republics, areas that the Nazis overran. Einsatzgruppen followed the troops, seized and killed the Jews, and disposed of their bodies. No more than 3,000 men killed at least 1,000,000 human beings in approximately two years. Those figures mean statistically that four Einsatzgruppen averaged about 1,350 murders per day during the two-year period: 1,350 human beings were slaughtered on the average day, seven days a week, for
more than a hundred weeks.
HITLER'S DEATH CAMPS
By Konnilyn G. Feig
"Well-informed circles are saying that the number of Jews who have been driven to suicide now exceeds 6,800 [in Austria]. A furniture dealer in the 2nd district [in Vienna] killed himself along with his spouse, son, daughter-in-law, and 5-year-old grandchild. The next day the SA affixed a poster to his shuttered business reading, 'We strongly urge others to follow his example.'"
JEWISH RESPONSES TO PERSECUTION
By Jurgen Matthaus and Mark Roseman
In January 1945, after the SS again took an inventory of the aged and ill prisoners, they sent them to Uckermark and ordered them to undress. That day the women stood naked in the icy snow of a Prussian winter for a roll call that lasted until evening. About fifty died the first day and the process was repeated daily. From the end of January there was constant movement between Uckermark and Ravensbrück. The cold and starvation did not kill quickly enough, so the SS brought in a nine-man shooting team. By April thousands of women from the overcrowded main camp had been killed at Uckermark, at the "sanitarium."…At one point during the winter [at Uckermark] the SS nailed shut the windows of a block's washroom, crammed in as many women as possible, and locked the doors. After a few days the SS decided it was time to bring the experiment to a close. They set up a motion-picture camera to film the emerging survivors. "These prisoners had torn away the chimney bricks to try to get air and ripped off all their clothing; several had died or were unconscious, others had evidently gone mad."
HITLER'S DEATH CAMPS
By Konnilyn G. Feig
"I have to tell you something you probably won't believe, but I must tell it anyway. We were deployed to Poland to dig trenches for a fallback position. One of the trenches constructed was near a train tunnel. One day a locomotive drove toward it pulling open freight cars. People were crammed into these cars. Apparently – we were not far away – they were all Jews. The locomotive pushed these cars into the tunnel, and then uncoupled. Next time heavy diesel trucks drove up with SS men in them. The trucks were positioned at both ends of the tunnel. They let their motors run, with the exhaust directed into the tunnel. Everything else was sealed off so the gas could take full effect. They let their engines run until everyone in the tunnel was dead. It took over 24 hours. And the people in there, the Jews, must have died a horribly agonizing death. I actually saw this happen, and so did my men."
VOICES FROM THE THIRD REICH
Steinhoff, Pechel and Showalter
"A squad [at Jozefow, Poland] would approach the group of Jews who had just arrived, from which each member would choose his victim – a man, a woman, or a child. The Jews and Germans would then walk in parallel single file so that each killer moved in step with his victim, until they reached a clearing for the killing where they would position themselves and await the firing order from their squad leader. The walk into the woods afforded each perpetrator an opportunity for reflection. Walking side by side with his victim, he was able to imbue the human form beside him with the projections of his mind. Some of the Germans of course, had children walking beside them. It is highly likely that, back in Germany, these men had previously walked through woods with their own children by their sides, marching gaily and inquisitively along. With what thoughts and emotions did each of these men march, gazing sidelong at the form of, say, an eight- or twelve-year-old girl, who to the unideologized mind would have looked like any other girl? In these moments, each killer had a personalized, face-to-face relationship to his victim, to his little girl. Did he see a little girl, and ask himself why he was about to kill this little, delicate human being who, if seen as a little girl by him, would normally have received his compassion, protection and nurturance? Or did they see a Jew, a young one, but a Jew nonetheless? Did he wonder incredulously what could possibly justify his blowing a vulnerable little girl's brains out? Or did he understand the reasonableness of the order, the necessity of nipping the believed-in Jewish blight in the bud? The 'Jew-child,' after all, was mother to the Jew. The killing itself was a gruesome affair. After the walk through the woods, each of the Germans had to raise his gun to the back of the head, face down on the ground, that had bobbed along beside him, pull the trigger and watch the person, sometimes a little girl, twitch and them move no more. The Germans had to remain hardened to the crying of the victims, to the crying of women, to the whimpering of children. At such close range, the Germans often became spattered with human gore. In the words of one man, 'the supplementary shot struck the skull with such force that the entire back of the skull was torn off and blood, bone splinters, and brain matter soiled the marksmen.' Sergeant Anton Bentheim indicates that this was not an isolated episode, but rather the general condition: 'The executioners were gruesomely soiled with blood, brain matter, and bone splinters. It stuck to their clothes.' Although this is obviously viscerally unsettling,  capable of disturbing even the most hardened of executioners, these German initiates returned to fetch new victims, new little girls, and to begin the journey back into the woods. They sought unstained locations in the woods for each new batch of Jews."
HITLER'S WILLING EXECUTIONERS
By Daniel Jonah Goldhagen
"Massacring Jews [at Dynow, Poland] may have been considered by the Wehrmacht as demanding disciplinary action, but torturing them was welcome enjoyment for both the soldiers and SS personnel. The choice victims were Orthodox Jews, given their distinctive looks and attire. They were shot at; they were compelled to smear feces on one another; they had to jump, crawl, sing, clean excrement with prayer shawls, and dance around bonfires of burning Torah scrolls. They were whipped, forced to eat pork, or had Jewish stars carved on their foreheads. The 'beard game' was the most popular entertainment of all: Beards and sidelocks were shorn, plucked, torn, set afire, hacked off with or without parts of skin, cheeks or jaws, to the amusement of a usually large audience of cheering soldiers."
NAZI GERMANY AND THE JEWS 1933-1945
By Saul Friedlander
During the first year of Nazi rule, more than three hundred new laws and regulations were passed restricting Jewish life in Germany. Jews were fired from government posts. Jewish academics were ousted from their jobs. Jewish lawyers and judges were barred from the courts. Jewish physicians were excluded from the health care system. Businesses were ordered to fire any Jews on their boards. The Berlin Stock Exchange dismissed Jewish brokers; a number reacted by committing suicide.
THE DEVIL'S DIARY
By Robert K. Wittman & David Kinney
"They had dug it all out and there were all these corpses [at Pinsk, Belarus]. Then they [the Jews] had to undress. Mothers were still carrying their children, usually in one arm. And then they would have to go up there, and they shot them. I saw everything, everything. Afterward I went into the buildings [where the Jews had been kept], and it was horrifying. There were still people who were standing down there in the toilets, in sewer trenches where the feces were. They were hiding, and they had only stuck their heads and peered out and they thought they had gotten away. But then the Poles came along and stole everything they could. This was not like the Germans would do. And then they said, 'There's another one in there. There's another one down there.' And then they shot them all. It was horrifying. What an experience that was! I just thought to myself, 'Something like this just can't happen.'"
WHAT WE KNEW
By Eric A Johnson and Karl-Heinz Reuband
Samuel Rajzman, an inmate of the Warsaw ghetto sent to Treblinka, testified that the German guards called the death camp the "Road to Heaven." He said that an average of three transports totaling 60 car-loads each day arrived at Treblinka. "Immediately after their arrival, the people had to leave the trains in five minutes and line up on the platform," he said. "All those who were driven from the cars were divided into groups, men, children and women, all separate. They were all forced to strip immediately, and this procedure continued under the lashes of the German guards' whips. Workers who were employed in this operation immediately picked up all the clothes and carried them away to barracks. Then the people were obliged to walk naked through the street to the gas chambers." It was called Himmelfahrtstrasse – literally, the "street to heaven." The whole process, for men, took eight to ten minutes. For women, it took 15 minutes, because their hair had to be cut off to stuff mattresses. Rajzman had been spared because of his language skills.
THE NUREMBERG TRIALS: THE NAZIS BROUGHT TO JUSTICE
By Alexander MacDonald
By going up very close to the pit [at Zhitomir, Ukraine] I saw something that to this day I can never forget. Among the bodies in the pit lay an old man with a white beard, who still had a small walking stick hanging over his left arm. It was clear that the old man was still alive as he was panting for breath and so I asked one of the policemen to kill him once and for all, to which he replied in a jocular fashion, "I've already shot him seven times in the belly, don't worry, he'll snuff it soon enough."
"THE GOOD OLD DAYS"
By Ernst Klee, Willi Dressen, and Volker Riess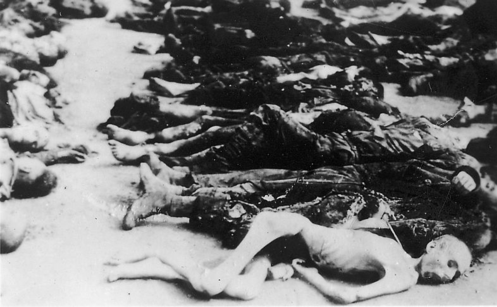 Deceased found at the Buchenwald camp.​
My aunt, Chaya Turkeltaub, had hidden out of fear of a forthcoming Aktion against Jews. Her hideout was a Polish farm in the village of Zabikow, about 6 kilometers from Radzyn. I do not know whether it happened by accident or during a search, but she was found, recognized as a Jew, and shot immediately. The Gendarmeri continued its search in other houses where they discovered another two older Jewish women, Mrs. Gelibter and Mrs. Steinberg, who they also shot. When we received news of the tragic events, my cousin Mendl Turkeltaub and relatives of the other murdered women hired a Polish driver with a horse-drawn wagon and proceeded to the village to retrieve the corpses and bury them at the Jewish cemetery in Radzyn. The same Gendarme stopped the wagon when it approached the village, asked the three passengers what they wanted and then, having identified them as Jews, shot them.
THE DEAD YEARS
By Joseph Schupack
"So much happened in Auschwitz. I remember a mother and daughter who lived together in the same barracks. They were from Lodz. When they came to take the mother away, when she did not pass a selection, her daughter grabbed on to her and would not let go. I saw them pulled apart by the soldiers who came for the mother. As the mother was led away the daughter had to be held down. They called each other's name over and over. All of us who watched couldn't help but cry."
THE BLEEDING SKY: MY MOTHER'S JOURNEY THROUGH THE FIRE
By Louis Brandsdorfer
"I proceeded on Sunday morning with most of my comrades to the Jewish cemetery [Schwetz, Poland]… We saw then how a group of a woman and three children, the children aged about three to 8 years, were led from the bus to a shoveled out grave of about 8 meters width and 8 meters length. The woman had to climb into this grave and took her youngest child on her arm. Both other children were passed to her by two men of the execution Kommando. The woman had to lay on her stomach flat in the grave, that is with the face to the earth, her three children lined up on the left in the same way. Then 4 men similarly climbed into the grave, pointed their guns so that the muzzle was about 30 cm. from the back of the neck, and shot in this way the women with her three children."
SOURCES OF THE HOLOCAUST
By Steve Hochstadt
On May 16 the first three trains from Hungary arrived, and the biggest campaign of extermination began… "On some days the arrivals were simply wild," wrote Oswald Kaduk. "Five transports had already arrived by half past ten one morning." As had been done in the early period of the camp, the corpses were burned on pyres that were set up in the open air next to the crematoriums, for the capacity of the ovens was insufficient.
PEOPLE IN AUSCHWITZ
By Hermann Langbein
The fourth Novogrodek massacre took place on 7 May 1943. Two hundred of the 500 Jews living in the Arbeitslager (labor camp) were killed. Most of these were women. The killing was done near the forest of Horodzhilovka, quite close to the camp. Those remaining in the camp could hear their loved ones being butchered with machine-guns. My dear aunt Dvore (my cousin Idel's mother), my aunt Haike Sucharski and my cousin Nachama, Idel's sister, were murdered that day.
SURVIVING THE HOLOCAUST WITH THE RUSSIAN JEWISH PARTISANS
By Jack Kagan and Dov Cohen
"Can a person understand what it means to have a cold without a handkerchief or diarrhea without a piece of paper?"
PEOPLE IN AUSCHWITZ
By Hermann Langbein
"Their first task [at the gas chamber] was to remove the blood and defecations before dragging the clawing dead apart with nooses and hooks, the prelude to the ghastly search for gold and the removal of teeth and hair which were regarded by the Germans as strategic materials. Then the journey by lift or rail-wagon to the furnaces, the mill that ground the clinker to fine ash, and the truck that scattered the ashes in the stream of the Sola."
CHRONICLES OF THE HOLOCAUST
By Roselle K. Chartock and Jack Spencer
Celie, Rosie and I filled the women's tin cups with water. Most were grateful to us, but some had become delirious, calling for their mothers to help. Who knew if their mothers were still alive? Others were very quiet, not talking at all, eyes staring at nothing. Every morning, one or two of the women were no longer there, having died in the night. It seemed like it was always the quiet ones who died. Their bunks were quickly filled by others. One day, a woman from Budapest, about twenty-five years old started ranting about food, about her family, about the war. She somehow got to the top of the roof and simply jumped off.
I CARRIED THEM WITH ME
By Sara Lumer
We cried and held each other. There was nothing else said. We had known that this day would eventually come and now it was here. We could hear the heavy footsteps of the soldiers in our building, the bangs of the rifle butts hitting the doors and harsh commands uttered in that guttural language. Then, the knock on our door. "Get out, Jews! We will give you ten minutes!" How generous of them. We stood there, our family, Papa, Mama, Jacob, only six years old, Stanley, thirteen, and myself, just fourteen, with our arms around each other. Our tears were flowing uncontrollably. We kissed each other goodbye for we knew there was little chance of our family remaining together.
OUTCRY: HOLOCAUST MEMOIRS
By Manny Steinberg
Efraim Stiebelmann once observed the following event: "A transport from Lodz arrived, and Mengele chose those who would work and those who were to be gassed. A woman with a daughter aged thirteen or fourteen did not want to be separated from her. Mengele ordered a guard to take the girl away from her by force, whereupon the woman attacked the guard, hit him, and scratched his face. Mengele drew his pistol and shot mother and child. I saw this clearly."
PEOPLE IN AUSCHWITZ
By Hermann Langbein
As my mother and I walked in [at Auschwitz], hands clasped tightly together as if we were a life line for each other, there were men dressed in stripes everywhere. Together with those who had travelled with us, we stood in a line, confused, hungry and exhausted. One of the Germans who was dressed in uniform was putting us into groups. He took one look at me and then at my mother, and immediately separated us. I screamed, shouted, I begged but it was no use. The last member of my family was taken away from me, and I was powerless to stop it.
I never saw my mother again.
HOLOCAUST: A JEWISH SURVIVOR TESTIMONY
As Told by Regina Weinkrantz
Edited by Dan Myers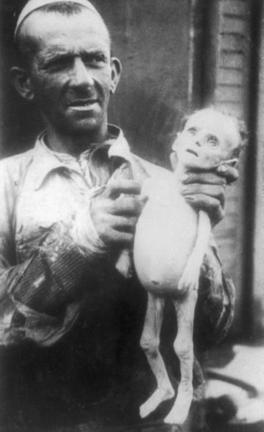 Corpse of a starved Jewish infant. Warsaw Ghetto, Poland, 1942.
One rainy night he [non-commissioned officer] and another soldier arrived at our door, pistols in hand. I wasn't home. He put his gun against my mother's head and demanded, "Where's your daughter?" "I don't know," she replied and told them to search the house if they didn't believe her. His pal slapped her, threw her against the stove, and beat her with the broom handle while Gottschalk stood there egging him on.  "He's from Vienna, a backwater town. Beating is second nature to him," Gottschalk said. "I myself am from Berlin." Not finding me at home, Gottschalk and his henchman left and went looking for me at the home of one of my aunts. When I wasn't there either, they raped my aunt and forced her husband to watch. The rape had to be kept secret because, had the Gestapo found out, they would have killed her immediately: Germans were forbidden to "fraternize" with "subhuman" Jews.
LOVE IN A WORLD OF SORROW
By Fanya Gottesfeld Heller
"I go with Ernst to the cellar, where the majority of new arrivals were housed. A capo is talking to them, and we listen. He asks them about Hungary, how things look on the outside. Then a Hungarian asks: 'Can you tell me where my parents and my wife are? I said farewell to them on our arrival, and they were put on a truck. A gentleman from the SS said older men and women should get on the trucks so they don't have to walk so far. But I haven't been able to see them here yet.'  'You jackass, you'll never see them again. Your wife has been singing hallelujahs for quite a while now, and your parents are coughing; you see, they swallowed a bit too much gas.'"
PEOPLE IN AUSCHWITZ
By Hermann Langbein
From my "observation post" I watched as the "Black Police" whipped columns of women and children along Tankova Street. The screams of the terror-stricken women and children rose to the heavens and chilled the blood…Suddenly I heard shooting inside the hospital itself. Not until later that evening did I learn that the killers – for the first time – had invaded the hospital. Still avoiding the Contagious Diseases Ward, they went straight to the surgical floor, shot the patients and all the medical personnel.
THE MINSK GHETTO
By Hersh Smolar
"We lived in Poland, in the ghetto of Lvov. My father was always looking for places to hide my little brother, Pavel, and me because the Germans were intent on getting rid of all the Jewish Children. One hiding place was a small, empty space, three feet long and one foot deep, below the window, which my father had camouflaged to look like the wall. I remember having to sit there with Pavel for hours, struggling for air and being so scared! Tears were running down my cheeks, but I didn't dare make a sound for fear the Germans would find us. But silently I prayed for my father to come and let us out. Each time he came back, I begged him, 'Daddy, please let this be the last time.' I didn't think I could take it anymore."
THE HIDDEN CHILDREN
By Jane Marks
With the temperatures hovering far below zero, the Jews [of Novogrudok] were then directed to remove their clothing and stand facing two forty-by-three-meter graves that had been dug days before. The shooters then machine-gunned them to death. The action was repeated throughout the day, as trucks returned to the courthouse to pick up additional victims. As the sun set on the black Monday, more than four thousand Jews had been murdered. Among those lying dead in the ditches were David and Beyle Bielski, Cila Bielski, and her baby
girl. [The Bielskis were famous Jewish Partisans.]
THE BIELSKI BROTHERS
By Peter Duffy
We know about Svidersky, a one-eyed German from Odessa who was known as "Master Hammer" [at Treblinka] because of his supreme expertise in "cold murder" – that is, killing without firearms. It took him only a few minutes – with no weapon but a hammer – to kill fifteen children, aged eight to thirteen, who had been declared unfit for work.
THE HELL OF TREBLINKA
By Vasily Grossman
Five more SS officers and doctors came in [at Ravensbrück]… Helena Piasecka was particularly badly mutilated; a liquid had been injected into the bone marrow so that the leg looked as if it was crumbling. When Helena tried to walk on it some weeks later, the shin bone shattered.
RAVENSBRÜCK
By Sarah Helm
The Germans were still pouring more Jews into our city [Międzyrzec, Poland]… we saw more and more people going door to door begging for food. We knew people slept on the floors… with no food, running water, or heat. We knew people in these buildings were shivering, covering up their faces and heads with only the clothes they had with them for warmth. Many died. There was no heat in those buildings, and the corpses were cast out in front of the doorway, mostly children and old people, hundreds of them. The grave diggers had a small, two-wheeled pushcart on which they loaded eight or ten corpses and took them to the graveyard to be dumped in mass graves. Then they'd go back for more. Most of the corpses were frozen solid… Over and over again, I saw the mass graves, the piles of arms and legs and death-grinning heads, their eyes open in a kind of wide-eyed amazement that they had died such a terrible death. Dead from starvation or freezing to death.
DEFY THE DARKNESS
By Joe Rosenblum with David Kohn
Abraham Goldfarb testified about a Treblinka transport in which most of the passengers died en route: "At the end of August 1942, the Germans carried out the expulsion from Mazaritz…When the Jews were brought to the railway station, the Germans forced 150-200 of them into a freight car designed for sixty or seventy. The cars were closed from the outside with boards. Water and food were not provided. People were suffocating; there was no air to breathe. Before we moved off, the Germans sprinkled chlorine in the cars. It burned the eyes. The weaker among us fainted. People climbed on top of each other and banged on the walls with whatever they could find. The children were so thirsty they licked their mothers' sweat…There were 150 people in our freight car. During the two-day trip to Treblinka, 135 suffocated."
BELZEC, SOBIBOR, TREBLINKA
By Yitzhak Arad
"We said good-bye to our families as about one hundred SS with machine guns marched out 250 men. In stalls normally housing horses, a man asked about our wives. The SS commander said, 'I'll tell you about your wife.' He took out his gun and shot him."
OUR CRIME WAS BEING JEWISH
By Anthony S. Pitch
During evening roll call in Buchenwald on December 14, 1938, two prisoners were missing. The temperature was thirty-six degrees, but the thinly clad inmates had to stand in the roll-call area for nineteen hours. By the next morning, twenty-five had frozen to death, by noon the number had reached more than seventy.
PERPETRATORS
By Guenter Lewy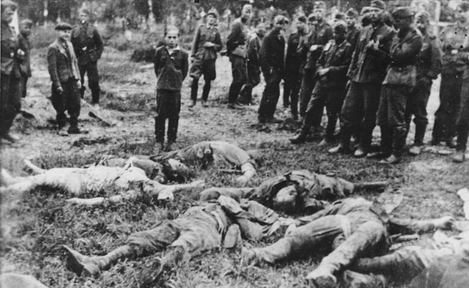 A teenage boy standing beside his murdered family shortly before his death by the SS. Ukraine, 5th of July, 1941.
Romanian forces occupied Odessa, on the Black sea due south of Kiev, on 16 October 1941… On 23 October 1941… some ten thousand Jews were marched outside town the same day and murdered with machine guns. Two days later several thousand more were locked into a large barn, which was then blown up with dynamite… "No matter in which direction you looked [in Odessa] you could see gallows. There were thousands of them. At the feet of the hanged lay the bodies of those who had been tortured, mutilated and shot… "Across the Black Sea on the Crimean Peninsula mass murder took a more inventive form. In the course of the war in the Crimea, according to the indictment of the International Military Tribunal at Nuremberg, "144,000 peaceful citizens were gathered on barges, taken out to sea and drowned."
MASTERS OF DEATH
By Richard Rhodes
In 1941, when the Germans killed all the Jews in Fastov, they left the children. There were about eight hundred of them. They gave the order that every villager had to take one child each and feed it along with bring it up well. And if so much as one child were to die, then the whole family would answer for it. They fed these children for three months. When that period of time was up, when the children were in better health, the Germans gave the following order: "All the children of the Jews are to be returned to a designated place. Refusal will mean death." The children were brought, then taken to a hospital. There they were tied down to beds and their blood sucked out for wounded Germans.  And the fate of the children was sealed.
THE UNKNOWN BLACK BOOK
By Joshua Rubenstein and Ilya Altman
"I remember there was a really young French girl, maybe 15 or 16 years old. She didn't understand a word of German. The SS women always gave their commands in German. This girl naturally didn't understand and was beaten terribly. The girl yowled like a beaten dog.
I can still hear her today."
VOICES FROM THE THIRD REICH
Steinhoff, Pechel and Showalter
Another scene saw some of the Germans in this battalion compel old Jewish men to dance before them. In addition to the amusement that they evidently derived from their choreography, the Germans were mocking, denigrating and asserting their mastery over these Jews, particularly since the selected Jews were their elders, people of an age to whom normally regard and respect are due. Apparently, and to their great misfortune, the Jews failed to dance to a sufficiently brisk and pleasing tempo, so the Germans set the Jews' beards on fire.
HITLER'S WILLING EXECUTIONERS
By Daniel Jonah Goldhagen
During the war the SS separated thousands of children from their parents and sent them to Buchenwald. The first group arrived as early as 1939. Most were Jewish children or the children of executed partisans. In the fall of 1944 the SS suddenly herded together all the Jewish and Gypsy youngsters and shipped the "screaming, sobbing children" to the Auschwitz gas chambers.
HITLER'S DEATH CAMPS
By Konnilyn G. Feig
Between 1933 and the outbreak of war in September 1939, approximately half of the Jews in Germany – some three hundred thousand people – left. Much of this exodus took place in the wake of Kristallnacht from what had been Austria and the Sudetenland as well as from all over Germany. For most European Jews it took enormous perseverance and ingenuity to get out, to find somewhere to go, and to figure out ways to start new lives.
THE HOLOCAUST: A CONCISE HISTORY
By Doris L. Bergen
The earliest large-scale massacre of Romanian Jews took place in Iasi, the capital of Moldavia. After thousands had been massacred in the city, several thousand more were packed into the hermetically closed cars of two freight trains and sent on an aimless journey lasting several days. In the first train 1,400 Jews suffocated or died of thirst; 1,194 bodies were recovered from the second one. The exact number of the victims of the Iasi program remains in dispute, but it may have exceeded ten thousand.
NAZI GERMANY AND THE JEWS 1933-1945
By Saul Friedlander
About ninety children were packed together into two small rooms… in a filthy state [in Belajar Kharkov, Ukraine]. The children lay or sat on the floor which was covered in their feces. There were flies on the legs and abdomens of most of the children, some of whom were only half dressed. Some of the bigger children (two, three, four years old) were scratching the mortar from the wall and eating it. Two men, who looked like Jews, were trying to clean the rooms. The stench was terrible. The small children, especially those who were only a few months old, were crying and whimpering continuously…Groscurth asked the man what would happen to the children. "He informed me that the children's relatives had been shot and the children were also to be eliminated."
MASTERS OF DEATH
By Richard Rhodes
When the killing was finally ready to commence [at Lomazy, Poland], the men of Second Platoon formed a gauntlet running between the staging ground for the killing and the killing site itself. Successive groups of fifteen to twenty Jews were forced to run to the killing site's pit to run the German gauntlet, with the Germans shouting at them and beating them with rifle butts as they passed by. As if this general terrorizing and torturing of the victims during their final moments of life were not satisfying enough, Gnade selected Jews of heightened symbolic value for special treatment.
"During these executions I observed still something else which I will never forget. Even before the executions began. Lieutenant Gnade himself had selected about twenty to twenty-five elderly Jews. They were exclusively men with full beards. Gnade made these old men crawl on the ground before the grave. Before he gave them the command to crawl, they had to undress. While the now completely naked Jews were crawling, lieutenant Gnade screamed to those around, 'Where are my NCOs, don't you yet have any clubs?' Thereupon the NCOs went to the edge of the forest, got themselves clubs, and then with these clubs rained mighty blows on the Jews…it is my opinion that all of the NCOs of our company complied with the Lieutenant Gnade's order and rained blows on the Jews…"
HITLER'S WILLING EXECUTIONERS
By Daniel Jonah Goldhagen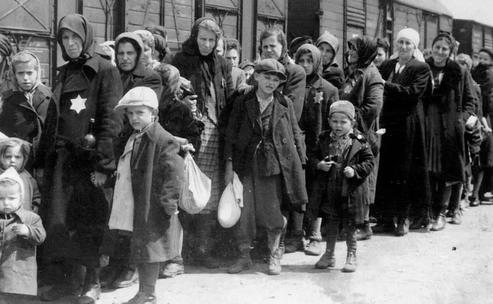 Hungarian Jews lining up for the selection at Auschwitz. Most would be dead within hours.
"We have to wear, according to law, the Star of David…and underneath the star it says: Jude," Max [Reinach] wrote in September 1941. The regulations required that it be sewn onto the clothing on the left side of the chest. Almost a million were produced on rolls of cloth, then clipped and sold to the Jews for ten pfennigs apiece. Wearing the star marked a Jew for questioning by the Gestapo. Not wearing it put a Jew at risk of arrest. Max was horrified: "I would never have thought something like this could happen."
THE DEVIL'S DIARY
By Robert K. Wittman & David Kinney
"We walked through the main gate and saw a fire. I didn't know what it was, so I said to my mother, 'Look how beautiful that is.' She said, 'Quiet, child! They are burning people over there. First they shoot them, then they throw them in a ditch and then they burn them.' We had to work in this camp. One day in May 1944, we were all called out to the parade ground. They started picking out people to be gassed in Auschwitz that day. They came and took my mother. I had been allowed to wash and delouse her the day before. She was 42 years old and looked like she was 80. She was a wonderful woman, just wonderful, an angel. And because the best people were taken from us is why I don't believe there is a God. I volunteered to go along with my mother, but the SS told me, 'Your turn will come soon! You are still young. You can work!'"
VOICES FROM THE THIRD REICH
Steinhoff, Pechel and Showalter
"[Ribe] was even more sadistic than his predecessors. Jews who had escaped from Slutsk and settled in the Minsk ghetto recognized him as the murderer who had been in charge of liquidating the Slutsk ghetto. People called him 'the Devil with the White Eyes.'…Ribe never let any Jew he encountered go unscathed, regardless of age or sex. He would look at his victim with his big bulging eyes, his lips would form a smile, he would carefully aim his pistol – and never miss. It was Ribe who organized the 'beauty contest' of young Jewish women, selected twelve of the youngest and prettiest, and ordered them to parade through the ghetto until they reached the Jewish cemetery. Here he forced them to undress and then shot them one by one. The last woman to be killed was Lena Neu. He took her brassiere from her and said smugly, 'This will be my souvenir of the pretty Jewess.'"
MASTERS OF DEATH
By Richard Rhodes
The mother camp [Mauthausen] utilized a full-scale torture and punishment program with a few variations. The SS developed, as their specialty, murder by drowning. It took several forms: forcing hoses in the prisoner's mouth until the lungs burst from the water, immersing victims in barrels, and submerging them in ditches. In another torture variation the guards forced prisoners out of their blocks, naked, to stand and walk for hours in an area scattered with "fiercely jagged stones." Cold weather aided the program. In 1945, 1,700 prisoners arrived from Sachsenhausen. The SS grouped together the sick prisoners and sent them outside – nude. That night the temperature dropped below freezing. The prisoners stood in the square for four hours as they were sprayed alternately with hot and cold water. The groans of the dying rang through the camp as icicles formed all over their bodies.
HITLER'S DEATH CAMPS
By Konnilyn G. Feig
"There were these three men from Gestapo with us, and they went up to [the old man] and spoke to him. What was said, I don't know. In any event, they spoke to him, and he shook his head, and then one turned his gun around and struck him dead with the butt."
WHAT WE KNEW
By Eric A. Johnson and Karl-Heinz Reuband
There were some spouses who used the general climate of anti-Semitism to rid themselves of inconvenient Jewish partners. In March 1944, a sixty-three-year-old German 'Aryan' man and his sister denounced his estranged Jewish wife to the Gestapo on the grounds she had said Hitler had murdered children and the Jews would seek revenge. The couple had been married since 1908. The Gestapo fast-tracked the divorce of the couple. The woman was no longer in a privileged marriage. The Gestapo sent her by train to Auschwitz. She died there.
THE GESTAPO: THE MYTH AND REALITY OF HITLER'S SECRET POLICE
By Frank McDonough
"The Jews were squeezed into very small barracks; they had to sleep on icy floors. Everything was taken from them. They had to weather the winter months dressed only in shirts. We were situated near the barracks and could not sleep for all the wailing, howling, and moaning. It was a terrible torture. The food for the Jews was still worse; nothing but turnips once a day. If these poor women concealed but a small thing of their possessions, such as a beloved keepsake, photographs, etc., they were beaten bloody by the SS women with truncheons, undressed, and forced to stand long days barefoot on thick gravel in the bitter cold. Their legs were swollen like butter barrels; the ones in the poorest condition collapsed from pain."
HITLER'S WILLING EXECUTIONERS
By Daniel Jonah Goldhagen
As the Allies advanced, the SS transferred the prisoners from other camps to Ebensee. The blocks became overcrowded and the dead bodies piled up. Three days before liberation the Germans hanged four starving inmates because they tried to buy bread.  The inmates had "torn the gold teeth from out of their own mouths to get some bread from the overseers for it. For this, they were hanged."
HITLER'S DEATH CAMPS
By Konnilyn G. Feig
"Many of the people they [the grave-diggers] dealt with had suffocated to death in the truck. But there were a few exceptions, including babies who were still alive; this was because mothers held the children in blankets and covered them with their hands so the gas would not get them. In these cases, the Germans would split the heads of the babies on trees, killing them on the spot."
NAZI GERMANY AND THE JEWS 1933-1945
By Saul Friedlander
We continued going along the road [Lemberg, Ukraine]. There were hundreds of Jews walking along the street with blood pouring down their faces, holes in their heads, their hands broken and their eyes hanging out of their sockets. They were covered in blood. Some of them were carrying others who had collapsed. We went to the citadel; there we saw things that few people have ever seen. At the entrance of the citadel there were soldiers standing guard. They were holding clubs as thick as a man's wrist and were lashing out and hitting anyone who crossed their path. The Jews were pouring out of the entrance. There were rows of Jews lying on top of the other like pigs whimpering horribly. The Jews kept streaming out of the citadel
completely covered in blood.
"THE GOOD OLD DAYS"
By Ernst Klee, Willi Dressen, and Volker Riess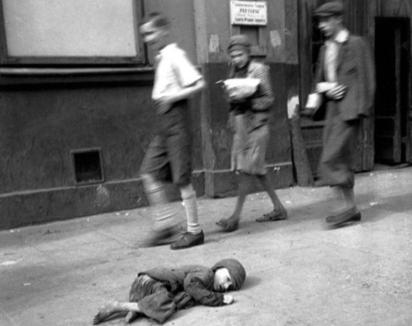 A child starving to death in the Warsaw ghetto.
During July and August of 1943, more and more prisoners were sporadically selected and transferred. Whether to the crematories or other concentration camps, no one knew. It is only natural for a prisoner to try to hide from his captors. But it was unimaginable that there could be a place in the world that was worse than Majdanek. With these thoughts I decided to neither appear for transport nor hide. It did not take long before I was selected…After the war I learned that four to six weeks later, on October 16, 1943, all 18,000 Jews in Majdanek
were shot in one day.
THE DEAD YEARS
By Joseph Schupack
From the day the camp [Auschwitz] opened a variety of techniques were used to torment the prisoners. Punishments were not just cruel – a common one was to tie a prisoner's hands behind his back and then suspend him by his wrists from a pole – but often arbitrary. Every inmate knew that they were at permanent risk of a beating, or worse, and there was little they could do to prevent it.
THE HOLOCAUST
By Laurence Rees
I stopped with other soldiers and civilians in front of the gate and looked through the railings at the execution area, which was about eighty meters away [at Belaya Tserkov, Ukraine]. I saw nine girls or women kneeling in front of a deep ditch. They were kneeling with their faces towards the ditch. A further nine girls were waiting in front of the little house where the girl who had been guarded by the SS man had relieved herself. What struck me particularly was the calmness and discipline of these people. Behind the kneeling girls stood the marksmen: two for each person. The marksmen were members of the SS.
On the orders of a superior they fired shots at the heads of these people with their carbines. When hit, these people fell forwards into the ditch. Some of them went head over heels. Sometimes the tops of their skulls flew up into the air. Some of the marksmen were sprayed with blood. They were shooting from a distance of about five meters. It was a terrible scene. I remember an SS officer walking along the edge of the ditch firing shots into it with a sub-machine-gun as he went along.
"THE GOOD OLD DAYS"
By Ernst Klee, Willi Dressen, and Volker Riess
Uckermark was an extermination center – but not in the usual sense. The guards transported prisoners by trucks to Uckermark, right down the road [from Ravensbrück]. They sent them there to die. They removed the ill and the sick to the primitive compound – to lie there until they died. They aided the process by long, cold roll calls, poison, beatings, the mixing of women with contagious diseases, absence of food, inadequate water facilities, shooting, suffocating, and allowing victims to freeze to death. Then they trucked the bodies the few blocks back to the camp crematorium, which blazed around the clock from December.
HITLER'S DEATH CAMPS
By Konnilyn G. Feig
In the early days of the camp's operation, when a train arrived at Sobibor station, the SS waited until the Jews who were capable of walking unaided had entered the camp and then gathered up those who were left – the old, the disabled and the injured – and put them on to a horse-drawn cart. The SS told these Jews who were unable to walk that they were to be taken to a hospital. This was said in attempt to calm them, but it was also a black joke. Because the "hospital," 200 yards into the forest, consisted of a group of executioners standing by a pit. All of those who had been taken to the "hospital" on the horse and cart were murdered
in sight of each other.
THE HOLOCAUST
By Laurence Rees
In spring 1943 when a worker prisoner tried to take his own life and was found dying, Frenzel shouted that Jews had no right to kill themselves. Only Germans had the right to kill. Frenzel whipped the dying man and finished him off with a bullet.
"THE GOOD OLD DAYS"
By Ernst Klee, Willi Dressen, and Volker Riess
"Anyone acquainted with hunger knows that it is not just a vegetative, animal sensation in the stomach, but a nerve-shattering agony, an attack on the entire personality. Hunger makes a person vicious and corrupts his character."
PEOPLE IN AUSCHWITZ
By Hermann Langbein
Chief among these sadists was Otto Moll, the SS man who supervised the operation of the crematoria. Dario Gabbai remembers how he liked to kill naked girls by shooting them "on their breasts." In 1944, when the arrival of enormous numbers of Hungarian Jews meant that bodies had to be burnt to open air in giant pits – since  the crematoria could not cope with the volume – Moll on occasion threw children directly into the flames so that they were burnt alive. Alter Feinsilber, one of the Sonderkommando, witnessed another of Moll's sadistic acts. Moll ordered a naked woman to jump about and sing on a pile of corpses near the flaming pit while he shot prisoners and threw their bodies into the fire. When he had finished shooting them, he turned his gun on the woman and killed her.
THE HOLOCAUST
By Laurence Rees
At Auschwitz on the evening of 28 July 1941, around 500 sick prisoners boarded a train to take them to Dresden. The SS had told them that they were leaving camp so that they could regain their strength elsewhere. "They had some hope," says Kazimierz Smolen, who watched them leave. "Hope is the last thing that dies." The sick prisoners were taken to Sonnenstein euthanasia center and murdered by carbon monoxide poisoning. These were the first Auschwitz prisoners to die by gassing. They were chosen not because they were Jews, but because they were sick, and they died not at Auschwitz but in the heart of Germany.
THE HOLOCAUST
By Laurence Rees
Gloria Goldreich writes of an inmate who choked to death [at Auschwitz] on a piece of bread. Another inmate had rushed to the dead woman, reached her hand into her throat, "removed the masticated hunk of food, and eaten it hungrily." In another incident, a dying woman vomited: "Someone picked clots of undigested puke that lay on the floor and swallowed them."
Almost every woman had Durchfall – a deadly kind of dysentery, aided by the digestion of saltpeter, a product of the munitions factories. After two or three weeks in the camp "most prisoners had intestinal tracts so stripped of natural lining that terrible epidemics resulted," called Durchfall or "fall-through." What was eaten came out quickly in the original form, for the body could absorb nothing. The lack of washing water and the impossibility of changing clothes created a "monstrous trial for the sick woman." The disease combined many symptoms of typhus and dysentery, and proved deadly in many instances.
Everyone suffered from a swelling in which the body periodically puffed up and the face became like a mask. The eyes could hardly be seen and the thick legs became "heavy loads to drag along." Dr. Lingens-Reiner worked with cases in which the edema became so bad that the skin could not stand the tension and burst, leaving deep gashes from which liquid poured. Most women's bodies were covered with sores and abscesses. All women had lice. And most were starving. Every sickness and contagious disease attained epidemic proportions once it occurred in the camp: tuberculosis, malaria, typhus, scarlet fever, measles, diphtheria. Surgical cases included scores of women mauled by dogs and smashed by rifle butts. "One might have thought oneself in a human slaughterhouse."
HITLER'S DEATH CAMPS
By Konnilyn G. Feig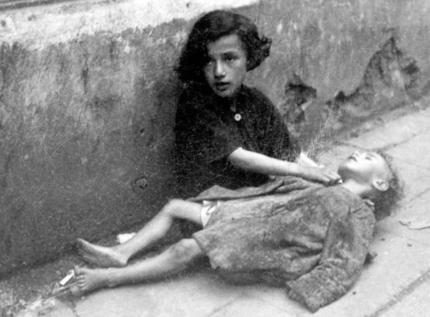 A starving boy at the Warsaw Ghetto
There were always some ill and frail people on the transports. Sometimes there were also wounded people amongst the arrivals because the transport escorts, SS members, police, Latvians, sometimes shot people during the journey. These ill, frail and wounded people were brought to the hospital by a special Arbeitskommando. These people would be taken to the hospital area and stood or laid down at the edge of the grave. When no more ill or wounded were expected it was my job to shoot these people. I did this by shooting them in the neck with a 9-mm pistol. They then collapsed or fell to one side and were carried down into the grave by the two hospital work-Jews. The bodies were sprinkled with chlorinated lime. Later, on Worth's instructions, they were burnt in the grave itself. The number of people I shot after the transport arrived varied. Sometimes it was two or three but sometimes it was as many as twenty or perhaps even more. There were men and women of all ages and there were also children.
"THE GOOD OLD DAYS"
By Ernst Klee, Willi Dressen, and Volker Riess
"From Wielun the able bodied Jews were sent to Lodz, to labor in the ghetto. Leipush and Itzhak Moshe were among them. My sister Eudel could have gone with them, but again would not leave my parents. After the war I learned of their fate. My sister, my parents, all my uncles, aunts, their families, and the other Jews from our town were made part of a larger group of Jews from the surrounding towns. On August 22, 1942 that group, almost 10,000 people, were sent to their deaths at a camp called Chelmno. At Chelmno the killing was done by gas van. The people were loaded into the van and the back doors sealed. The engine exhaust was directed into the sealed van as it moved."
THE BLEEDING SKY: MY MOTHER'S JOURNEY THROUGH THE FIRE
By Louis Brandsdorfer
"A number was written on each victim's chest with indelible ink. Then I had to lead one after another through the dark curtain that hung in the corridor. Escorted by an inmate, the victim had to sit down, and Klehr, the SDG who did most of the killings, in his white coat injected the victim directly in his heart. The victims died immediately after emitting a soft sound, as though they were exhaling. Their bodies were dragged across the corridor and into the washroom. In the evening the van from the crematorium came, backed up in front of the gate, and the corpses were loaded on it."
PEOPLE IN AUSCHWITZ
By Hermann Langbein
Being shoved or getting hit was common in Auschwitz, and I, too, had my share of beatings. Still, I managed to get through many months of their fiendish tortures without being seriously injured. I tried to be especially careful to avoid the ire of the guards or capos, and that became my most important task. Punishment often meant being whipped; five or ten lashes was the smallest amount I had seen, and twenty-five was not unusual. All too often we were made to witness the scene where a man was stretched across a table and pummeled into unconsciousness. It was a horrible experience to stand at attention and watch the agonizing procedure. Making it even worse, many times a friend was made to administer the punishment. If the blows were not forceful enough, the friend was tortured, too. As weak as our men were, I don't believe any of them ever survived these painful beatings. Besides the extreme pain the men must have felt, their open skin quickly became infected and they had little chance of recovering. The unimaginable brutality was the norm in Auschwitz. I began to think that those sent to the gas chambers when they first arrived were actually better off than us because they were no longer suffering.
MY DARKEST YEARS
By James Bachner
"One day in 1937, a Nazi storm trooper knocked on my grandparents' door. My grandmother answered and asked him what he wanted. 'I'm here to take away all of your cultural objects,' he said. 'Is there anything that you would like to keep? Is there anything that you particularly love that you would like to save?' 'Yes,' my grandmother said. 'I want to save these antique pewter containers. I'm saving them for my son Rolf.' The pewter containers were the first things that the Nazi took. He had just wanted to find out what my grandmother treasured most, so he could be sure and take them. He took a great many other things as well."
CHRONICLES OF THE HOLOCAUST
By Roselle K. Chartock and Jack Spencer
Families were torn apart, literally. I shall never forget the anguished cries from the children: "Mama, Papa don't leave us." How could my heart keep breaking when I had nothing left to feel?
OUTCRY: HOLOCAUST MEMOIRS
By Manny Steinberg
It may be estimated that the second stage began when the starveling had lost one-third of his normal weight. In addition to further weight loss, his facial expression began to change. His gaze became clouded, and his face assumed an apathetic, absent, mournful expression. His eyes were veiled and his eyeballs hollow. His skin began to turn a pale gray, had a paper-thin, hard appearance, and started to peel. It was very susceptible to all kinds of infection, particularly scabies. The patient's hair became shaggy, lusterless, and brittle. His head became elongated, and his cheekbones and eye sockets stood out. The patient breathed slowly and spoke softly with great effort.
PEOPLE IN AUSCHWITZ
By Hermann Langbein
Men were separated from women. The men were told to undress before they were forced straight through the 'tube' to the gas chambers. The women were taken to a barracks where their hair was cut. The Germans used the women's hair after their deaths in a variety of industrial processes – for example, in the making of felt. It was as their heads were shaved, says Reder, that the women realized that they were to die, and 'there were laments and shrieks. Once their hair had been cut, the women followed the men into the gas chambers. Just like death in the back of a gas van, death in the gas chambers of Belzec was not quick. Reder remembers hearing the 'moans' and 'screams' of those trapped inside the gas chambers for
up to fifteen minutes.
THE HOLOCAUST
By Laurence Rees
After a while, some of the people in front got tired and simply sat or lay down on the side of the road. A soldier would come up to such a person, aim his rifle, and shoot him. If they were lucky, they died right away. Otherwise they were just left bleeding and moaning. In a few hours they would be dead anyway. The Germans never wasted more than one bullet per Jew.
I CARRIED THEM WITH ME
By Sara Lumer
Two days after Christmas, Judith Newman remembered her joy over a Jewish child born in her block. Three hours after the birth, she saw a small package lying on a bench. Suddenly it moved. It was the baby. A clerk took the infant and submerged its body in cold water. Newman wanted to shout "Murderess!"  The baby swallowed and gurgled, its little voice chittering like a small bird, until its breath became shorter and shorter. The woman held its head in the water. After about eight minutes the breathing stopped. The woman picked it up, wrapped it up again, and put it among the other corpses.
HITLER'S DEATH CAMPS
By Konnilyn G. Feig
A group portrait of a class of girls at a school in Oradour. All of the children pictured were killed by the SS during the June 10, 1944 massacre. 
The train has been emptied. A thin, pock-marked SS man peers inside and shakes his head in disgust and motions to our group, pointing his finger at the door. "Rein. Clean it up!"  We climb inside. In the corners amid human excrement and abandoned wrist-watches lie squashed, trampled infants, naked little monsters with enormous heads and bloated bellies. We carry them out like chickens, holding several in each hand [these are children dead of starvation]. "Don't take them to the trucks, pass them on to the women," says the SS man, lighting a cigarette. His cigarette lighter is not working properly; he examines it carefully. "Take them, for God's sake!" I explode as the women run from me in horror, covering their eyes. The name of God sounds strangely pointless, since the women and the infants will go on the trucks [to the gas chambers], every one of them without exception. We all know what this means, and we look at each other with hate and horror. "What, you don't want to take them?" asks the pockmarked SS man with a note of surprise and reproach in his voice, and reaches for his revolver. "You mustn't shoot, I'll carry them." A tall, gray-haired woman takes the little corpses out of my hands and for an instant gazes straight into my eyes. "My poor boy," she whispers and smiles at me. Then she walks away, staggering along the path.
WE WERE IN AUSCHWITZ
By Siedlecki, Olszewski, Borowski
Stanislawa Leszczynska identifies dysentery as the illness that caused the greatest casualties in the women's camp. Since the bunk beds were on top of one another, the liquid bowel movement ran down on those lying below the sick women.
PEOPLE IN AUSCHWITZ
By Hermann Langbein
Swaying with fatigue, Inge London stood in the barren garage at the Hermann Gorring Kaserne, an army barracks on the outskirts of Berlin. The unheated structure was painfully cold, and there was nowhere to sit down. Although the space was large, it was full to overflowing with panicked Jews. The fortunate ones had been able to grab their coats before the SS herded them onto the trucks. The others shivered. They had been there for hours without food or water. The garage reeked of urine and feces. Lacking bathroom facilities, even buckets, people had been forced to evacuate on the floor. Over the long hours of the afternoon and evening, the number of corpses had increased. Some people, already weakened by years of grueling forced labor and inadequate rations, now pushed over the edge by the shock and brutality of the arrests, had died of natural causes. Others had killed themselves by slitting their wrists or by ingesting the supply of poison that many Berlin Jews carried with them at all times against just this eventuality.
REFUGE IN HELL
By Daniel B. Silver
Our work [Vilna Lithuania] consisted of opening mass graves and carrying out the corpses, in order to burn them. I was employed digging out these corpses. We dug out 80,000 corpses in total. I know this because two Jews lived with us in the pit we were employed by the Germans in counting these corpses. That was the only task of these tow. The corpses consisted of a mixture of Jews, Polish Priests, and Russian prisoners-of-war. Among those whom I dug out was my own brother. I found his identity cards on him. He was dead for two years, when I dug him out; I know this because he belonged to a mass of Jews who came from the Vilna ghetto and were shot in September 1941.  The burning of the corpses proceeded absolutely methodically. Running parallel, 7 meter long pits were dug out. Boards were laid across them; a layer of corpses were laid on them, oil poured over the corpses, then branches spread over them and over the branches blocks of wood. Altogether 14 layers of corpses and fuel were erected on top of each other into a funeral pyre.
SOURCES OF THE HOLOCAUST
By Steve Hochstadt
When the gas chambers were full of adults, the children were not gassed. Instead the SS dug pits and threw many children into them alive. The guards grabbed a child's arms and legs, and hurled the baby through the air "like a length of wood, to land in the blazing pit. While the murderers watched the results of their bravery with great pleasure." They also laughed as they threw live children into the pond next to the crematorium. Witnesses testified at the Nuremberg trials that several thousand children were burned alive in Birkenau in 1944. When an SS man felt pity toward children, "He took the child and beat the head against a stone first before putting it on the pile of fire and wood, so that the child lost consciousness." But most SS killed in the regular manner by simply throwing the children on top of the piles.
HITLER'S DEATH CAMPS
By Konnilyn G. Feig
"On the ground behind and beside the school building (which housed the penal company), dozens of maimed and blood-encrusted female corpses are lying around helter-skelter, all of them wearing only shabby prisoners' shirts. Among the dead some half-dead women are writhing. Their moans mingle with the buzzing of huge swarms of flies that circle over sticky pools of blood and smashed skulls."
PEOPLE IN AUSCHWITZ
By Hermann Langbein
Late afternoon on the second day of our march, we crossed a bridge over the river Lowicz near the town of the same name. There was a meadow along the side of the river and we were finally given a period to rest. As some of us were close to the riverbank and desperate for water, a few of us dared to step into the river and fill our dishes with water and satisfy our thirst. The dirt and other things floating around were unimportant to me; quenching my thirst was the only thing that mattered. Others began entering the water, too but every step they took raised more silt and dirt from the bottom of the river. Soon the men had to go deeper into the river to get anything that was drinkable. Suddenly, machine-gun fire from the other side of the river and from the bridge we had crossed earlier filled the air, killing all the unfortunate men still in the water. The river turned red as the dead corpses floated downstream. To make sure that no one could possibly escape, they even shot at the dead bodies floating in the water.
MY DARKEST YEARS
By James Bachner
There wasn't a day when we were not subjected to scenes of screaming and sobbing families being separated, and death was always there with us. There was no medicine for the sick, no doctors or milk for the young mothers and their babies. The mothers had so little nourishment that I remember Mama talking about their breasts drying up so that they could not feed their babies. I was almost afraid to think of these things, afraid I would lose my sanity.
OUTCRY: HOLOCAUST MEMOIRS
By Manny Steinberg
Occasionally some women would suddenly start screaming in a terrible way while undressing [before entering the gas chamber]. They pulled out their hair and acted as if they had gone crazy. Quickly they were led behind the farmhouse and killed by a bullet in the back of the neck from a small-caliber pistol.
DEATH DEALER
By Steven Paskuly
"Six babies were lying on a pallet of straw; they can't be more than a few days old. What a sight! Scrawny limbs and bloated bellies. On the bunk beds next to them lie the mothers – emaciated and with burning eyes. One of them softly sings to herself. She is best off, she has lost her mind. They lie there wasted away, all skin and bones many of them naked. They were evidently no longer aware of their nudity. 'Come along, you shall see everything.' A Polish male nurse whom I know from main camp escorts me out of the barracks. A wooden shed has been built as an extension of the back wall: it is the morgue, which he opens for me. I have already seen many corpses in the KZ, but this makes me recoil. A mountain of dead bodies at least two meters nigh. Almost all of them children, babies, adolescents. Rats scurry back and forth."
PEOPLE IN AUSCHWITZ
By Hermann Langbein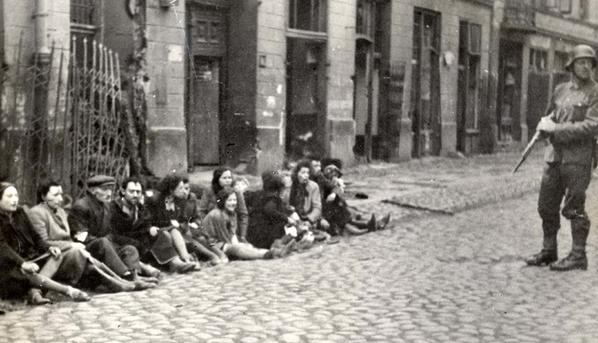 Jews rounded up for deportation to a shooting site or gas chamber.
Before noon, on 7 August 1942, German SS officers and Lithuanian soldiers gathered before the court-house. The Jews were ordered to muster in the courtyard. The Germans passed between the lines and took the children. Babies were torn from their mothers' arms and thrown into a closed truck. The Latvian soldiers searched the rooms, cellars and attics, and found babies who had been hidden there. In front of our very eyes they tossed the infants from the top floors of the building to the pavement below. Some had their heads smashed against the stone wall. The babies were thrown into sacks and loaded onto the truck. We stood there and watched in silence. Every sound was forbidden. The children in the trucks did not cry. Only some faint whimpering could be heard.
SURVIVING THE HOLOCAUST WITH THE RUSSIAN JEWISH PARTISANS
By Jack Kagan and Dov Cohen
Another whistle, another transport. Freight cars emerge out of the darkness, pass under the lamp-posts, and again vanish in the night. The ramp is small, but the circle of lights is smaller. The unloading will have to be done gradually. Somewhere the trucks are growling. They back up against the steps, black, ghostlike, their searchlights flash across the trees. Wasser! Luft! The same all over again, like a late night showing of the same film: a volley of shots, the train falls silent. Only this time a little girl pushes herself halfway through the small window and, losing her balance, falls out onto the gravel. Stunned, she lies still for a moment, then stands up and begins walking around in a circle, faster and faster, waving her rigid arms in the air, breathing loudly and spasmodically, whining in a faint voice. Her mind has given way in the inferno inside the train. The whining is hard on the nerves: an SS man approaches calmly, his heavy boot strikes her shoulders. She falls. Holding her down with his foot, he draws his revolver, fires once, then again. She remains face down, kicking the gravel with her feet, until she stiffens. They proceed to unseal the train.
WE WERE IN AUSCHWITZ
By Siedlecki, Olszewski, Borowski
"A little man who always was a nobody and suddenly had power. This went to Windeck's head, and he did want to wield it. He was short and weak, and he wanted to compensate for this with brutality. He particularly like to beat up feeble, half-starved, and sick inmates so brutally that they perished. When these miserable fellows lay on the ground before him, he trampled on them, on their faces, their stomachs, all over, with the heel of his boots."
PEOPLE IN AUSCHWITZ
By Hermann Langbein
Chelmno is the story of how the Nazis depopulated a corner of Poland of its Jews by the use of a secret but primitive facility for large-scale killing. Chelmno served as a prototype for the huge death factories that followed. The ancient Jewish communities reached back into the thousand-year history of Poland. Chelmno ended that history – permanently.
HITLER'S DEATH CAMPS
By Konnilyn G. Feig
Sometimes, as the Sonderkommando were leaving the room, the women realized their fate and began hurling all kinds of curses at us. As the doors were being shut, I saw a woman trying to shove her children out of the chamber, crying out, "Why don't you at least let my precious children live?"
DEATH DEALER
By Steven Paskuly
Since mid-June 1940 the Lublin Jewish council had only received terrible news, as from Tyszowce camp, where the men were notoriously undernourished, without clothing, often sick, louse-infested, and covered with sores. Sobianowice reported that "a Pole from Pomerania struck the workers without reason. Food is denied, and eating dirt is proposed."
JEWISH FORCED LABOR UNDER THE NAZIS
Translated by Kathleen M. Dell'Orto
On August 31 the First and Third Companies of Police Battalion 322moved into the Minsk ghetto, where they seized some 700 Jews, including 74 women. The following day Riebel's Ninth Company took part in the execution of more than 900 Jews, including all of those seized the day before. For the first shooting of large numbers of women, the author of the war diary felt the need to provide justification. They were shot, he explained, "because they had been encountered without the Jewish star during the roundup."
ORDINARY MEN
By Christopher R. Browning
How does one respond to the truth that an ordinary man can bash a Jewish child's head against a wall, pick up the child's apple, eat it, and return home to fondle his own children?
HITLER'S DEATH CAMPS
By Konnilyn G. Feig
It was December 1944, and Otto Abramovic had been in Auschwitz for four months, and reflected that it was a place without precedent in the human span of time on earth. He had seen things he would not have believed if someone else had told him… He had seen a woman spot her husband and go up to the fence charged with 60,000 volts that separated the men from the women. Two SS guards told the woman, "Go kiss your husband," and as she advanced toward the fence, they shot her, and laughed as they did so.
AN UNCERTAIN HOUR
By Ted Morgan
Himmler visited the camp [Treblinka] in March 1943 and ordered the complete destruction and burning of the corpses. After his visit the SS planners and experts put their minds to the difficult but urgent project. Yankel Wiernik was one of the first picked to help with the task. He described it in his usual clear fashion: "Whenever a grave was opened, a terrible stench polluted the air, as the bodies were in an advanced stage of putrefaction.  It turned out that women burned easier than men. Accordingly, corpses of women were used for kindling fires. The sight was terrifying, the worst that human eyes have ever beheld. When corpses of pregnant women were cremated, the abdomen would burst open, and the burning of the fetus inside the mother's body would become visible."
HITLER'S DEATH CAMPS
By Konnilyn G. Feig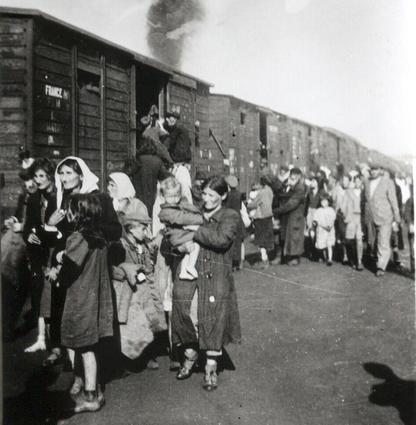 Unloading a transport at Treblinka. These people have but hours to live.
The ever greater panic spreading among the Jews due to the great heat, overloading of the train cars, and stink of dead bodies – when unloading the train cars some 2,000 Jews were found dead in the train – made the transport almost unworkable.
ORDINARY MEN
By Christopher R. Browning
Jews suffered from especially harsh and murderous treatment in the Mauthausen quarry. Kapos assigned them the worst tasks and the least food. For example, it was a Jewish job to carry the full toilet buckets on poles and dump them away from the quarry. As the Jews stumbled up the slopes, the bucket contents slopped over and covered them with excrement. The SS pushed so many Jews over the quarry precipice to their deaths that it became known as the "Parachute Jump," and the victims as "paratroopers." In 1941 a large group of Dutch Jews arrived at the quarry for special treatment. The SS denied them the use of the 186 steps for their first flight to the bottom, forcing them instead to slide down the loose stones on the side – an action that killed many. Then the SS forced the remaining Jews to load rocks on their backs and run up the steps. Sometimes the rocks rolled down the hill, crushing the feet of those behind. Those who lost their rocks were brutally beaten. For two days the SS drove the Jews up and down the steps. On the third day, driven by despair, the remaining Jews joined hands and leaped over the precipice to their death in the quarry below.
HITLER'S DEATH CAMPS
By Konnilyn G. Feig
The first murderous onslaught against Lublin Jewry began in mid-March 1942 and continued until mid-April. About 90 percent of the 40,000 inhabitants of the Lublin ghetto were killed either through deportation to the extermination camp at Belzec or execution on the spot, and 11,000 to 12,000 more Jews were sent to Belzec from the nearby towns Izbica, Piaski, Lubartow, Zamosc, and Krasnik during the same period some 36,000 Jews from the neighboring district of Galicia to the east of Lublin were also deported to Belzec.
ORDINARY MEN
By Christopher R. Browning
One Sunday [at Langinbilau] I witnessed a horrible scene. A soldier brought in a father and son. He asked the son to lay down on the floor and ordered the father to put his shovel over his son's throat and step on it. The father refused to do this. He was then ordered to lay down on the floor instead and the solder forced the son to choke the father. When the son also refused to do this, they were shot to death.
MEMOIRS OF A HOLOCAUST SURVIVOR: ICEK KUPERBERG
By Icek Kuperberg
The midwife reports that until 1943, all newborn babies in Birkenau were drowned in a small barrel. Two midwives sent to the camp for the crime of child murder performed the task. After each delivery loud gurgles and the splashing of water would be heard in the next room. Later the new mother would see her baby's body thrown outside and torn apart by rats.
The guards tracked down Jewish children with "ruthless severity." Hiding a Jewish child was impossible, said the midwife. The two midwives under Nazi control watched Jewish mothers in childbirth, and once the child was born, they often drowned it in the barrel. The fate of the infants who survived was worse. "They died a slow hunger death."
HITLER'S DEATH CAMPS
By Konnilyn G. Feig
Some Jews had survived by hiding in town rather than in the woods, but they too were tracked down. The most memorable case was in Kock, where a cellar hiding place was reported by a Polish translator working for the Germans. Four Jews were captured. Under "interrogation," they revealed another cellar hiding place in a large house on the edge of town. A single German policeman and the Polish translator went to the second hiding place, expecting no difficulties. But this was a rare instance in which the Jews had arms, and the approaching policeman was fired upon. Reinforcements were summoned, and a fire fight broke out. In the end four or five Jews were killed in a breakout attempt, and eight to ten others were found dead or badly wounded in the cellar. Only four or five were captured unwounded; they were likewise "interrogated" and shot that evening. The German police then went to search of the owner of the house, a Polish woman who managed to flee in time. She was tracked to her father's house in a nearby village. Lieutenant Brand presented the father with a stark choice – his life or his daughters. The man surrendered his daughter, who was shot on the spot.
ORDINARY MEN
By Christopher R. Browning
My father…had been arrested along with other Jewish men in town. When I asked him what was going on, all he said was, "They set fire to the synagogue and wrecked our house." Later we learned that the SA had smashed the window of Uncle Emil's butcher shop with an ax, taken the meat that was on display and thrown it into the street. They had also plundered Uncle Sally's home, beating and severely injuring him. And in Duisburg that night, storm troopers ransacked Uncle Ernst's apartment, slitting open his down-filled bedcovers and tossing his piano out the window. The Nazis euphemistically referred to the pogrom as Kristallnacht.
THE UNWELCOME ONE
By Hans Frankenthal
And finally came Treblinka. Learning from the mistakes made at the other three, the Nazis were here able to construct an unusually efficient destruction instrument that managed to destroy the lives and bodies of 1,000,000 human beings in only twelve months – a truly monstrous carnage.
HITLER'S DEATH CAMPS
By Konnilyn G. Feig
In our building, at 12 Lenin Street, they killed the old man Stolyarov, and when the residents threw him out into the courtyard, they, Hitler's men, trampled on the face of the murdered Jew with their dirty, hobnailed boots, gloating and yelling: "Kaput Jude!" The face of the dead man became covered with small holes. They shot him twice more in the mouth and eyes.
THE UNKNOWN BLACK BOOK
By Joshua Rubenstein and Ilya Altman
Birkenau was a rat's paradise. They were everywhere – in the barracks, in the hospitals, running through the camp. It seemed at times to Lewinska that only crows, rats, and mice remained her companions. The hordes of mice hid in her bunk, shared her bread, brushed past her face, waking her during the night. Rats chewed on human cadavers lying on the ground. When night fell, the huge rats scurried from their holes and attacked the women in the bottom bunks. In Block 25 the rats chewed the fingers off the corpses, gnawed at their faces, and even attacked dying bodies. They ran up to the patients in the hospital. Someone called out, "A rat, a rat," and they raced away. There were so many of them that while hallucinating, some feverish patients saw them as a huge army of bacteria. All night long scurrying, leaping, and squeaking disturbed the women's sleep. Dr. Lingens-Reiner saw women with toes gnawed by the rats while they were asleep and one whose nose had been bitten. In the hospital the rats crawled up to the third level of bunks where the weakest patients lay, bit into the buttocks, and chewed off pieces of their noses and limbs. The night nurses tried to drive the rats away from the sick women. They took turns sitting up. But the hospital rats had grown fat eating on the corpses until they reached the size of big cats. They were not afraid of people when driven away with sticks, they only hid their heads and drove their claws into the bunks, readying for the next attack.
HITLER'S DEATH CAMPS
By Konnilyn G. Feig
We pass the first four blocks [at Auschwitz] before turning into block five. We are so busy trying not to lose our clothing that we do not notice the room we are led into, until the door slams shut and a bolt falls on the other side. Trapped. We stand almost on top of one another in bloody straw. Bedbugs jump, making our bodies black. We hold our clothes up over our faces; they jump on our bare heads, our hands, all over any exposed patch of skin. In the straw, lice crawl hungrily between our toes.
RENA'S PROMISE
By Rena Korneich Gelissen with Heather Dune Macadam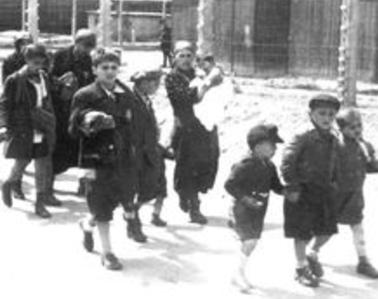 Children walking to the gas chambers at Auschwitz.
In the Jewish section [at Birkenau] the latrine was simply a large ditch bisected by a narrow board. Filth covered the two-sided perch, and the women often soiled each other. Lewinska believes that the Germans purposefully condemned the Jewish women to drown in their excrement. One day Olga Lengyel was assigned to the latrine-cleaning squad. In the morning each woman took her two buckets to the pits. They pulled up full pails of excrement and carried them a few hundred meters to another pit. They did that all day – day after day for two weeks. In the evenings they tried to clean themselves and went to bed. The odor reeking from Lengyel's co-worker sleeping beside her sickened her.
HITLER'S DEATH CAMPS
By Konnilyn G. Feig
"I will never forget the scene: pillows, blankets, overcoats, boots, saucepans, fur coats, and other objects were strewn the length of the platform. Freezing old men were unable to stand up and were moaning quietly and pitifully, mothers were losing children, children their mothers, there were cries, wails, and shots. A mother was wringing her hands, tearing her hair out and crying out: 'Where are you, darling?' A child is running back and forth on the platform in tears: 'Mama!' She is freezing and falls."
THE UNKNOWN BLACK BOOK
By Joshua Rubenstein and Ilya Altman
Morris Danziger, who lived with his parents and three sisters in Plebanska Street, close to the Great Synagogue, recalled… "the shooting went on and on then they [men with guns] went to the next house." There were he remembers soldiers all along the street with guns. Danziger himself jumped out of the ground-floor window of the apartment house in which he and his family ran, while soldiers kept shooting; those who escaped survived the night as best they could in other parts of the town. In the morning Danziger returned to his neighborhood "and I saw too many killed people, my friends and my neighbors stretched out like dogs." There were also, as he put it, no houses anymore: "We had no place where to go": their
house had burned down.
A SMALL TOWN NEAR AUSCHWITZ
By Mary Fulbrook
"We heard them throwing people out of the neighboring cars. Wails, weeping, shouts. It was dreadful, taking people against their will. What would happen? Suddenly, the doors open with a scraping sound, there is a glow from a fire, the flames of a bonfire. I see people, the elderly, women, and children, running around enveloped in flames. How the children's screams cut to the heart! I see piles of objects, bodies, frozen people. The sharp smell of gas. The immense glow of a bonfire. The faces of the killers set in stone. They were burning people here. It is easy to say 'they were burning.' They were burning children alive, burning people alive!"
THE UNKNOWN BLACK BOOK
By Joshua Rubenstein and Ilya Altman
"Between January 10 and 15, 1942, around 52,000 people were shot, and within two weeks after that approximately 2,000 more people died from the cold and exhaustion. In all, no fewer than 54,000 people were destroyed [at Bogdanovka]."
THE UNKNOWN BLACK BOOK
By Joshua Rubenstein and Ilya Altman
"In the autumn of 1942, there were more than three thousand Jewish families from Ukraine, Bukovina, and Bessarabia in the Tulchin ghetto…Every day in the ghetto, some fifteen or twenty people would die from hunger, typhus, bleeding ulcers, and other illnesses. On top of that, Antonescu's bandits, day in, day out, would shoot on the job anyone who, as a result of total exhaustion, could barely drag themselves along. Corpses would lie there untouched, often for a whole week.
"Fifteen kilometers or so from the ghetto, there were Italian and Hungarian reserve units. At the demand of the commanders of these units, the chief of the Romanian gendarmes in Tulchin would select healthy young girls from the ghetto and send them, according to the official version, to serve the kitchens and bakeries of the Italian and Hungarian detachments. The girls usually returned after being raped and infected with all kinds of venereal diseases. The majority of the girls committed suicide while still at the barracks, or on their way home; some of them were shot while resisting rape or while attempting to escape."
THE UNKNOWN BLACK BOOK
By Joshua Rubenstein and Ilya Altman
"Our friend, David Lerner from Yedintsy, along with his wife, his six-year-old daughter, and some of his wife's relatives, the Axelrods, were in the village of Chukov, four kilometers from our camp. During the killing of children in September, they managed to hide the little girl in a sack. The girl was clever and quiet, and she was saved. Over the course of three weeks, the father took the little girl to work with him, and the child lived in the sack the whole time. After three weeks, that beast Genig came to their place to steal some valuables. He went up to the bag and gave it a kick; the little girl shrieked and was discovered. Vicious spite took hold of the murderer. He beat the father, beat the child, and took all their belongings, leaving the whole family with almost no clothes. Still, he did not kill the little girl. She remained in the camp and spent the whole winter in mortal fear, expecting death any day. On February 5, during a second Aktion, the little girl was taken along with her grandmother. The child was seized by a mad fear. She screamed so much on the sled along the way that her little child's heart could not take it and gave out. The child was carried to the common grave already dead in the arms of her grandmother…The mother lost her mind after finding out what happened. She was shot. The father and the rest of the family were killed shortly after."
THE UNKNOWN BLACK BOOK
By Joshua Rubenstein and Ilya Altman
After being in Monowitz for about a month, we ran into Rolf Goldschmidt after the evening roll call. He was sitting on his bunk in the row next to ours. He seemed very despondent and was mumbling to himself. "I can't stand it anymore. I don't want to live." We tried to cheer him up, but it was hopeless. We heard him get up at night. We were quite concerned. "Where are you going, Rolf?" we asked. "To the latrine." "Are you really going to the latrine?" "Yes!" I heard him call out to the guard and walk down the wooden steps. Half a minute later I heard gunfire. Rolf Goldschmidt had been shot dead while trying to throw himself into the
electrified barbed-wire fence.
THE UNWELCOME ONE
By Hans Frankenthal
When we arrived in Brody, I was shocked to find none of our relatives. When I was in hiding, I had feared that I would be the only Jew who survived…Then we found my cousin Pepe, the only one of my father's relatives to survive the Nazi terror. It was like finding a priceless treasure. Pepe was the daughter of my father's sister, Freda Strouse… She told us that the German and Ukrainian police came to take my cousin Anschul away, but Grandma Klara poured scalding water from the upstairs window onto the police and told Anschul to run. They killed my cousin Anschul and burned my grandma to death in her own house. Pepe survived the 1941 pogrom in Zlotchiw, during the first week of the Nazi occupation. She fell beneath the bodies of other Jews as they were machine-gunned by the edge of a mass grave in a ravine bordering the city. That night, after the shooting had stopped, she dug herself out and fled.
I'M NO HERO
By Henry Friedman
These first few weeks [after transferring to Birkenau] we were barely surviving. The food is less than it was, which means it has gone from a crust to a half of a crust. The soup is so thin there is no use to wait at the end of the line for a piece of turnip or meat, and the tea is practically clear. Every morning that we wake up at least one girl has died in our block. There are no exceptions. We are dropping like flies. You have to have a brain to figure out all that is going on, the tricks to being camp smart: where it's warmest, who's the most dangerous, who doles out a bit more soup. The new arrivals barely have time to figure out how to survive
before they die.
RENA'S PROMISE
By Rena Kornreich Gelissen with Heather Dune Macadam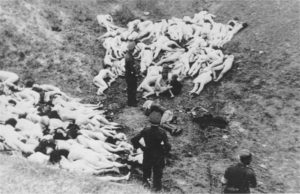 A German policeman prepares to complete a mass execution by shooting two Jewish children.
That same evening [at Langinbilau], a soldier picked a man out of the line. The man's name was Auerbach. He did not have the Star of David sewn in front of his lapel. Instead, he had it behind his lapel. The soldier called the foreman, saying "This man plans to escape; he should be severely punished." The soldier kicked him in the groin and he fell to the ground. He kicked him again and again until he was dead.
MEMOIRS OF A HOLOCAUST SURVIVOR: ICEK KUPERBERG
By Icek Kuperberg
We were made to stand for hours on end in the Appellplatz [Auschwitz], where the SS took one head count after another, adding and reading the figures. So long as the number of inmates didn't tally with the numbers on their lists, we were issued the following order: "Camp inmates will remain standing at attention!" Standing motionless while it was cold and rainy was an indescribable torture. The hunger that gnawed at our exhausted bodies inspired the SS to devise a unique form of villainy. They ordered an uncovered kettle of soup to be brought up and had it placed two meters in front of us. Even if the soup was watery, the aroma still assailed our nostrils. As soon as the soup was cold, they would have the kettle hauled away. We would often have to stand for the roll call all night long until we received the usual order in the morning: "Kommandos, move out!" Deprived of sleep, food, and drink, we were forced to go back to the construction site. After roll call like these there would be countless bodies lying on the ground. Many inmates simply had collapsed, and those who were too exhausted to go on tried to make a dash for the electrified barbed wire fence [suicide].
THE UNWELCOME ONE
By Hans Frankenthal
We have started putting two or three bodies in each grave. Our strength is failing fast with the lack of food and the terrible conditions in camp. Pushing the cart up the hill is a chore we can barely accomplish…The lower the pile of bodies gets, the worse it gets for us, because it is spring and the bodies are beginning to decompose. And there are fresh bodies on top now, too, so it's hard to tell until you touch one how long it's been lying there. Some of them we have to leave or they will fall apart.  We're very careful not to disturb the very old, decaying bodies.
RENA'S PROMISE
By Rena Kornreich Gelissen with Heather Dune Macadam
From the scorching sun [at Auschwitz] our faces blister and crack. Brownish discharge oozes from the cracks and forms large crusts around the edges. Our faces look ridiculous and repulsive. I definitely look more ridiculous than most girls. My extremely fair complexion responded to the fierce sun by sprouting large blisters ringed with red on my nose, my cheekbones, and the back of my neck. My ears look enormous because of towering blisters on my earlobes. I look like a clown. A mass of pus sores around my cracked lips make me look as if I'm wearing a perpetual grin stretching to my ears.
I HAVE LIVED A THOUSAND YEARS
By Livia Bitton-Jackson
Max Stern, my father's cousin, was assigned to the cable Kommando. Within three to four weeks he had already become a Muselmann [close to death by starvation]. At the end of one working day as we were preparing to march back to the camp, inmates in Max's Kommando informed us that SS men had beaten him half to death. Instead of surrendering his food bowl during work as ordered, he had hidden it under his coat. Coats had to be folded and laid on the ground and the SS would subsequently inspect them. They called out Max's identification number, beat him up, and tortured him for the next few hours while he was slaving away, until he finally collapsed. Even though Max Stern wasn't in our Kommando, we carried him back to the camp with us. He was barely able to speak but somehow managed to show up for roll call. After that we had no alternative but to take him to the infirmary. The next day we tried in vain to find out if he was still alive – but we never heard from him again.
THE UNWELCOME ONE
By Hans Frankenthal
Nearly every prominent Jewish man in the area around Brody had been accounted for, except Father. Even the baby had been found, her burial ground on our former property having been uncovered by a pair of dogs. We were all shocked. I was so upset by the image of dogs dragging my baby sister along the ground that I vomited.
I'M NO HERO
By Henry Friedman
"As a column of Jews was being led into the camp [Stavki], a young girl hid behind a bush to relieve herself. Pirozhenko saw this. He took aim and fired. The wounded girl summoned up all her strength, got to her feet and, covered in blood, cried out, 'Mama, they've killed me!' The butcher, not wasting any time, finished her off with a bayonet."
THE UNKNOWN BLACK BOOK
By Joshua Rubenstein and Ilya Altman
"I was stationed in Poland [Mielec] during the severe winter of 1941. I heard gunshots coming from a group of buildings that had been used by the Polish gliding club. I grabbed my pistol, got out of the car, and ran to find out what was going on. When I entered the courtyard, I saw young Jews digging graves – large, deep graves. The older Jews were being shot in the back of the neck… An old woman turned around when her executioner's gun clicked empty. With clasped hands she begged the Polish, 'Please help me!' The Pole kicked her in the back, loaded his gun, and shot her. When a person is shot at close range in the head from behind, everything is blown away, a part of the face falls to the ground. Even now, the masks worn during carnival season remind me of those shootings."
VOICES FROM THE THIRD REICH
Steinhoff, Pechel and Showalter
"Bergen-Belsen was in reality two camps within one. In Camp 1 were crammed up to fifty thousand inmates, half of them women… Here, crammed into a hundred single-story wooden huts, or lying around the compound exposed to the elements, lay tens of thousands of sick and emaciated prisoners… The sanitation, always primitive at best, was now non-existent. The inmates were dying at the rate of five hundred a day. Outside one of the women's huts lay a pile of unburied bodies. Inside, dead women were lying in the passage, and in the main room was a mass of bodies blocking any further access. The place stank of rotting flesh,
feces and urine."
ENDGAME, 1945
By David Stafford
"On July 5, 1941, the enemy occupied the shtetl of Yedintsy in Khotin County. The people were caught unawares, having neither the time nor the opportunity to get away. Until July 28, savage terror reigned in the shtetl, during which eight hundred people were shot and numerous young girls, practically children, were raped.
"Tens of thousands of people were driven out like cattle, struck with whips and rifle butts, and very often hit by bullets. They drove them without any rest, cruelly, not giving them anything to drink or allowing them to stop to help a dying mother or child. They drove them over hundreds of kilometers from Bessarabia to Ukraine, back to Bessarabia, then back to Ukraine. The whole way was strewn with corpses. Convoy after convoy walked along and left behind dying children, the elderly, the sick, and those who simply lost the will to live from the madness they
​had been through.
"My mother, Tseytel Fradis, fell; she dislocated her knee and was seen lying frozen to death along the road. My healthy, vivacious, active mother who had dedicated her whole life to helping the sick and the indigent, who was an ideal mother, had to end her life in this way.
"The children of my brother went down. His two beautiful little daughters and his wife, Pesya Bronshteyn. They told me that she asked God, when the children fell asleep, that they should no longer wake up, that she should not be the first to die and the children left alone to go through these horrors. My father's two sisters fell with their husbands."
THE UNKNOWN BLACK BOOK
By Joshua Rubenstein and Ilya Altman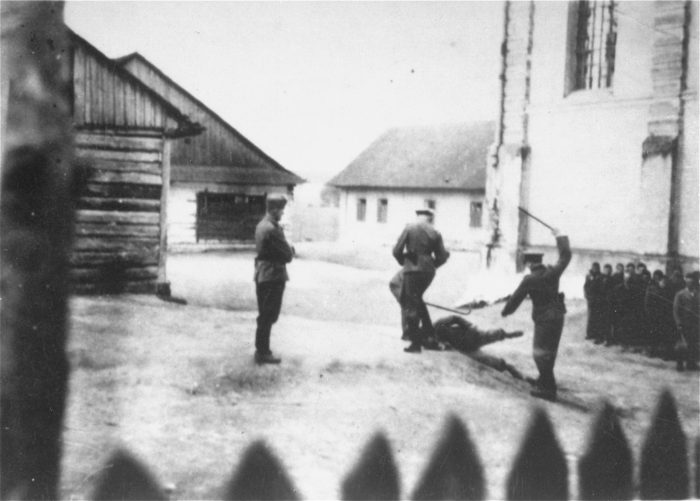 Camp guards beat and kick a prisoner at the Cieszanow labor camp. There were hundreds of concentration and labor camps where frequent, painful beatings were administered for minor infractions. Note the group of prisoners on the right who are required to watch this atrocity. 
"Dehumanizing each person by robbing him of his individuality, by rendering each, to the German eye, but another body in an undifferentiated mass, was but the first step towards fashioning their 'subhumans.' The Germans plunged the camp systems inhabitants into deprived and desperate physical, mental, and emotional conditions far worse than anything Europe had seen for centuries. By denying the camp system's populace adequate nutrition, indeed by subjecting many to starvation, by forcing them to perform backbreaking labor for unmanageably long hours, by providing them with grossly inadequate clothing and shelter, not to mention medical care, and by perpetrating steady violence on their bodies and minds, the Germans succeeded in making the camp system's inhabitants take on the appearance – including festering, open wounds, and the marks of diseases and illness – and behavioral attributes of the 'subhumans' that the Germans imagined them to be."
HITLER'S WILLING EXECUTIONERS
By Daniel Jonah Goldhagen
"The killing in the [Latvian] provinces began in late July and was almost completed by the end of September…Some towns…lost more than half of their population in a weekend…Police Battalions 309 and 316, based in Bialystok, invaded Tykocin on 5 August 1941. They drove Jewish men, women and children screaming from their home, killed laggards in the streets, loaded the living onto trucks… In the center of the Lopuchowo forest, men dug pits, piling up the sandy yellow soil, and then Police Battalions 309 and 316, out for the morning on excursion from Bialystok, murdered the Jews of Tykocin, man, woman and child. For months the forest buzzed and stank of death."
MASTERS OF DEATH
By Richard Rhodes
SA men stood in front of the smeared display windows carrying large signs which read "Don't buy from Jews." My mother, who didn't look Jewish at all, was stopped by an SA guard after leaving one of the shops. He said: "You can see the sign, but you go in anyway. We'll remember your face."
THE GESTAPO: THE MYTH AND REALITY OF HITLER'S SECRET POLICE
By Frank McDonough
We also had a Jew in our building who was supposed to be deported to Theresinstadt, a simple, modest man. But he took his own life by turning on the gas faucet. When the Jews who lived on our street were taken away, their midday meals were still lying on the table. After that, their apartments remained empty for months before they were rented again. They never
​came back.
WHAT WE KNEW
By Eric A. Johnson and Karl-Heinz Reuband
SHEET 6
[September and October 1941 kill sheets from Nazis in Lithuania]
Total Carried forward          99,804
9/12/1941   City of Wilna       993 Jews, 1670 Jewesses, 771 Jewish Children         3,334
9/17/1941  City of Wilna      337 Jews, 687 Jewesses, 247 Jewish Children,          1,271
4 Lith. Communists
  9/20/1941    Nemencing       128 Jews, 176 Jewesses, 99 Jewish Children        403
9/22/1941    Novo-Wilejka    468 Jews, 495 Jewesses, 196 Jewish Children         1,159
9/24/1941     Riesa        512 Jews, 744 Jewesses, 511 Jewish Children          1,767
9/25/1941   Jahiunai      215 Jews, 229 Jewesses, 131 Jewish Children           575
9/27/1941    Eysisky       989 Jews, 1,636 Jewesses, 821 Jewish Children        3,446
9/30/1941     Trakai          366 Jews, 483 Jewesses, 597 Jewish Children         1,446
10/4/1941   City of Wilna     432 Jews, 1,115 Jewesses, 436 Jewish Children        1,983
10/6/1941    Semiliski        213 Jews, 359 Jewesses, 390 Jewish Children           962
10/9/1941    Svenciany      1,169 Jews, 1,840 Jewesses, 717 Jewish Children     3,726
10/16/1941    City of Wilna      382 Jews, 507 Jewesses, 257 Jewish Children       1,146
10/21/1941  City of Wilna      718 Jews, 1,063 Jewesses, 586 Jewish Children        2,367
10/25/1941  City of Wilna        – Jews, 1,766 Jewesses, 812 Jewish Children         2,578
10/27/1941   City of Wilna     946 Jews, 184 Jewesses, 73 Jewish Children        1,203
10/30/1941   City of Wilna       382 Jews, 789 Jewesses, 362 Jewish Children       1,341
[Total murdered from July 1941 to October 31, 1941 – 133,346]
"THE GOOD OLD DAYS"
By Ernst Klee, Willi Dressen, and Volker Riess
"Dr. Rascher conducted experiments on the effect of cold water and human beings [at Dachau]. This was done to find a way for reviving airmen who had fallen into the ocean.  The subject was placed in ice cold water and kept there until he was unconscious…Some men stood it as long as 24 to 36 hours. The lowest body temperature reached was 19 degrees Centigrade, but most men died at 25 or 26 degrees. When the men were removed from the ice water attempts were made to revive them by artificial sunshine, with hot water, by electro-therapy, or by animal warmth. For this last experiment prostitutes were used and the body of the unconscious man was placed between the bodies of two women. Himmler was present at one such experiment…About 300 persons were used in these experiments. The majority died. Of those who survived, many became mentally deranged. Those who did not die were sent to invalid blocks and were killed."
THE NUREMBERG TRIALS: THE NAZIS BROUGHT TO JUSTICE
By Alexander MacDonald
The Jews had to climb into the van fully clothed [at Stalino and Rostov, Russia]. There was no sorting out. Men, women and children all had to get in together. I estimate that about sixty people had to get in each time. They had to climb up some steps to get into the van. It did not seem as if the Jews knew that they were about to be gassed. After the doors had been closed we then drove to a disused coal shaft. I do not remember whether the shaft was in front of the van or whether we had to turn around. The gas-van could not be driven right up to the shaft and we had to pull the bodies out of the vans and drag them to the shaft, which was about eight meters away, and then throw them in…When the doors were opened a cloud of smoke wafted out. After the smoke had cleared we could start our foul work. It was frightful. You could see that they had fought terribly for their lives. Some of them were holding their noses. The dead had to be dragged apart. It was while doing this that I first found out how heavy a human being can be.
"THE GOOD OLD DAYS"
By Ernst Klee, Willi Dressen, and Volker Riess
She turned to the birth book [at Ravensbrück] and traced her finger across a page, showing the names of babies born. There were 600 names in total born between the months of September 1945 and April 1945. Of these, she explained, forty survived, "but most of those were taken to Belsen in February 1945, where they also died."
RAVENSBRÜCK
By Sarah Helm
The increasingly threatening daily existence confronted by German Jews, prompted the Weisz family to begin discussing the possibility of fleeing the country. They remained convinced, however, that they would be better off remaining in Germany until sometime in 1937 when Eddie was arrested by the German police for "illegally attempting to view a hockey game," and he was incarcerated for four days without his family knowing where he was. While in prison, Eddie's boxing skills were of no use to him. He was beaten repeatedly by police officers and had a number of his teeth knocked out. When he returned home, Heinrich and Johanna Weisz concluded that their family's safety was in jeopardy, and they decided to leave Germany. [Only their son Eddie made it to America. The rest of the family was murdered].
OUR ONLY HOPE
By Keith H. Pickus
"We were captured by two Ukrainian soldiers. They took us to a German officer wearing incredibly tall, shiny boots. My parents told them we were Christians. Skeptical, the officer commanded my father and me to drop our trousers. At that time, in that part of the world, only Jews were circumcised. As soon as we took our pants down, the truth was out. My parents and I were immediately taken away to the Lublin ghetto. There things really changed for the worse. Food was very, very scarce, and children, who were not even classified as people, got nothing to eat. My parents had to share their meager rations with me. My most vivid recollection of that ghetto was the regular sight of dead people being taken away in the morning."
THE HIDDEN CHILDREN
By Jane Marks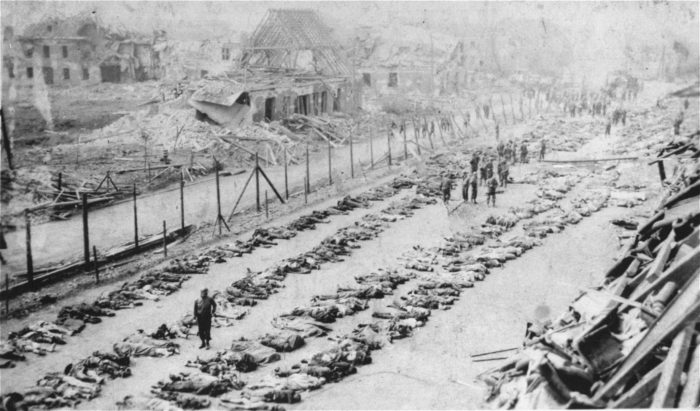 American soldiers walk among rows of corpses at the Nordhausen concentration camp.
He [Rudolf Werner] was most remembered for his ferocious German shepherd, named Donner (Thunder), which he trained to attack when he said the words "seize, Donner, Jew/" Werner would roar with laughter as the dog tore at a Jew's clothing or bit into his buttocks. At least once, Werner killed a man who dared to defend themselves against an attack. Another time, a laborer who had trouble lifting a barrel of turpentine was so badly mauled that he died from his injuries.
THE BIELSKI BROTHERS
By Peter Duffy
The SS singled out for particular torment those who had participated in the uprising in the Warsaw ghetto. The women and children were taken not to the gas chambers but to where the corpses were being burned. Mothers crazed with horror were forced to lead their children onto the red-hot grid where thousands of dead bodies were writhing in the flames and smoke, where corpses tossed and turned as if they had come back to life again, where the bellies of women who had been pregnant burst from the heat and babies killed before birth were burning in open wombs. Such a spectacle was enough to rob the most hardened man of his reason, but its effect – as the Germans well knew – was a hundred times greater on a mother struggling to keep her children from seeing it. The children clung to their mothers and shrieked, "Mama, what are they going to do to us? Are they going to burn us?" Not even Dante, in his Hell, saw scenes like this. After amusing themselves for a while with this spectacle, the Germans burned the children.
THE HELL OF TREBLINKA
By Vasily Grossman
"There was a narrow board over each ditch [at Zhitomir] and moving toward this board was a long line of no fewer than five hundred petrified people who were barely able to stay on their feet. Standing alongside each other in one of those lines that day were my beloved mother, Auntie Sura, her daughter, and, pressing himself up to them, the brother of Yankel's wife with a hunk of bread in his hand since he had been preparing to go to work. By the butchers' orders, people were stepping one by one onto the board. An exploding round was immediately shot into the back of the head of each one of them. Skulls flew off along with their hair and lodged on the branches of pine trees, while brains sprayed around and bodies quickly fell into the pit."
THE UNKNOWN BLACK BOOK
By Joshua Rubenstein and Ilya Altman
Death was always a looming shadow in our lives. At the end of 1940, I saw something which changed me forever. One night I was part of a work crew which was straightening boards to be used for building firing ranges for the Germans. For some reason, or perhaps for no reason, guards started beating one of my crew. He screamed and screamed, but that was normal for such things. We were always afraid to see what was going on, and we would move as far away from the person being beaten as we could. After finishing one beating, they might gang up on somebody else. This time was different. I could hear the crunch and crack of bones, the slap of wood on skin. Despite my best instincts, I looked over. I could see blood gushing from his head, streams of blood raining down from his nose. "They're killing me. They're killing me," he screamed.
DEFY THE DARKNESS
By Joe Rosenblum with David Kohn
Kurt Franz, who served in Belzec, testified: "I heard with my own ears how [Christian] Wirth, a quite convincing voice, explained to the Jews that they would be deported further and before that, for hygienic reasons, they must bathe themselves and their clothes would have to be disinfected. Inside the undressing barrack was a counter for the deposit of valuables. It was made clear to the Jews that after the bath their valuables would be returned to them. I can still hear, until today, how the Jews applauded Wirth after his speech. This behavior of the Jews convinces me that the Jews believed Wirth."
BELZEC, SOBIBOR, TREBLINKA
By Yitzhak Arad
"I remember the date because January 6 was a Polish Catholic holiday, and that's when they annihilated the rest of the Jews from the Copernicus school. I personally witnessed it…The remnants of Minsk's Jewish population was housed in the Copernicus school, now on fire, with smoke belching out. The roof was on the verge of collapse. Uniformed Germans, Latvians, security, and Polish police were shooting at the windows, aiming to kill anyone trying to escape. I saw partially burned bodies on the ledges of windows. Next to the school were piles of bodies, six or seven feet high. A mother tried to throw her child out the window when someone shot her dead.  A few steps from me a German, six feet  plus, weighing about 250 pounds, took a little Jewish girl by the hand, led her to a wall, sat her down, even corrected her posture, and then moved back a few steps and shot her in the head.
OUR CRIME WAS BEING JEWISH
By Anthony S. Pitch
A female prisoner's refusal to yield to a guard could have deadly consequences and at times unleashed the most brutal propensities of a guard. Friedrich Heinen had volunteered for the Waffen-SS and in early 1943 became a guard in a forced labor camp in Lemberg. It appears that one day he made advances to two good-looking young Jewish girls but was rebuffed. The German court, which sentenced him to life imprisonment for murder, described what followed: Heinen ordered the two girls to undress, lie on the floor, and spread their legs. He then shot into the genitalia of the first girl and killed her with a shot into the mouth. The second girl was likewise shot.
PERPETRATORS
By Guenter Lewy
Sometimes prisoners would notice a friend going "mad," and then she would suddenly disappear. Micheline Maaurel remembered how this happened to the twins Marie and Henriette Leger… "They were a little odd, and neither could do anything without the other, but they were the most dependable of friends. One of them became mad and was sent back to Ravensbrück. Then the other lost her mind, and she too was sent away."
RAVENSBRÜCK
By Sarah Helm
On September 29 and 30, more than thirty-three thousand Jews were shot to death by a commando unit of Einsatzgruppe C at Babi Yar outside of Kiev, Ukraine, in one of the largest massacres in the history of World War II. On October 23, more than nineteen thousand Jews were shot near Odessa, Ukraine; and on November 20, upward of thirty thousand were massacred in a forest outside Riga, Latvia.
THE BIELSKI BROTHERS
By Peter Duffy
The number of gas chambers in operation during the first months of the extermination activity in Belzec is hard to establish. As a result of technical problems or breakdowns, probably only one or two out of the three gas chambers were in operation at any given time. There were also some difficulties concerning the burial of the victims. After a pit was full of corpses, it was covered with a thin layer of earth. From the heat, putrefaction, and in some cases water that penetrated into the pits, the corpses swelled, and the thin layer of earth split. What happened then was described by Franz Stangl, who visited Belzec in April 1942: "Wirth was not in his office, they said he was up at the camp…I asked what was the matter. The man I was talking to said that one of the pits had overflowed. They had put too many corpses in it and putrefaction had progressed too fast so that the liquid underneath had pushed the bodies on top up and over, and the corpses had rolled down the hill. I saw some of them – oh God it was awful."
BELZEC, SOBIBOR, TREBLINKA
By Yitzhak Arad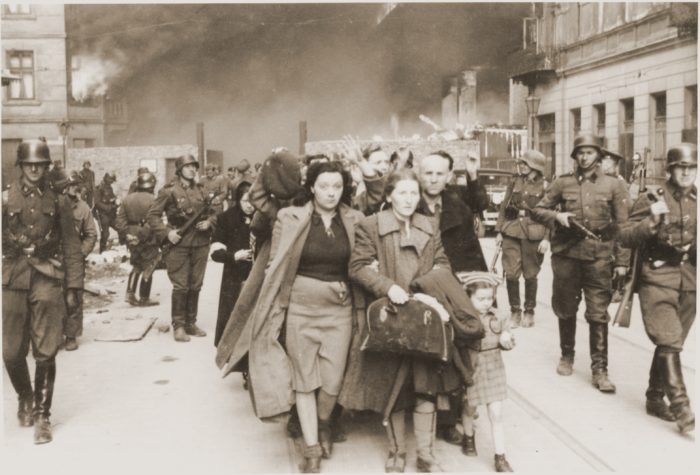 Jews captured during the suppression of the Warsaw ghetto uprising are marching to the Umschlagplatz for deportation. These survivors were supposedly treated with extreme cruelty when they reached Auschwitz.
"At the end of 1942, I was in Birkenau when they brought us to a clinic, told us to climb on chairs, and place our sexual organs on a machine. Then they ordered us down again. My penis had black patches on both sides. Four months later, in Auschwitz, they brutally removed sperm from all of us. A day later, they injected us in our spines, which completely numbed the lower parts of our bodies. Then they tied our hands and took us to the place where they would operate. They removed testicles on one side. I had a terrible pain for four or five days in the infirmary. Later I was in the coal mining camp of Janina, near Auschwitz. I had worked my full shift from 6:00 a.m. when they woke me at 2:00 a.m., put me in a car, and drove [me] to an infirmary, like the other young men. There they removed the other testicle from me and about one hundred men. Only a few survived. I was seventeen."
OUR CRIME WAS BEING JEWISH
By Anthony S. Pitch
Reliable estimates put the total number of Jews killed by the Einsatzgruppen in the Soviet Union at 1.5 million. The mass killing began with some trial and error. The use of machine guns to mow down large numbers of Jews proved unsatisfactory because too many victims did not die immediately. Large numbers of badly wounded had to be given the coup de grâce one by one, which proved a traumatic experience for the killers. Hence in some instances, officers, whose job it was to finish off the merely wounded, would instead use grenades. Eventually the practice evolved of lining the Jews up standing or kneeling next to a ditch with their backs to their executioners, and using individual shooters. Soon this routine was further "improved" by making the victims enter the pit and lie down before being shot. This way of killing became known as "sardine packing," because by having the Jews lie next to and on top of each other, the pit became neatly packed like a can of sardines. "Sardinenpackung" apparently was invented by Friedrich Jeckeln, one of four higher SS and police leaders in Russia, who coordinated the activities of the Einsatzgruppen in their area of responsibility. They have been called "pace-setters of the annihilation process."
PERPETRATORS
By Guenter Lewy
Every day for thirteen months the trains brought people to Treblinka. In each train there were sixty wagons, and a number chalked on the side of each wagon – 150, 180, 200 – indicated the number of people inside. Railway workers and peasants secretly kept count of these trains. Kazimierz Skarzunski, a sixty-two-year-old peasant from the village of Wolka (the nearest inhabited point to the camp), told me that there were days when as many as six trains went by from Siedlce alone, and that there was barely a day during these thirteen months without at least one train. And the line from Siedlce was only one of the four lines that supplied the camp.
THE HELL OF TREBLINKA
By Vasily Grossman
Working at night made our situation [at Miedzyrzec, Poland] even worse. It was pitch dark out, and the Germans felt they could get away with whatever they wanted without anybody's seeing them. One particular night, one of the Germans who was walking around with a long stick suddenly attacked me. "Yehuda, you Jew, you pig Jew," he was screaming. All the time he was hitting me. "You have to work, you pig. Work harder, work harder, you scum." I felt my body parts swell. Two are three times a night, every night, they'd start beating one of us, then they'd move on to someone else…After the shift finished, we were all herded into the green military trucks and taken back to the collection point. One night, my mother and father both had awakened, and they saw my bleeding face with clotted blood. They said nothing, but they saw my arms and legs swollen and purple from the beating. My mother cried. After that, she cried almost every time she saw me because I was black and blue almost every night when I came home.
DEFY THE DARKNESS
By Joe Rosenblum with David Kohn
"One night we stopped near the town of Gardelegen. We lay down in a field and several Germans went to consult about what they should do. They returned with a lot of young people from the Hitler Youth and with members of the police force from the town. They chased us all into a large barn. Since we were 5,000-6,000 people, the wall of the barn collapsed from the pressure of the mass of people, and many of us fled. The Germans poured out petrol and set fire to the barn. Several thousand people were burned alive. Those of us who managed to escape, lay down in the nearby wood and heard the heart-rending screams of the victims. This was on April 13. One day later the place was conquered by Eisenhower's army. When the Americans got there, the bodies were still burning."
HITLER'S WILLING EXECUTIONERS
By Daniel Jonah Goldhagen
A larger Aktion in mid-November 1941 was described in detail by a Polish veterinarian, Mieczyslaw Sekiewicz, in a deposition he gave the Local Court of Konin in 1945. What is unusual is the killing method:
"They ordered the assembled Jews to strip – first those who were standing near the large pit. They ordered the naked people to jump into the larger pit. I could not describe the wailing and the crying. Some Jews were jumping without an order – even most of them – some were resisting and they were being beaten about and pushed down. Some mothers jumped in holding their children, some were throwing their children in, others were flinging their children aside. Still others threw the children in first and then jumped in. Some were crawling at the feet of the Gestapo men kissing their boots, their rifle butts and the like…
"Suddenly the Gestapo men ordered the Jews not to undress anymore as the pit was full. Only closely packed heads were to be seen when one looked into the pit. The Jews already stripped naked were thrown by the Gestapo men onto the heads of those already crammed into the pit. And all the while we had to collect and sort out clothing, footwear, bundles, food, eiderdowns and the like. This lasted until noon and then a truck came from the road and stopped on the path by the clearing. I noticed four vat-like containers. Then the Germans set up a small motor – it was probably a pump – connected it with hoses to one of the vats and two of them brought the hoses from the motor up to the pit. They started the motor and the two gestapo men began to pour some liquid on the Jews.  I think it was water, at any rate it looked like water. The hose was connected in turn to the other containers. Apparently, because of the slaking of the lime, people in the pit were boiling alive. The cries were so terrible that we who were sitting by the piles of clothing began to tear pieces off to stop our ears. The crying of those boiling in the pit was joined by the wailing and lamentation of the Jews waiting for their perdition."
MASTERS OF DEATH
By Richard Rhodes
There was an affidavit from a young woman taken from Kursk with her sister. They were pushed into a cattle truck with 50 or 60 others. "In Lgov we had to get out and be examined," she said. "In the presence of soldiers we were now compelled to undress quite naked and have our bodies examined. The nearer we got to Germany the fewer were the people left in the train…at nearly every station the sick and those dying from hunger were thrown out."
THE NUREMBERG TRIALS: THE NAZIS BROUGHT TO JUSTICE
By Alexander MacDonald
In Ukraine, Dina Pronicheva, a Jew who escaped from a killing site, witnessed the German killers… "At the opposite side of the ravine, seven or so Germans brought two young Jewish women. They went down lower into the ravine, chose an even place and began to rape these women by turns. When they became satisfied, they stabbed the women with daggers…And they left the bodies like this, naked, with their legs open."
THE HOLOCAUST
By Laurence Rees
It was decided to liquidate the Jews of Zhitomir completely and radically. The liquidation began as the Berdichev liquidation had begun: sixty Ukrainian militiamen surrounded and closed the Jewish district of Zhitomir during the night and at four in the morning broke down doors and drove families out of the houses and buildings where they had been crowded earlier in the month. Twelve trucks lent by the city and military administrations transported the victims to the massacre site, where a detachment of POWs had dug killing pits. The victims – a total of 5,145 men, women and children – were registered, robbed, disrobed and shot. "Fifty thousand to sixty thousand pounds of underwear, clothing, shoes, dishes, etc., had been confiscated in the course of the action."
MASTERS OF DEATH
By Richard Rhodes
Amid the vast numbers arriving at Birkenau, individual members of the SS felt free to indulge their sadistic imagination. Morris Venezia, one of the Jewish Sonderkommandos working in the crematoria, remembers that two young Jewish sisters and their friend asked one of the SS men if they could be killed together. He was "very happy" to do as they asked, and in the process thought that he would try and see if he could kill all three of them with one bullet. He placed them all in a line and pulled the trigger. All three girls collapsed and appeared to be dead. "Right away," says Morris, "we took them and threw them in the flames [of the open pit]. And then we heard some kind of screaming [from the pit]. It transpired that one of the girls had only fallen down and had not been killed, so now she was burnt alive. And the German officer was so happy because he killed two of them at least with one shot."
THE HOLOCAUST
By Laurence Rees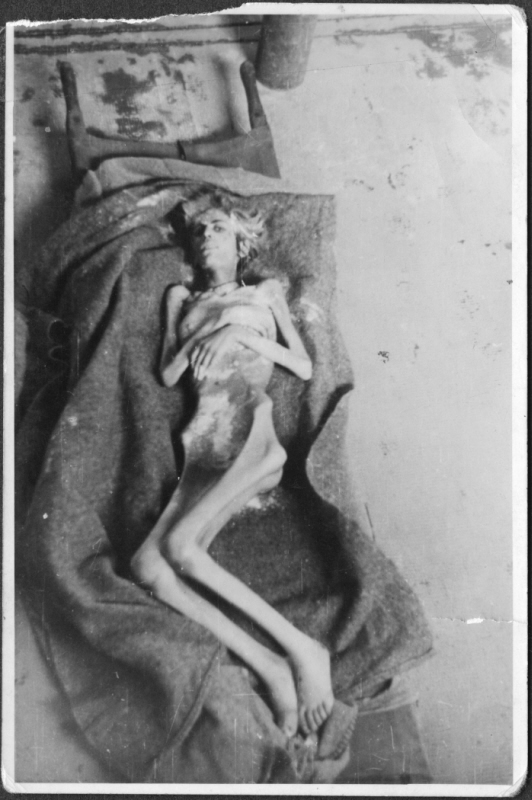 An emaciated female survivor who has just been disinfected lies on a stretcher in Bergen-Belsen. 
"Their next 'military objective' was the Jewish Children's Home. They forced the frightened youngsters to line up and march. At the head of the line was the director of the home, a devoted mother to the orphans. Her name was Fleisher. In one arm she carried a sick child. Her other hand clutched the hand of her own young son, walking beside her. Last in line was another self-sacrificing woman, Dr. Tshermin…The march of the children was halted at a freshly dug ditch at the lower end of Tatomski Street, not far from the Judenrat building. The air was suspiciously still, but the executioners had already taken up their 'positions' around the ditch. In command was the Nazi governor of Byelorussia, Gauleiter Wilhelm Kube. At his side stood a tall SS officer in a long leather coat. From the German Jews we later learned that this was Himmler's right-hand man – Adolf Eichmann. At his signal the murderers began throwing the children into the ditch and covering them with sand. The screams and cries could be heard far into the ghetto. Children stretched out their hands, pleading for their lives. Kommissar Kube walked alongside the ditch, tossing pieces of candy into it…From the Jewish police we learned that Eichmann swore angrily when blood splattered his coat. Upon the mound of dying Jewish children the Nazis threw the dead bodies of their guardians – Director Fleisher and Doctor Tshermin."
MASTERS OF DEATH
By Richard Rhodes
Suddenly she realized that her mother must have been taken away, and Majdanek, like Treblinka, was a place of murder: "I have no words at all. I didn't cry. It was beyond tears. It's all over. There is nothing any more. There is no sky. No more earth. As if they took and broke my legs and hands. So I started to go round the shower. 'Mother is gone. Mother is gone. Mother is gone.'" Halina was admitted to Majdanek, and after a short time, she consoled herself with the knowledge that at least her mother had been spared the experience of life in the camp. When she saw how the prisoners were beaten, she couldn't bear the thought that her "distinguished, modest, clean" mother would have been hurt in such a way. "What could be worse than Majdanek?" she says.
THE HOLOCAUST
By Laurence Rees
"There were people whose participation awakened in them the most evil sadistic impulses. For example, the head of one firing-squad made several hundred Jews of all ages, male and female, strip naked and run through a field into a wood. He then had them mown down with machine-gun fire."
"THE GOOD OLD DAYS"
By Ernst Klee, Willi Dressen, and Volker Riess
"Today I still remember exactly that we were already right before the bunker when a five-year-old boy came out crawling. He was immediately grabbed by a policeman and led aside. The policeman then set the pistol to his neck and shot him."
HITLER'S WILLING EXECUTIONERS
By Daniel Jonah Goldhagen
Particularly unpleasant was the gassing of the emaciated women from the women's camp [at Auschwitz]… I remember I once took part in the gassing of one of these groups of women. I cannot say how big the group was. When I got close to the bunker [I saw] them sitting on the ground. They were still clothed. As they were wearing worn-out camp clothing they were not left in the undressing hut but were made to undress in the open air. I concluded from the behavior of these women that they had no doubt what fate awaited them, as they begged and sobbed to the SS men to spare them their lives. However, they were herded into gas chambers and gassed.
"THE GOOD OLD DAYS"
By Ernst Klee, Willi Dressen, and Volker Riess
During the night one could hear the last cries of martyred prisoners and the shouting of the perpetrators. Even before sundown, wild screaming and scornful laughter were audible; these sounds came from the drinking parties of the eminent camp members. Suicides occurred again and again in the night. I will never forget Dr. Nick, a Jewish doctor from Warsaw, who was well-known and respected for his helpfulness. One morning we found him hanging by his belt. On that day he had learned that his wife, with whom he had arrived at Majdanek, had been gassed.
THE DEAD YEARS
By Joseph Schupack
There were only two marksmen carrying out the executions [Babi Yar, Kiev]. One of them was working at one end of the ravine, the other at the other end. I saw these marksmen stand on the layers of corpses and shoot one after the other. The moment one Jew had been killed, the marksman would walk across the bodies of the executed Jews to the next Jew, who had meanwhile lain down, and shoot him. It went on this way uninterruptedly, with no distinction being made between men, women and children. The children were kept with their mothers and shot with them. I only saw this scene briefly. When I got to the bottom of the ravine I was so shocked by the terrible sight that I could not bear to look for long. In the hollow I saw that there were already three rows of bodies lined up over a distance of about sixty meters. How many layers of bodies there were on top of each other I could not see. I was so astonished and dazed by the sight of the twitching blood-smeared bodies that I could not properly register the details.
"THE GOOD OLD DAYS"
By Ernst Klee, Willi Dressen, and Volker Riess
"It was common practice to remove the skin from dead prisoners," said Dr. Blaha.  "Human
skin from human backs and chests…was chemically treated and placed in the sun to dry. After that it was cut into various sizes for use as saddles, riding breeches, gloves, house slippers, and ladies' handbags. Tattooed skin was especially valued by SS men. Russians, Poles, and other inmates were used in this way, but it was forbidden to cut out the skin of a German. This skin had to be from healthy prisoners and free from defects. Sometimes we did not have enough bodies with good skin and Raschner would say, 'All right, you will get the bodies.' The next day we would receive 20 or 30 bodies of young people. They would have been shot in the neck or struck on the head so that the skin would be uninjured."
THE NUREMBERG TRIALS: THE NAZIS BROUGHT TO JUSTICE
By Alexander MacDonald
"There were so many lice that many people's hair was so full of lice that it started to move. Not only were people's hair, clothes and bodies covered with lice, but if you leant over and picked up a handful of sand, the sand moved because of all the lice in it."
THE HOLOCAUST
By Laurence Rees
"Once during the search of an apartment one of the groups uncovered a hiding place of a woman and two children. They were the ones we called Wild Ones because they had no papers that allowed them to stay in the ghetto. As soon as they were found the woman grabbed the children and started running. From the window of the room I was working in, I saw them run out into the street. As soon as they left the building they attracted the attention of two SS soldiers standing nearby. The soldiers shouted for them to stop, but the woman and the children kept running. The soldiers chased after them. The woman and children turned a corner, and I could not see them anymore. But when the soldiers got to the corner I saw one of them raise his machine gun and fire. I trembled at the sound of the gun, and heard the woman and children cry out.
THE BLEEDING SKY: MY MOTHER'S JOURNEY THROUGH THE FIRE
By Louis Brandsdorfer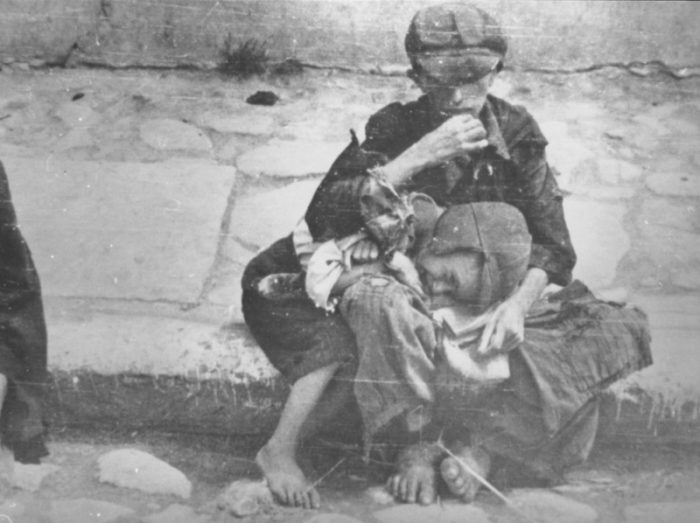 Destitute children sit barefoot on the pavement in the Warsaw ghetto. 
Since there was no water, feverish inmates often drank urine.
PEOPLE IN AUSCHWITZ
By Hermann Langbein
On Saturday, 26 July 1941, I was working, clearing the ruins of a stone building in the market square [at Nowogrodek, Bellorussia]… we heard gunshots: the Germans shot 52 Jews in the market square. The teacher, Solomon, tried to escape. He managed to run about 100 meters, before he too was shot and killed. The remaining Jews were ordered to load the bodies and cart them away to the Jewish cemetery. One 'body,' who had only been wounded, whispered to the man who was loading him into the cart, asking him to try and lay him on top of the others. A Belorussian policeman overheard the whisper and told a German soldier. The German pulled out his pistol and killed the man.
SURVIVING THE HOLOCAUST WITH THE RUSSIAN JEWISH PARTISANS
By Jack Kagan and Dov Cohen
Hunger pains were bad, but only someone who has suffered from both hunger and thirst knows that thirst is far more painful and debilitating. Days of walking, followed by this torturous train ride, made our men behave more like animals than human beings. We were suffocating, dehydrating, starving, and dying of exhaustion. As our friends expired, we piled one body one top the other against the wall to provide space for those still living.
MY DARKEST YEARS
By James Bachner
"On several occasions I saw in the morning the corpses of inmates who had been shot during the night by guards in the watchtowers when they were leaving the block to visit the toilets. This is why we stayed in the block and relieved ourselves into the mess tin."
PEOPLE IN AUSCHWITZ
By Hermann Langbein
"The following morning, a little before seven there was an announcement: 'The first train will arrive in 10 minutes!' A few minutes later a train arrived from Lemberg: 45 cars with more than six thousand people. Two hundred Ukrainians assigned to this work flung open the doors and drove the Jews out of the cars with leather whips. A loudspeaker gave instructions: 'Strip, even artificial limbs and glasses. Hand all money and valuables in at the 'valuables window.' Then the march began. Barbed wire on both sides, in the rear two dozen Ukrainians with rifles. They drew near. Wirth and I found ourselves in front of the death chambers. Stark naked men, women, children, and cripples passed by. A tall SS man in the corner called to the unfortunates in a loud minister's voice: 'Nothing is going to hurt you! Just breathe deep and it will strengthen your lungs. It's a way to prevent contagious diseases. It's a good disinfectant.' They ask him what is going to happen and he answered: 'The men will have to work, build houses and streets. The women won't have to do that, they will be busy with the housework and the kitchen.'
"This was the last hope for some of these poor people, enough to make them march toward the death chambers without resistance. The majority knew everything; the smell betrayed it! They climbed a little wooden stairs and entered the death chambers, most of them silently, pushed by those behind them…SS men pushed the men into the chambers. 'Fill it up,' Wirth ordered; 700-800 people in 93 square meters. The doors closed… The men were waiting in the gas chambers. You could hear them weeping 'as though in a synagogue.' You could see through the window that many were already dead, for an electric light illuminated the interior of the room. All were dead after 32 minutes! Jewish workers on the other side opened the wooden doors. They had been promised their lives in return for doing this horrible work, plus a small percentage of the money and valuables collected. The men were still standing, like columns of stone, with no room to fall or lean. Even in death you could tell the families, all holding hands. It was difficult to separate them while emptying the rooms for the next batch. The bodies were tossed out… Two dozen workers were busy checking mouths which they opened with iron hooks. 'Gold to the left, no gold to the right.' …Dentists knocked out gold teeth, bridges, and crowns, with hammers. Captain [Christian] Wirth in the middle of them. He was in his element…"
CHRONICLES OF THE HOLOCAUST
By Roselle K. Chartock and Jack Spencer
The SS troops arrived in their black uniforms with the skull insignia on their caps. How appropriate as their prime interest was the death of the Jews. In their first hour in town [Radom, Poland], under orders from the madman, they began taking our people and killing them. First went the leading citizens, the Rabbis, teachers, intellectuals and any strong young men. Without leadership they knew it would be difficult for us to organize and that the likelihood of resistance would be low. For no reason, our leaders were sentenced to death and shot in front of their families…Many people who were sick, ailing, or elderly were also exterminated at this time.
OUTCRY: HOLOCAUST MEMOIRS
By Manny Steinberg
Chronic hunger and thirst; the separation from relatives that, as soon became apparent, was permanent; the utter hopelessness of ever getting out of the Auschwitz mill – all this turned human beings into Muselmanner. Here is how Jean Amery describes this type: "The so-called Muselmann, as an inmate who was giving up on himself and had been given up by his comrades was called in the camp lingo, no longer had a space of consciousness in which good and evil, nobility and meanness, intelligence and stupidity could confront one another. He was a walking corpse, a bundle of physical functions in its death throes."
Vilo Jurkovic has also provided a portrait: "That was a bag of skin and bones, an emaciated human being barely able to drag himself along and devoid of will and strength, a person with a nasal discharge that ran down his mouth and chin, a dirty person clad in rags and often completely lice-ridden, suffering from severe diarrhea, with a resultant soiling underwear, a person with sunken or bulging eyeballs – a true picture of misery, weakness, hopelessness, and horror!"
PEOPLE IN AUSCHWITZ
By Hermann Langbein
For me, night is a sleepless agony, a feverish delirium on a hard, disgusting bunk on which after a minute every position becomes unbearable, and my aching flesh, and the narrowness of the straw mattress, allow no movement. But the worst are the fleas. I can feel thousands of them crawling over me. The stinging bites are like the pricks of red-hot needles. They demand tremendous effort, a constant flexing of every muscle. I try to bend my legs; to pull them out from under the heap of legs belonging to my companions; to protect them with my arms. I scratch them with my rough palms, I feel relief, an easing tension, but now they are stinging me on the face, the neck, the chest. I direct my hands quite automatically to where the itching is most annoying. The insane battle with the fleas goes on endlessly.
WE WERE IN AUSCHWITZ
By Siedlecki, Olszewski, Borowski
7,000 young Slovak Jewish women were sent to the Auschwitz main camp or Stammlager in the spring of 1942, for labor. In mid-August, the 6,000 who were still alive were moved to Birkenau. At the end of December, just over four months later, only 650 had not yet died.
ORDINARY MEN
By Christopher R. Browning
Inge was already well into her workday at 9:00 a.m. when the SS stormed into the factory. Shouting and swearing at the Jewish workers, they quickly and brutally herded the workers out into the cold and onto trucks that were waiting in the yard. "You are being taken to the Lustgarten," the SS commander announced. (The Lustgarten was a public park, a place in which Hitler was fond of giving speeches.)  "When you get there you all will be shot." As the truck rumbled through the Berlin streets, riding in fear, pressed tightly in among the shivering bodies of her fellow Jewish workers, all Inge could think of was the tragedy of her life. She was only seventeen years old and was on her way to be killed, without even having a chance to see her parents or brother again.
REFUGE IN HELL
By Daniel B. Silver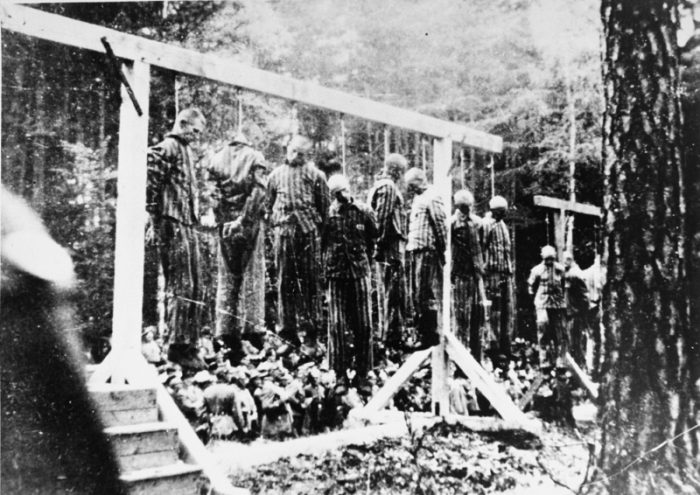 Twenty concentration camp prisoners, most of them Jewish, hang on gallows in a forest near Buchenwald.
Erich Altmann has recorded the end of Meilech Herschkowitz, a former theater director. When that man was selected, he spoke to an SS man who knew him from occasional Sunday performances: "I have been selected and am to be burned. Can't you help me?" The SS man replied, "There's nothing I can do." "Don't you think, Herr Unterscharfuhrer," continued Herschkowitz, "that if I have to die, I deserve a bullet?" "You're right," replied the SS officer, pulled out his revolver, and shot the inmate. This happened in Birkenau in January 1944.
PEOPLE IN AUSCHWITZ
By Hermann Langbein
Another arrest that members of the hospital staff found unforgettable was that of Kurt Bukofzer, who had died for a well-meaning slip of the tongue. On an October day in 1943 the young Mischling [half Jew] was temporarily manning the doorman's booth. As Wohrn strode through the main entrance, the SS man called out imperiously, "Is Lustig on the premises?" "Herr Obermedizinalrat Dr. Dr. Lustig is in his room," the frightened young man replied. Bukofzer's reply sent Wohrn into a paroxysm of rage. He berated the temporary doorman for having had the temerity to apply an honorific to [Doctor] Lustig. "Jews no longer have titles," he shouted. Later that day he was arrested and taken away to a labor camp near Berlin. The mistreatment he suffered there caused him to collapse, and he was brought back to the hospital, this time as a patient in the police ward. He died there on September 22, 1944.
REFUGE IN HELL
By Daniel B. Silver
This document [report from Police Batalion 133] demonstrates many things, the desperate attempts of the deported Jews to escape the death run; the scanty manpower employed by the Germans (a mere 10 men to guard over 8,000 Jews)' the unimaginably terrible conditions – forced marches over many miles, terrible heat, days without food and water, the packing of 200 Jews into each train car, etc. – that led to fully 25 percent of the deported Jews dying on the train from suffocation, heat prostration, and exhaustion (to say nothing of those killed in the shooting, which was so constant that the guards expended their entire ammunition supply as well as replenishment); the casual mention that even before the deportations hundreds of Jews judged too old, frail, or sick to get to the trains were routinely shot in each action. Moreover, the document makes clear that this action was only one among many in which members of the Reserve Police Battalion 133 participated alongside the Security Police in Galicia during the late summer of 1942.
ORDINARY MEN
By Christopher R. Browning
On one occasion two little children were involved in a game they were playing and their mother just couldn't tear them away from it. Even the Jews of Sonderkommando didn't want to pick up the children. I will never forget the pleading look on the face of the mother, who certainly knew what was happening. The people in the gas chamber were becoming restless. Everyone was looking at me. I had to act. I gave the sergeant in charge a wave, and he picked up the screaming, kicking children in his arms and brought them into the gas chamber along with the mother, who was weeping in the most heart-breaking fashion.
DEATH DEALER: THE MEMOIRS OF THE SS KOMMANDANT AT AUSCHWITZ
By Steven Paskuly
In Block 20 of the main camp, Jews were forced to help SS medic Klehr and his colleagues when he was killing the sick and the weak with injections of poison. "I had to remove the murdered men," said Weil. "I had to take the dead from the injection room in Block 20 past the hallway to the washroom. Often I was only a half meter or a meter from Klehr when he was injecting. On September 29, 1942, Klehr murdered my father right in front of my eyes…My father was laid up in Block 21 with cellulitis in his left hand, and I frequently visited him. On that day my father was suddenly taken to Block 20. Two men were always taken to Klehr's room together, and one of these was my father. Klehr spoke to both of them. 'Have a seat. You'll now be inoculated against typhus.' I began to cry. He injected my father, and I carried him to the washroom." Weil also explained why he remained mute: "I didn't tell Klehr at the time that this was my father because I was afraid he would tell me to take a seat next to him."
PEOPLE IN AUSCHWITZ
By Hermann Langbein
In her block there was another seasonal occurrence when one of the recently arrived Hungarian women gave birth to a baby girl with blond hair and big brown eyes. The mother had no milk so the block "organized" some milk to feed it, keeping it out of sight. But Dr. Mengele got wind of it. He arrived at the block one day, found the baby, and took it away. An hour later he came back and threw the baby's clothes at her mother. Lisette thought, It's not enough to have blood circulating in your veins to qualify as human.
AN UNCERTAIN HOUR
By Ted Morgan
Others testifying at the Auschwitz trial remembered seeing SS men killing children by bending them over their knees like sticks of wood and breaking their spines, then throwing them into ditches. Often, when the Sonderkommando pulled the dead from the chambers, the hearts of some children were still beating. The SS shot those. SS Sergeant Moll tore a baby away from its mother, took him over to the crematorium, and threw him into the boiling fat of recently cremated victims.
HITLER'S DEATH CAMPS
By Konnilyn G. Feig
Szmaglewska described her first days in the clinic: "Here is an emaciated woman with legs so swollen that the skin over them is taut and shiny. The face is so puffed up that all the features are lost. White, unhealthy flesh like a batch of raised dough effaces the features, hides the eyes." In another bunk huddles a woman whose bony knees and legs are covered with gray skin and "at each slight move a terrible odor emanates from her. The dirty clothes sticking to her body bear irrefutable evidence that this patient probably fainted over an open latrine pit and fell into it…Here is a beautiful Russian girl racked by fits which make her limbs shudder convulsively. A dark face, eyes wild with fear, blackened lips, from which issues a whine, bay, giggle or sob? It may be Malaria." In a corner a young girl suffers from dysentery with her face greenish white and every now and then down her legs "trickles a stream of black parched blood or of foul greenish excrement." Over in another corner "large beautiful eyes luminous with fever lighten a skeleton-thin face. The sharp features, fallen chin, prolonged nose, almost transparent skin, blue shadows under eyes tell too plainly of rampant t.b." Other women are scratching and tearing at their skin. Blood oozes through the filthy rags bandaging hands, feet, and a head of a woman who had been mauled by a dog.
HITLER'S DEATH CAMPS
By Konnilyn G. Feig
SS Major Kraus received orders from SS General Schmauser at SS Headquarters in Wroclaw to kill all the remaining prisoners who could not be evacuated. The SS, who were now plundering the camp at Birkenau, led about two hundred women outside the camp and shot them all to death. Just before leaving they set explosive charges and blew up crematories II and III.
DEATH DEALER: THE MEMOIRS OF THE SS KOMMANDANT AT AUSCHWITZ
By Rudolf HossEdited by Steve Paskuly
Lieutenant Messmann formed a flying squadron that systematically eliminated small batches of Jewish workers in a fifty- to sixty-kilometer radius of Pulawy. Messman's driver, Alfred Sperlich, recalled the procedure: "In cases where they farmyard and the Jewish lodgings could be reached quickly, I drove into the farmyard at high speed, and the police sprang out and immediately rushed to the Jewish lodgings. Then all the Jews present at that time were driven out and shot in the farmyard near a haystack, potato pit, or dung heap."
ORDINARY MEN
By Christopher R. Browning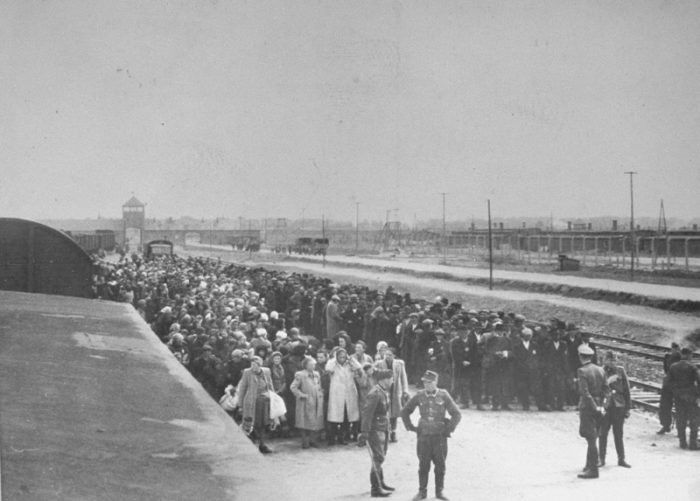 View from atop the train of Jews lined up for selection on the ramp at Auschwitz-Birkenau. Many would be gassed and cremated within hours. 
German guards with huge, vicious police dogs would keep watch along the fences. Although these dogs were on leashes, the guards would drop the leather straps and let the dogs attack at any given time. They would yell "Jew" and the poor soul wouldn't stand a chance. I saw a little Jewish boy, maybe five or six years old, a friend of Jacob, murdered this way, when he asked a Polish man on the other side of the fence for a piece of bread.
OUTCRY: HOLOCAUST MEMOIRS
By Manny Steinberg
"The first to die were the children. They cried for bread day and night, and soon all of them starved to death."
PEOPLE IN AUSCHWITZ
By Hermann Langbein
When prisoners became unfit for work in the factories, the industries requested that they be returned to Buchenwald, a move that almost inevitably meant the crematorium. Out of 15,000 prisoners shipped to Dora during two months in the fall of 1943, for example, at least a hundred bodies were returned every day, each weighing less than forty kilograms [88 pounds].
HITLER'S DEATH CAMPS
By Konnilyn G. Feig
The wife of Yankel Freydl was killed along with her three innocent children. I was told that Freydl, her head wrapped in a white kerchief, carried one infant and led her five-year-old daughter by the hand, while eight-year-old Fima clutched at her skirts. The executioner pushed her in the shoulder to make her go faster, and she said: "Well, I'm going." And so she and her children walked their last journey. [Zhitomir]
THE UNKNOWN BLACK BOOK
By Joshua Rubenstein and Ilya Altman
When Jakob Rosenbaum and his family, along with the rest of the Jewish community of Osqiecim, were deported to Bedzin, a lot of older people were simply shot dead on the spot rather than "resettled." Those killed included his own grandfather, who was shot in front of everybody in the middle of a public square.
A SMALL TOWN NEAR AUSCHWITZ
By Mary Fulbrook
Who could have imagined then that practically all the Jews of Schmallenberg would end up being buried in a place called Auschwitz? We composed the following inscription for Aunt Hedwig's headstone: "Having survived three and a half years of suffering in a concentration camp, you died of heartache because your husband Julius Goldschmidt, your son Heinz Goldschmidt, and your daughters Ruth and Lore Goldschmidt were caught in the Nazis' clutches, never to return."
THE UNWELCOMED ONE
By Hans Frankenthal
Taube marches along our rows, but he is not counting us today…He cracks his whip across a girl's shoulder blade. She sinks into the mud. "Lie down! Heads down!" …Taube stomps towards our row. Noses touching dirt, eyes staring into the ground. His black boots pass us. His boots stop. Trying not to breathe. A girl nearby raises her head. I can see from the corner of my eye her upturned face gasping for breath. The boot falling into her face, pushing it deep into the earth. The crunching of skull bones sickens the air. I want to vomit. He moves on. I cannot help but listen for the sound. A few rows away it rises from our ranks – the crunch, the silence…
RENA'S PROMISE
By Rena Kornreich Gelissen with Heather Dune Macadam
On 3 February 1944, about 900 selected women were finally gathered together on the Lagerplatz. Most had no idea that they had been chosen for the black transport, or why…In the weeks that followed, news reached Ravensbrück about the fate of the departed women. Two guards who had travelled with the prisoners returned soon after and reported that the journey had taken at least three days and the train had to stop several times due to heavy snow. When the wagons were opened at Majdanek, scores were already dead, some of them frozen to the wagon floors…One prisoner learned what happened to her mother… "The worst of all for my mother and the other women was the journey. All through the journey snow had blown into the carriages. When the trains had to stop the women had to march on foot in the deep snow. There was nothing to eat. After a long and awful march they arrived at Lublin. My mother was at her end. They killed her straight away with an injection."
RAVENSBRÜCK
By Sarah Helm
"I was born in Floceow, in the eastern part of Poland in 1935…My grandpa was my dearest friend. One morning I climbed into his bed and pinched his earlobes. Laughing he said, 'pinch as hard as you want because there are no nerve endings in the lobe.' When the pogroms began, my grandfather was one of the first to be taken. He was rounded up in the street with some other men, marched to the zamuk, a big stone building in the center of town and shot. We learned about it later that day, when one man who had managed to escape came and told us the sad news. I was shocked, but as a child I don't think I grasped that he was gone for good. A few days later two Nazi soldiers came barging into our apartment, on a search for whatever. My grandmother, who was heartbroken, started to question them: 'Why did you take my husband?' she asked in perfect German. She still had trouble believing that people who spoke the same cultured language as Goethe and Schiller could behave so brutally. Instead of answering, one of the soldiers raised his gun and he shot her, right in the chest. I just stood there, unable to believe what I'd just seen."
THE HIDDEN CHILDREN
By Jane Marks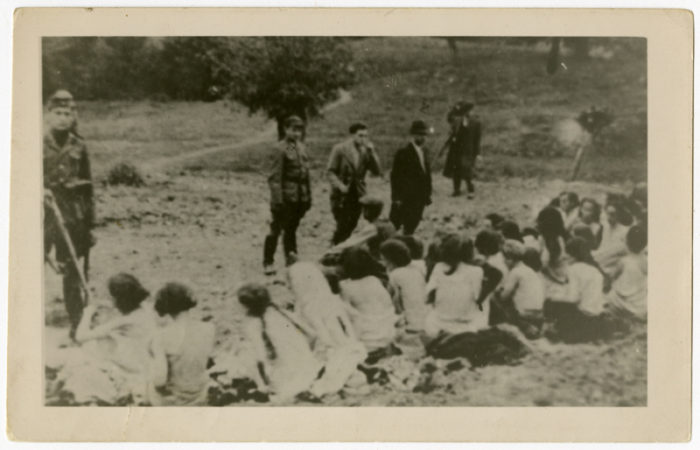 German police and auxiliaries in civilian clothes look at a group of Jewish women who have been forced to undress before their execution.  
Several SS men entered the courthouse and one of them grabbed a woman from Lodz, Poland. When she tried to fight the soldier off, he grabbed her by the hair and dragged her to the ditch, where she was killed. When the woman's five-year-old girl cried for her mother, the other SS soldiers called out to her. "Come, come, your mother is here." The little girl was lured outside and taken to the ditch, where she, too, was killed.
THE BIELSKI BROTHERS
By Peter Duffy
Winters [in the Warsaw ghetto], with their frequent snow and sub-zero temperatures round the clock, brought even more hardships to the population who were largely deprived of fuel. Beggars covered themselves for warmth with rags or newspapers, but deaths from cold were getting more and more common. The appalling living conditions, disease and starvation were only the prologue to the systematic extermination of people whose only crime was to be Jewish. We had been issued with ration cards, but the nutritional value of the ration was ridiculously below survival level, roughly a tenth of what could be considered adequate. It consisted of about two pounds of bread and two ounces of sugar a week. Other foodstuffs, such as potatoes, flour or fat, were distributed from time to time in insignificant quantities. Contemporary records show that from November 1940 till July 1942, of the 400,000 inhabitants of the ghetto some 80,000 died of hunger and disease. To quote from a note on the margin of Governor Hans Frank's diary of 24 August 1941: "I confirm that we are sentencing 1.2 million Jews to death by hunger. It is clear that if the Jews do not die of hunger, anti-Jewish edicts will have to be intensified."
SAVED BY MY FACE
By Jerzy Lando
"The Zarudnitsky camp. Jews from Pechora were taken there. It was also a death camp, but from hunger and disease. The healthier and younger ones were taken from there, while the remainder stayed in Pechora. In this way, they tore mothers away from their infant children, children away from their aging parents, wives from their husbands, and so on. These people, who had already spent a year in the camp, were in a dreadful state…People with dull faces that had lost all human expression, who were covered by rags, barefoot, with bodies tormented by scabies and with the most varied kinds of sores that medicine never meets with in normal times, who were sitting on the floor in some tatters or other, anxiously picking off lice."
THE UNKNOWN BLACK BOOK
By Joshua Rubenstein and Ilya Altman
There was a woman, Ruth, who was pregnant at the time that she was taken from her home and to the concentration camps. For some reason, they kept her alive which was odd at the time. She explained how she was kept in a room with other pregnant women, and they were given the most basic care possible until they would deliver their babies. They helped each other with the deliveries and were only allowed to breastfeed their babies for a few days. After this, their babies were taken away from them. They then had to watch as their babies would die of starvation. Apparently, there was an experiment being carried out to find out how long a new-born baby could live without having any food
HOLOCAUST: A JEWISH SURVIVOR TESTIMONY
As Told by Regina Weinkrantz
Edited by Dan Myers
There is dead silence. Suddenly a girl screams, "Mommy! Mommy! They are killing my mother!" another shot rings out. "Rube. Quiet. Or you'll be shot."  But her shrieks grow more frantic. "Mommyyy! Where are you? Mommyyy…They are killing my mother. Everybody listen. Hear the shots? Oh, Mommy. Oh, God, they are killing her!" The silhouette of a body sitting upright is outlined in the middle of the room. Someone places an arm around her shoulders, trying to sooth her: "Shush. Quiet. You had a nightmare. Lie down here, next to me. Lie down. Here." The hand gently draws her down on the blanket, but the body jerks away, springs up, and begins to scream again, a bloodcurdling scream: "Let me go! Let me go to my mother!" The door opens, and two German guards enter, their guns drawn. "Who's shouting?" Flashlights train on the lone standing figure. "Komm mit." Come Along. "Los!" Each guard holds on to an arm, and the young girl, still screaming, is led out of the barrack. Seconds later, a shot rings out. I sit up with alarm. "They Shot her?"
I HAVE LIVED A THOUSAND YEARS
By Livia Bitton-Jackson
Lena Donat, who managed to survive the Warsaw ghetto, Majdanek, and Auschwitz, described the sadism and perversity of the SS wardresses in Majdanek. During roll call, for example, a typical wardress would select an inmate with a shapely figure. She then savagely whipped the woman on the breasts and abdomen and kicked her in the pelvis with her boots. "The girl, howling like nothing human, would crawl away on hands and knees, leaving a trail of blood behind her. The victim usually died.
HITLER'S DEATH CAMPS
By Konnilyn G. Feig
The lice plagued the women [at Birkenau] so mercilessly that they resorted to desperate scratching for relief, an action that created ugly sores. As they did not have enough water to wash themselves, every woman contracted scabies. Vermin filled their unwashed garments. They invented special methods to kill the lice, but all their work was undone the moment new inmates arrived. The women were helpless in the face of such infestations. They had neither the time nor the means to free themselves of the parasites. Delousing did no good. The gas was too weak. It is hard to imagine how overwhelmed the women were by lice – not only by their bites, which carried typhus and death, but by the way, night and day, they irritated the skin and kept the body full of sores and pus. Thousands of inmates died from the lice.
HITLER'S DEATH CAMPS
By Konnilyn G. Feig
"Before we got to the camp the older people were separated from us and led away. I saw my neighbor from Warsaw, Mrs. Bshostek, and her six children. The Germans sent Mrs. Bshostek and two of her younger children, her 10 and 12-year old daughters, off with the other old people. As they were being led away the oldest daughter and one of her sons left our group and ran after them. We all cried as we watched them walk off huddled together to what we were sure was to be their death."
THE BLEEDING SKY: MY MOTHER'S JOURNEY THROUGH THE FIRE
By Louis Brandsdorfer
"And it's no use that the child is clinging with both little arms to the mother's neck," wrote Josef Zelkowicz in his diary. "It's no use that the father throws himself down before the threshold and howls like a dying ox: "Only over my dead body will you take my child." It's no use that the old man clings with his bony arms to the cold walls and bed: "Let me die here quietly."… It's no [use] that the old woman falls at their feet, kisses their boots, and pleads: "I have grown grandchildren just [as old as you]."…The German security forces, who worked alongside the Jewish police in organizing the deportations, were extremely brutal during the action. When one mother refused to give up her four year-old daughter she was given three minutes to reconsider her decision. When she still refused, both she and her daughter were shot. Estera Frenkiel, a young woman who worked in the ghetto administration, remembers that as the children were snatched from their parents "Their screams reached the sky."
THE HOLOCAUST
By Laurence Rees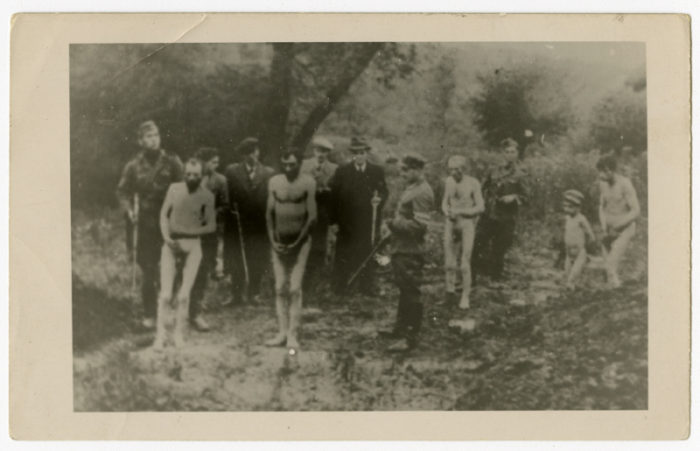 German police and auxiliaries in civilian clothing prepare to execute naked Jewish men and boys who were being lined up at the edge of a mass grave.
"The Germans [at Jozefow, Poland] were incredibly brutal, carrying out with abandon their orders not to bother transporting the non-ambulatory to the roundup point and instead to kill them on the spot. ' I saw about six Jewish corpses, who had, according to orders, been shot by my comrades where they found them. Among others I saw an old woman, who lay dead in her bed.' When the Germans' work was completed, Jewish corpses lay strewn throughout the ghetto, as one of the Germans put it, in the 'front yards, doorways, and streets all the way to the market square.' A member of the Third Company describes the handiwork: '…I also know that this order was carried out, because as I walked through the Jewish district during the evacuation all patients of a Jewish hospital were shot by the troops combing the district.'"
HITLER'S WILLING EXECUTIONERS
By Daniel Jonah Goldhagen
Under the command of Sergeant Bekemeier we had to convey a transport of Jews to some place. He had the Jews crawl through ta water hole and sing as they did it. When an old man could not walk anymore, which was when the crawling episode was finished, he shot him at close range in the mouth.  After Bekemeier had shot the Jew, the latter raised his hand as if to appeal to God and then collapsed. The corpse of the Jew was simply left lying. We did not concern ourselves with it."
HITLER'S WILLING EXECUTIONERS
By Daniel Jonah Goldhagen
The Jewish women who arrived [at Stutthof] in the 1944 transports from Hungary lived in horrible sanitary conditions with few beds, mattresses, or blankets, and little water or food. A witness mentions that one SS man "selected Jewish female victims personally, and when the gas chambers failed to work, killed them with his own hands. During August to November, 1944, some 1,500 were killed in this way, most of them women."
HITLER'S DEATH CAMPS
By Konnilyn G. Feig
"In Kovno in early October some sporadic 'actions' targeted the hospital and the orphanage which the Germans burned with their inmates."
NAZI GERMANY AND THE JEWS 1933-1945
By Saul Friedlander
"When I regained consciousness, it was already twilight [Mariupol, Ukraine]. The bodies lying on top of me were still shuddering; the Germans were shooting them again to make doubly sure that the wounded would not be able to leave. At any rate, I understood the Germans to say that. They were afraid that there were many who had not been finished off, and they were right; there were many like that. These people were buried alive, since no one could help them even though they screamed and called for help. Somewhere above the corpses babies were crying. Most of them had been carried by their mothers and, since we were shot in the backs, they had fallen protected by their mothers' bodies. Not wounded by the bullets, they were covered up and buried alive under the corpses. I began to crawl out from underneath the corpses…When I had crawled out, I looked around: the wounded were writhing, groaning, attempting to get up and falling again…By chance I over took [an acquaintance]. She had been separated from her group. The two of us undressed except for our slips and smeared with blood from head to toe, set off to seek refuge for the night, starting in the direction from which we could hear dogs barking. We knocked at one hut, but no one answered. Then we knocked at another, and we were driven away. At a third, we were given some rags with which to cover ourselves and advised to go into the steppe. We did precisely that. In the darkness we found a haystack and sat in it until dawn. In the morning we returned to the farmstead…It was not far from the trench, but on the far side. We could hear the screams of women and children until the end of the day."
MASTERS OF DEATH
By Richard Rhodes
The Germans' eagerness to kill was manifest in one killing operation after the next, as it was in Uścilug on the Ukrainian side of the Polish border. After the Germans had deported to death or shot all the Jews whom they easily rounded up, in the words of one survivor:
"[They started] the hunt for those who had gone into hiding. It was a hunt the likes of which mankind had never seen. Whole families would hide out in skrytkas as we had in Wlodzimierz, and they would be hunted down inexorably, relentlessly. Street by street, house by house, inch by inch, from attic to cellar. The Germans became expert at finding these hiding places. When they searched a house, they went tapping the walls, listening for the hollow sound that indicated a double wall. They punched holes in ceilings or floors…These were no longer limited 'actions;' this was total annihilation. Teams of SS men roamed the streets, searching ditches, outhouses, bushes, barns, stables, pigsties. And they caught and killed Jews by the thousands; then by the hundreds; then by tens; and finally one by one."
HITLER'S WILLING EXECUTIONERS
By Daniel Jonah Goldhagen
But still the inmates did not die quickly enough [at Stutthof] to satisfy the SS. For a variety of errors, the SS hanged them in the trees, drowned them in the mud, killed them by hitting them with sticks on the head, broke their ribs, and jumped on their breasts "until the mouth of the tortured was full of blood." Inmates remember the Germans drowning prisoners in sinks and burning them alive in wood furnaces. "Legal" executions usually took place in the crematorium.
HITLER'S DEATH CAMPS
By Konnilyn G. Feig
Forty-seven British, American and Dutch airmen were made to undress. One American officer asked that he should be allowed to meet his death as a soldier. He was beaten with a whip. They were then marched to a quarry. 'At the bottom of the steps they loaded stone on the backs of these poor men and they had to carry them to the top,' said [French inmate Maurice] Lampe. 'The first journey was made with stones weighing 25 to 30 kilos and was accompanied by blows. Then they were made to run down. For the second journey the stones were still heavier; and whenever the poor wretches sank under their burden, they were kicked and hit with a bludgeon, even stones were hurled at them. This went on for several days.  In the evening when I returned from the gang with which I was then working, the road which led to the camp was a bath of blood. I almost stepped on the lower jaw of a man. Twenty-one bodies were strewn along the road. Twenty-one had died on the first day. The twenty-six others died the following morning.'
THE NUREMBERG TRIALS: THE NAZIS BROUGHT TO JUSTICE
By Alexander MacDonald
As the Jews [at Paneriai, Lithuania] were being led in groups into the pit an elderly man stopped in front of the entrance for a moment and said in good German, "What do you want from me? I'm only a poor composer." The two civilians standing at the entrance started pummeling him with blows so that he literally flew into the pit.
"THE GOOD OLD DAYS"
By Ernst Klee, Willi Dressen, and Volker Riess
At the collection point I could see many acquaintances from Radzyn. I also saw my child with her aunt and uncle. Apparently all Jews had been caught during the raid. The ghetto was to be destroyed and all the Jews liquidated. Terrible scenes took place. Most people sat there apathetically for hours, others had already been shot. Children cried; mothers who tried to console them, thereby attracting attention, were worked over with rifle butts. As we lined up in rows of five, the Nazis noticed that some children without parents remained in the marketplace. They were probably lost in the chaos or their parents had been shot. The SS men would hold their pistols against the children's necks and fire.
Many Jews grasped each other's hands tightly so as not to be lost. There were men and women, sisters and brothers, friends, lovers, sons and daughters who did not want to leave their feeble parents in their hour of need. Small children in the arms of their mothers, who clasped them to their chests. One often heard muted crying, then shots and silence. In great disarray, accompanied by shouted commands, we were beaten and shoved by rifle butts into waiting cattle cars. Families and friends were mercilessly torn from each other. Those who managed to stay together felt like they had won. Dogs were let loose to bite us and tear our clothing to shreds.
THE DEAD YEARS: HOLOCAUST MEMOIRS
By Joseph Schupack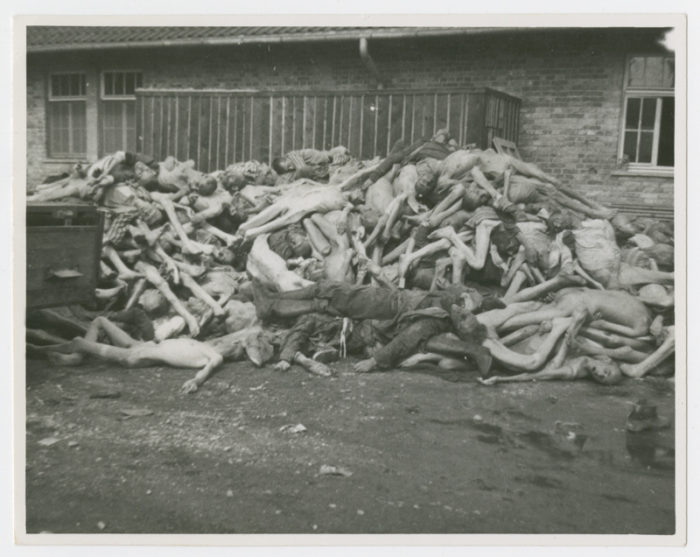 Corpses stacked outside the Dachau concentration camp crematorium. 
Our strength declined rapidly; many prisoners were pulled out of their rows and never seen again, taken directly to the crematory in Auschwitz…I also felt as if all my strength had gone. Extremely hard labor under the eyes of the SS officials, insufficient food, no communication with fellow sufferers – all this and more that I cannot even begin to describe could not be endured by any human being for longer than one or two months.
THE DEAD YEARS: HOLOCAUST MEMOIRS
By Joseph Schupack
Jerzy Bielecki, a Polish political prisoner, was on the first transport into the camp in June 1940. He remembers how the SS guards beat the prisoners all the way from the railway station to the gate of the camp: "There was a young boy standing next to me, maybe he was sixteen – fifteen even – and he was crying, tears were falling. And his head was cracked and blood was dripping on his face…we were afraid, we didn't know where we were. It seemed to me that we found ourselves in hell. You cannot describe it any other way. And it turned out that this was hell."
THE HOLOCAUST: A NEW HISTORY
By Laurence Rees
"The people stand on each other's feet. 700-800 people in an area of twenty-five square meters, in forty-five cubic meters! The SS literally cram them together as much as possible. – The doors close. Meanwhile the others are waiting outside naked in the open air. Someone said to me: 'It's like this in winter as well!' 'Yes, but they could catch their death,' I say. 'Well, that's exactly what they're there for,' said an SS man to me."
"THE GOOD OLD DAYS": The Holocaust as Seen by its Perpetrators and Bystanders
By Ernst Klee, Willi Dressen, and Volker Riess
"I also remember that during the extermination of Jews in the forest, one of the Gestapo men snatched a small child from its mother's hands and smashed its head before her very eyes on the edge of his car. When the mother cried out, he lashed out with the body of the child so that the head hit her on the mouth and brain tissue stuck to it. Then he took something from his car – lime or plaster of paris – and stopped her mouth. But given the volume of material at hand for the experiment, who can doubt that the substance the SS man stuffed into the mother's mouth to stop her screaming was quicklime?"
MASTERS OF DEATH
By Richard Rhodes
One group received an early consignment of death on January 31, 1945. The Germans took those Stutthof prisoners to the beach… Then a Jewish prisoner came and said under his breath: "You do not know what they are doing with us…we are being separated off into groups and thrown into ice holes…" Then a German ran up to me, took me by the collar and threw me into the sea. Our whole group was already inside the water. Several women were shot…I lay on a block of frozen ice and the body of a woman who had been shot was thrown on top of me…It turned out that the people were being thrown into the sea, alive…At shallow spots along the shore there was a cover of ice…but people screamed, begging to be shot.
HITLER'S DEATH CAMPS
By Konnilyn G. Feig
Among the condemned was a Polish woman who, once she reached the crematorium, told the SS that everyone knew they were about to die in the gas chambers so the secrecy that had once surrounded this crime was no more. The Germans, she said, would one day be called to account for what they had done. As they entered the gas chamber, the Poles sang "Poland Is Not Yet Lost" and "To the Barricades." It was a reminder, both of the bravery of these individuals when faced with certain death, and that not only Jews perished in the gas chambers of Birkenau.
THE HOLOCAUST: A NEW HISTORY
By Laurence Rees
Immediately I was tied to Wania's torture table, with my feet in the raised block. He quickly grabbed my head and squeezed it between his legs. I heard my own cries of pain accompanied by Wania's laughter in rhythm with the blows of the whip. Thousands of prisoners counted: "One, two, three…" The pain was unbearable; I cried as loudly as I could. After 10-20 blows my cries were stilled and my pains were somehow different. I could not scream anymore; the blows seemed as if they were falling on a wooden board. I did not even notice when they stopped. I only knew it was over when Wania dismounted from my head. I saw the SS men whipping the sweat from their faces. And rolling up their whips. They had beaten me with the thick part of the whip; the thin part was reserved for horses, the thick for Jews.
THE DEAD YEARS: HOLOCAUST MEMOIRS
By Joseph Schupack
Despite the desire of the Nazis to keep their activities a secret, there were rumors about "what was going on in Belzec." On board the train en route to the camp, "No one said a word. We were aware that we were headed for death, that nothing could save us; apathetic, not a single moan." Once they arrived at Belzec they were ordered to jump down from the trucks – more than 3 feet off the ground – in one huge mass. Some, particularly the elderly and young children, "broke arms and legs."
THE HOLOCAUST: A NEW HISTORY
By Laurence Rees
"Another young man from our town, named Prince, was killed as he worked as a forced laborer in a field. He was picking vegetables and tried to hide a carrot for himself. He was spotted by a German guard and shot on the spot."
THE BLEEDING SKY: MY MOTHER'S JOURNEY THROUGH THE FIRE
By Louis Brandsdorfer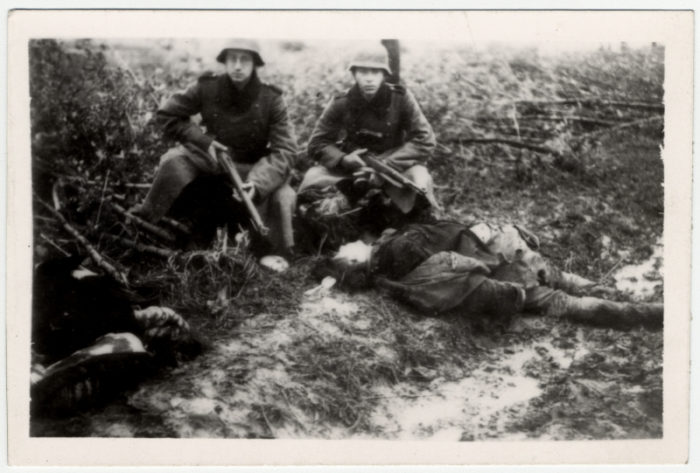 German soldiers pose as if the corpses of two recently executed people are trophies.
The greatest shock…was caused by the tearing asunder of families at the ramp: "At first my husband and I were still together. People did and said senseless things – a last clinging to something real and familiar. A female friend of mine passed some chocolates around: my husband took a piece and said: 'I'll be right back, I'm going back to the train to take this chocolate to my sick friend.' This was the last time I saw my husband, and these were the last words I heard from him."
PEOPLE IN AUSCHWITZ
By Hermann Langbein
With thousands of prisoners packed together in impossible conditions, dysentery, tuberculosis, and other diseases ran rampant. The death rate of Dora rapidly accelerated, but because so much labor was available from Buchenwald, it scarcely mattered. The SS simply shipped the dead bodies back to the Buchenwald crematorium. Buchenwald received at least fifty bodies daily from Dora. "The bodies were filthy, louse-infected, neglected. Their weight was seldom as much as ninety pounds. They were intertwined into knots that could hardly be separated."
HITLER'S DEATH CAMPS
By Konnilyn G. Feig
The very last ones coming through the door [for roll call] were the men who had come to Auschwitz-Birkenau at an earlier time. Eyes, void of any expression, and emaciated bodies were proof of starvation and inhumane treatment that was routine in Auschwitz. With their strength and speed gone, they were the ones who suffered the most. The SS guards at the door ordered them to get down on the floor and do ten pushups. The men tried to obey as best they could, but too weak to lift their bodies off the ground, they were trampled and hit with rifle butts. It was simply awful to see. Many of my comrades were injured and bleeding badly by the time they joined us in formation. No one dared make a sound or help anyone because we knew that we, too, would then be subjected to the same punishment.
MY DARKEST YEARS
By James Bachner
"The Muselmanner [starving inmates] showed some signs of life only when they saw food, or when their eyes or ears received some impression that evoked thoughts of food." Every day strong inmates had to carry the soup kettles from the kitchen to the infirmary. On one occasion dozens of Muselmanner flung themselves at the soup carriers "like locusts," overturning the kettles. "Starving attackers laid into the mixture of soup and earth and slurped it up while lying on their bellies. After a short time the camp road had been licked clean; both the soup and dirt were gone." In the women's camp: "Some soup had been spilled during transport. The inmates stretched out on the ground and licked the spilled soup from the dirty ground. Others rummaged around in the garbage for potato peels."
PEOPLE IN AUSCHWITZ
By Hermann Langbein
The day my friend Itzrock and his parents disappeared was very sad for me. One day we had been talking together and the next day he was gone. The German soldiers came into their room at night, and the next day we learned that he had been sent to one Ghetto and his parents to another…I could well imagine the struggle that took place as Itzrock was taken away from his mother and father. He was the only reason they continued to live.
OUTCRY: HOLOCAUST MEMOIRS
By Manny Steinberg
I close my eyes. The air is filled with ghastly cries, the earth trembles beneath me, I can feel sticky moisture on my eyelids. My throat is completely dry. The morbid procession streams on and on – trucks growl like mad dogs. I shut my eyes tight, but I can still see corpses dragged from the train, trampled infants, cripples piled on top of the dead, wave after wave…freight cars roll in, the heaps of clothing, suitcases and bundles grow, people climb out, look at the sun, take a few breaths, beg for water, get into the trucks, drive away. And again freight cars roll in, again people…The scenes become confused in my mind – I am not sure if all of this is actually happening, or if I am dreaming. There is a humming inside my head, I feel that I must vomit.
WE WERE IN AUSCHWITZ
By Siedlecki, Olszewski, Borowski
"Dr. Beck from Ungarisch-Brod is lying in the lowest bed with a high fever. We drag him out and prop him up for the roll call. The next day he is at death's door, and two inmates try to take the dying man's shoes off. He has good ones, and shoes mean a lot in this cold and mud. The inmates scuffle and the stronger wins. A few minutes later Dr. Beck is no longer alive. We say Kaddish. His body is put outside the block, and he is counted at the roll call. He is not the only one. For several corpses are delivered from other blocks, and a work detail that deals with the dead arrives."
PEOPLE IN AUSCHWITZ
By Hermann Langbein
The camp administration [at Theresienstadt] reduced individual dwelling space, separated married couples, and segregated the sexes. They introduced three-tier bunks and converted lofts into rooms. Old and sick people, the primary inhabitants of the lofts, lay on the bare floors in misery and squalor. Many died of pneumonia, diarrhea, and undernourishment. In November 1942, 988 lavatories were available for 53,000 people – that is 54 persons to one lavatory.
HITLER'S DEATH CAMPS
By Konnilyn G. Feig
The Ukrainian guards, drunk and bored, often selected the best-looking Jewish women from the transports, dragged them to their barrack, raped them, and then delivered them to the death chambers.
HITLER'S DEATH CAMPS
By Konnilyn G. Feig
All of the roundups [of Jews to be murdered] on February 27 were carried out by SS men from the elite Leibstandarte division, Hitler's corps of personal body guards. These were the hardest of all Germany's troops, men chosen for their strength and heartlessness, especially toward Jews. Armed with bayonets and whips when they arrived at the factories, they brutally herded the Jews onto trucks, shouting at them to move faster, beating people indiscriminately. While the SS raided the factories, the Berlin police and the Gestapo fanned out across the city, arresting wearers of the yellow star on the streets and raiding Jewish apartments to pick up the elderly and the children who were too young to work. Although the raids on the factories all took place on February 27, the arrests on the streets, in apartments, and at Jewish institutions continued for twelve days.
REFUGE IN HELL
By Daniel B. Silver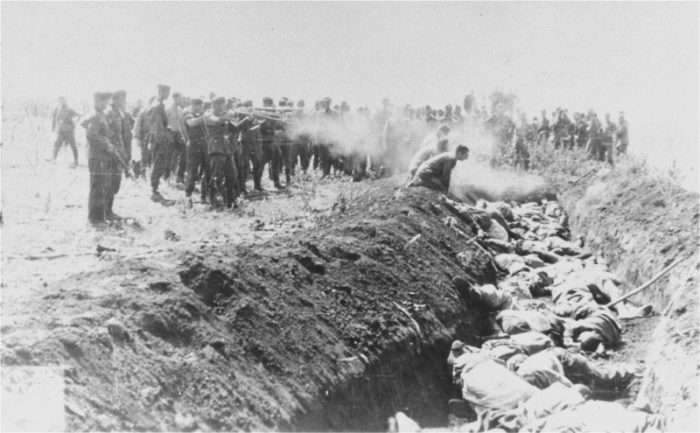 Germans execute a group of civilians by the side of a mass grave.
In another labor area, the SS assigned prisoners the task of providing manure for the gardens near the SS quarters. One guard pushed thirty inmates into the cesspool and let them die.
HITLER'S DEATH CAMPS
By Konnilyn G. Feig
Between 1942 and 1945, 15,000 children passed through Theresienstadt.
One hundred survived.
HITLER'S DEATH CAMPS
By Konnilyn G. Feig
When I reached home, there was no need to tell my parents what I had seen. They had watched the soldiers from our window and were grief-stricken. Both were pale and trembled with fear, not knowing what to expect. The Nazi beasts had not finished with our small town. There was much more horror to inflict… A chilling scream caused me to jump out of my seat. We ran to the window and witnessed the most savage and cruel act I thought could ever be seen. I was nauseous as I watched young Polish girls with their legs tied apart, their bodies exposed in the most humiliating and degrading way. The soldiers were raping, mutilating and subjecting these women to unbelievable acts of sadistic torture.
OUTCRY: HOLOCAUST MEMOIRS
By Manny Steinberg
"When we arrived, there was only one faucet for 12,000 inmates. The water was not potable and flowed only intermittently. This faucet was located in the washrooms for Germans, and the only access was past guards, German criminals who beat us unmercifully. Hence it was almost impossible to wash or to clean one's underwear. When there was snow, we let it melt so we could wash it, and in the spring we used, on our way to work, the same puddle of water at the edge of the road for drinking and washing our shirts and pants. Then we washed our hands in the dirty water."
PEOPLE IN AUSCHWITZ
By Hermann Langbein
As the selection process continued at the unloading ramps [at Auschwitz], there were an increasing number of incidences. Tearing apart families, separating the men from the women and children, caused great unrest and excitement in the entire transport. Separating those who were able to work only increased the seriousness of the situation. No matter what, the families wanted to stay together. So it happened that even those selected to work ran back to the other members of their family, or the mothers with their children tried to get back to their husbands, or to the older children. Often there was such chaos and confusion that the selection process had to be started all over again. The limited amount of standing room did not permit better ways to separate them. There was no way to calm down these overly excited masses. Oftentimes order was restored by sheer force.
DEATH DEALER: THE MEMOIRS OF THE SS KOMMANDANT AT AUSCHWITZ
By Rudolf Hoss
Edited by Steve Paskuly
The lights on the ramp flicker with a spectral glow, the wave of people – feverish, agitated stupefied people – flows on and on, endlessly. They think that now they will have to face a new life in the camp, and they prepare themselves emotionally for the hard struggle ahead. They do not know that in just a few moments they will die, that the gold, money, and diamonds which they have prudently hidden in their clothing and their bodies are now useless to them. Experienced professionals will probe into every recess of their flesh, will pull gold from under the tongue and the diamonds from the uterus and the colon. They will rip out gold teeth. In tightly sealed crates they will ship them to Berlin.
WE WERE IN AUSCHWITZ
By Siedlecki, Olszewski, Borowski
"The female nurse put the new baby in a water bucket and then burned it in the oven." One woman managed to hide her baby for five months, but then it was discovered and she was ordered to turn it over for destruction. Kosciuszkowa reports that this mother "pressed her son to her heart and went to the crematorium together with him."
PEOPLE IN AUSCHWITZ
By Hermann Langbein
There was unrest as some of the 300 workers were separated from families. Before they had been marched out of Jozefow on foot, the first shots from the woods were heard. "After the first salvos a grave unrest grew among these craftsmen, and some of the men threw themselves upon the ground weeping. It had to have become clear to them at this point that the families they had left behind were being shot.
ORDINARY MEN
By Christopher R. Browning
When the number of those taken to the crematorium was so small that it would not have been cost-effective to fill a big gas chamber with Zyklon B, the victims were shot. A member of the Sonderkommando has described such a shooting, and his notes were unearthed at a later date: "A group of emaciated, starving Jews was brought in from some camp. They undressed in the courtyard and one by one went to be shot. They were terribly hungry and begged for a piece of bread to sustain them for the short time they still had to live. Inmates brought a large amount of bread. The eyes of the new arrivals, which had been dimmed by the horrendous hunger, blazed in a wild outburst of joy. With both hands they seized a piece of bread and devoured it greedily while they were climbing the stairs to be shot."
PEOPLE IN AUSCHWITZ
By Hermann Langbein
Gerda Haas, a twenty-year-old nurse, remembers how heart-rending she found it when the Gestapo assigned her and other hospital nurses to collect Jewish orphans who had been lodged with various Jewish families throughout the city. Each was given four or five addresses and told to go with a team of Gestapo police officers, pick up the children, and have them at the collection point by 4:00 a.m. the next morning.
REFUGE IN HELL
By Daniel B. Silver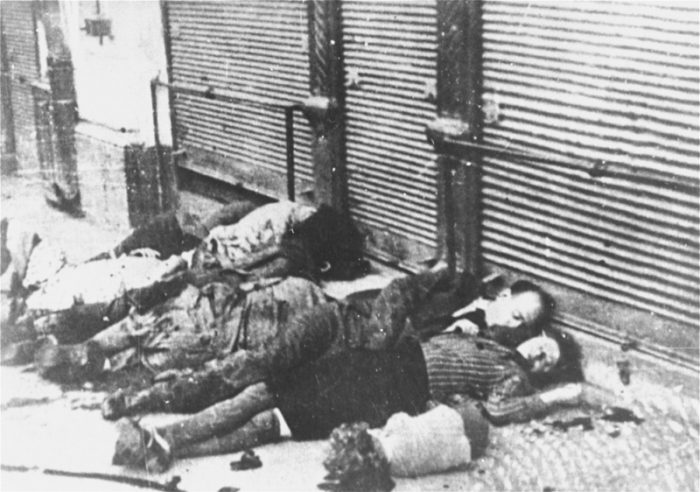 The bodies of a Jewish family killed in Romania. Note the small child.
Though the "Jew hunt" has received little attention, it was an important and statistically significant phase of the Final Solution. A not inconsiderable percentage of Jewish victims in the General Government lost their lives in this way. Statistics aside, the "Jew hunt" is a psychologically important key to the mentality of the perpetrators. Many of the German occupiers in Poland may have witnessed or participated in ghetto roundups on several occasions – in a lifetime, a few brief moments that could be easily repressed. But the "Jew hunt" was not a brief episode. It was a tenacious, remorseless, ongoing campaign in which the "hunters" tracked down and killed their "prey" in direct personal confrontation. It was not a passing phase but an existential condition of constant readiness and intention to kill every last Jew who could be found.
ORDINARY MEN
By Christopher R. Browning
The SS marched them to and from work. They allowed no rest during working hours, and when the women returned to camp [Birkenau] they were covered with sores from blows and bites from guard dogs. Once a friend of Judith's fainted. An SS man walked over and asked her if she was tired. When she did not respond, he picked up rocks and threw them at her face and body. Later that afternoon, when the group prepared to return to camp, he removed the stones and asked her if she was feeling better. The woman was still breathing. The SS guard climbed on her and placed his entire weight on her chest, stomping on her several times. Her friends heard her ribs cracking. Then he said: "Now you won't feel sick anymore. You'll even be carried back to the camp."
HITLER'S DEATH CAMPS
By Konnilyn G. Feig
"What the Greens did to those Jewish Frenchwomen! They tore them to pieces, killed them with axes, choked them – simply horrible." ['Greens' were non-Jewish criminal inmates.]
PEOPLE IN AUSCHWITZ
By Hermann Langbein
On September 8 and 9, actions in Kuty, Kosov, Horodenka, Zaplatov, and Sniatyn were carried out. Some 1,500 Jews had to be driven on foot marches 50 kilometers from Kuty or 35 kilometers from Kosov to Kolomyja, where they were kept overnight in the courtyard of the Security Police prison with the other Jews brought together from the region. Other than the Jews rounded up in Horodenka and Sniatyn, who had already been loaded onto ten cars at each location by the Security Police, another 30 cars were loaded in Kolomyja. The total number sent to Belzec on the resettlement train of September 10 amounted 8,205.
ORDINARY MEN
By Christopher R. Browning
Hunchbacks or other persons whose physiognomy was of medical interest "excited the anatomical and macabre avarice of half-crazed doctors who were not averse to killing [at Buchenwald] to obtain the skeletons to incorporate into the collections of the SS doctors or the display in the SS Medical Academy of Graz." A clerk in the pathology department testified that one day the camp physician pointed at a passing inmate and told him that he wanted that skull on his desk the next day. According to the witness, "the very same evening, the prisoner was ordered to report to the hospital and the next day he was on my autopsy table and the skull was taken apart, and it was turned over."
HITLER'S DEATH CAMPS
By Konnilyn G. Feig
On one occasion Lieutenant Hoppner was leading a patrol that uncovered a bunker with ten Jews. A young man stepped forward and said that he was a Pole who had hidden there in order to be with his bride. Hoppner gave him the choice of leaving or being shot with his Jewish wife. The Pole stayed and was shot.
ORDINARY MEN
By Christopher R. Browning
In September 1945 Isaak Egon Ochshorn testified in Nuremburg that Danisch once told a column of Jews: "I, master over life and death of the Jews, shall now decide which of you will be gassed." Then he picked sixty-eight out of the one hundred, and when those begged for their lives, Danisch responded: "Anyone who can endure three blows from my club on his neck will be taken off the list, for he is viable." Many Jews bowed their heads to receive these blows, but then they collapsed under them and died.
PEOPLE IN AUSCHWITZ
By Hermann Langbein
If the SS treated children in the camps as things, as objects of grotesque acts of indecency, it all made sense in the Nazi scheme of things. German infanticide surpassed in brutality, callousness, and cruelty all other Nazi crimes.
HITLER'S DEATH CAMPS
By Konnilyn G. Feig
Several SS men entered the courthouse and one of them grabbed a woman from Lodz, Poland. When she tried to fight the soldier off, he grabbed her by the hair and dragged her to the ditch, where she was killed. When the woman's five-year-old girl cried for her mother, the other SS soldiers called out to her. "Come, come, your mother is here." The little girl was lured outside and taken to the ditch, where she, too, was killed.
THE BIELSKI BROTHERS
By Peter Duffy
My mother instinctively shielded us from Heinrich. "We don't know where he [a relative] is," she told him. Heinrich moved forward to beat us, and Mother blocked his way. She stepped in front of him crying out, "Why my children? Why?" Heinrich pulled out his whip, which was hanging next to his gun on a black leather belt. He lashed out, smashing the black, checkered whip handle into the bridge of her nose, crushing it. Blood squirted all over her face, and she put up her hands to protect herself. I could see my father seething, but he didn't dare do anything or he might be killed. Heinrich could shoot us all in seconds, and nobody could stop him. We were all white with fear. My father froze. Then ran to help my mother. We cringed in a corner… After they left, we were all crying and upset. I looked at the others and saw they were as white as any snowfall I'd ever seen. They were shaking and shivering; I suddenly was aware I was doing the same.
DEFY THE DARKNESS
By Joe Rosenblum with David Kohn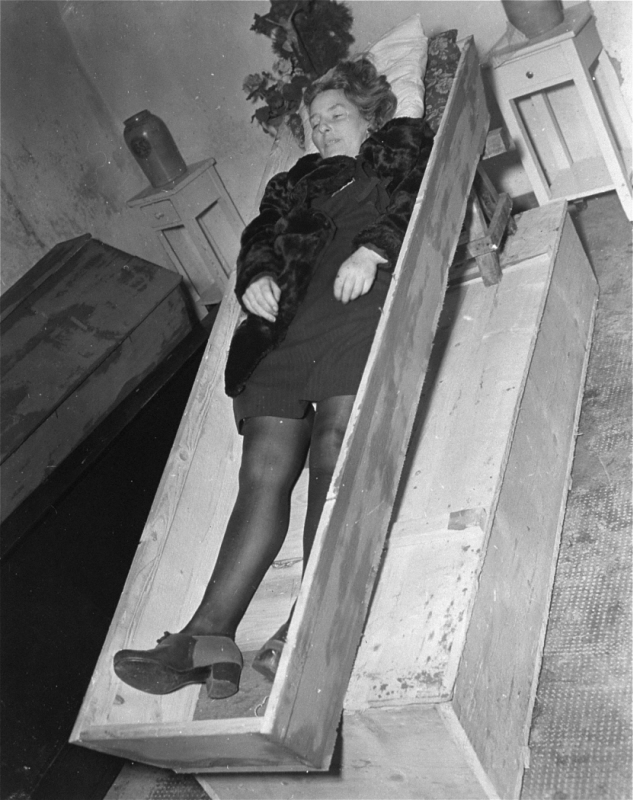 The corpse of a woman lies in an open coffin at the Hadamar Institute where she was put to death as part of the Nazi euthanasia program.
Elderly people, the sick, and invalids who were unable to walk were told that they would be taken to a Lazarett (infirmary) where they would receive medical treatment. Actually they were put on carts, pushed by men or pulled by horse, and at a later stage on a narrow-gauge railway carriage, and were taken to Camp III [at Sobibor] directly to the open pits, and there they were shot.
BELZEC, SOBIBOR, TREBLINKA
By Yitzhak Arad
At his trial, witnesses related that in early 1943 [Kurt] Franz saw how an SS man killed a Jewish infant by repeatedly beating its head against the wall of the barracks. Franz exclaimed that he could do this much better. He seized another infant and banged his head against the wall with such force that the infant died instantly.
PERPETRATORS
By Guenter Lewy
We stayed in the attic. Within an hour I heard them leading out the people from our former hiding place at my uncle's. My father's cousin's little girl, who was eight, asked, "Mommy, are they going to shoot us?" I couldn't hear what her mother answered because so many people were crying.
That evening my brother and I were hungry. I said I'd go down and get something, but my brother very firmly said, "You're not going anywhere." Later I looked around the attic and I didn't see him. Assuming that he had gone to look for food, I decided to go too. I went back to the old hiding place. I couldn't find anything, but while I was looking I heard voices yelling in German. The Nazis had found the attic – and my brother was still in there! I never saw him again.
THE HIDDEN CHILDREN
By Jane Marks
Dreier was also involved in the selections taking place in Sosnowiec…With a smile on his lips and a revolver in the hand he went very slowly past the prams and shot at the babies. One mother, who was standing near me – she was called Najman and lived in the street "Ulice Sienkewicza 14" – suffered a nervous shock when she saw the innocent victims of Dreier streaming with blood. She screamed "where is my child?" Dreier came up to a woman and instead of an answer he shot her down. The woman died immediately. Towards evening Dreier sought out a few of us, I was among them, and gave us the task of clearing away the dead bodies and laying against the fence. He said of this: "Away with the shit."
A SMALL TOWN NEAR AUSCHWITZ
By Mary Fulbrook
The Germans packed people into the cars. People were screaming, yelling, and crying even louder. He said the chemical smells in the cars were so intense, and people were packed so tightly, that after a few miles, our brother and sisters were barely breathing. Mother was almost dead. Her eyes were closed, her breathing was shallow, and she was coughing and coughing and coughing. He said he could see she would die even before the train arrived at Treblinka. "I wanted to die, but I knew I couldn't allow myself to do it," Father told me… We both sobbed and sobbed at the thought of our mother, smart, beautiful and loving, her life reaching an end like some diseased pig in the midst of human filth, misery, and chemical vapors. Father told Hymie he hated to leave Mother and the rest of the family, but they were nearly dead anyway. So he broke a small window about five feet from the floor of the cattle car.  The window was covered with a thin piece of metal, but no glass. He punched it out with his fist, then somehow wiggled through it while the train was speeding along the tracks. The he jumped and was safe.
DEFY THE DARKNESS
By Joe Rosenblum with David Kohn
At 6:00 a.m. on September 1, 1942, the Germans entered the [Wlodzimierz, Poland] ghetto…Bubbie and the family hid in this attic for fifteen days. It was extremely hot and they all sat crouched, mute, motionless, and listened somberly to all of the horror outside. They could hear the Germans tearing apart every Jewish house, looking for anyone hiding anywhere… Great panic ensued when the Germans set ablaze the living ghetto and they were all smoked out.
MOTHER OF SOULS
By Adena Janice Astrowski
Mother and I ended up in Bergen-Belsen, in northern Germany. The place was terrible. People were dying all the time, and they threw the corpses into a big pile. Hunger, TB, typhus, and dysentery were killing us. The two of us were extremely weak and skeletal but survived. "The British Army liberated us and tried to help. The soldiers gave us their food – canned meat, tuna, chocolate – the best they had. I had warned mother not to eat too much of the rich food. But one day when I left her for a short time, she could not resist. Mother ate a whole can of Spam. Her diarrhea got worse, and she died the next day. Why did I leave her alone?"
HIDING IN THE OPEN
By Sabina S. Zimering, M.D.
After the first two months I was on the ramp, the policy on children changed. The Germans needed more and more workers in factories and camps, because they were losing manpower and the war. Mengele now was sending women accompanied by children to work camps instead of gas chambers. However, he still executed the children. When that new policy began, the children routinely were taken off the ramp and put into a line on the other side of the train. They weren't allowed to return to their mothers, who were being shipped off to detention camps that night. When the Germans had enough old and sick people to be gassed, the children were mixed in with that group and taken off to their death. The children's ages ranged from infant to middle teenager. Most of them sensed something was wrong. After they'd been separated from their mothers, I heard them crying and yelling, or just making animal-like sounds. From the other side of the train, I could hear the wails of the mothers whose children had been taken from them. Hearing these people cry out made my heart and head hurt. Many nights, even now, I can hear their terrified screams and their hopeless cries.
DEFY THE DARKNESS
By Joe Rosenblum with David Kohn
A German came to see a thirty-five-year-old woman named Manya Glayzer and ordered her to make him something to eat. He came again that night with a friend. They intended to rape her. The woman resisted. For this, they stabbed her to death, stabbed her aging mother, and cut off the head of her fourteen-year-old little brother.
THE UNKNOWN BLACK BOOK
By Joshua Rubenstein and Ilya Altman
We spent the night worried, devising and rejecting a thousand escape plans. We feared for our daughter, Agnes, especially, since she was a young woman – as well as in love and soon to be a bride – who could be subjected to the most terrible things. In my mind I could still see my husband's face, pale as death, after hearing some years ago about Slovak Jewish girls who had been rounded up, practically abducted, and transported to the front, where they fell prey to the soldiers. There is no point in writing about how we received this news as parents of a twenty-one-year-old daughter whom we had raised to lead a good, pure and virtuous life. The very thought of what was happening made us feel ill. Our first and foremost concern was how to save her from the atrocities.
AS THE LILACS BLOOMED
By Anna Molnar Hegedus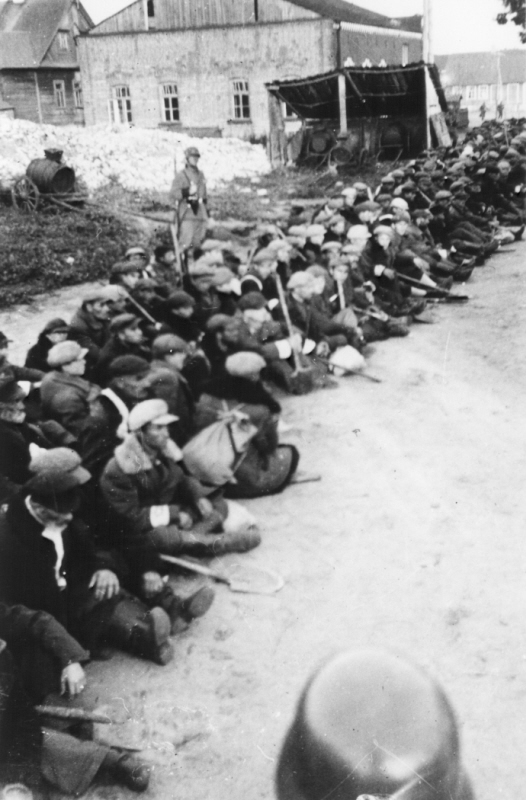 Jewish men wearing armbands sit on the ground with shovels, which they will likely use to dig their own graves.
This morning [at Plaszow] the food arrived early. As it stood for hours in the sun, it became putrefied and alive with worms. I noticed a long, white worm wiggling in my Mommy's spoon as she lifted it to her mouth. I shrieked with horror. Mommy was startled; she looked at me with astonishment.  "What happened?" "Mommy, there's a worm on your spoon! Look, Mommy, there are hundreds of worms in your bow! And in mine! Look!" "Nonsense! These are not worms. Eat, and leave me alone." "But mommy, these are worms. Live worms. They crawl. Look." I pick one of the swarming insects out of my bowl and place it on the ground. It begins crawling. Then I pick up another. It, too, begins crawling. Mommy looks at me with helpless despair. "What are you trying to do? What is your objective? Tell me, what do you want of me?" I don't understand. I wanted to save mommy from a horrible fate: disease, or death. Or simply from the horror of swallowing worms. Instead, she is furious with me. My mother, the finicky lady who had been reluctant to eat in restaurants, and even in friends' houses, for fear the vegetables, or hands, were not washed thoroughly enough, who baked, not only cookies and cakes, but even our daily bread at home, for fear the flour in bakery goods had not been carefully sifted, now is glaring at me. "I can't leave this food. I am very hungry. Do you want me to die of hunger?" her voice is beyond recognition. Her facial expression is beyond recognition as she goes on, "And there are no worms in it! Say no more of it!" As mommy continues eating I turn my bowl over, spilling its contents on the ground, and run. I sit on a boulder at a distance, and begin to cry. My God. My dear God, is this actually happening?
I HAVE LIVED A THOUSAND YEARS
By Livia Bitton-Jackson
A group of broken souls moves slowly past our detail in blue-and-gray-striped dresses with clean, white pressed aprons. Their skeletal forms do not haunt me as badly as their bottomless eyes. We freeze for a moment of shock before returning to our work. Their knees quiver weakly, as if each step they take is their last. I shudder, surprised by the chill racing down my spine despite the warmth of the day. I have seen many things between Auschwitz and Birkenau, but never have I seen anything comparable to this. I have seen despair and hopelessness; I have seen insanity at first onset, but I have never seen a face so devoid of life. Even the dead look more alive than these walking corpses. "They are experiment victims," the girl next to me whispers. Danka's face pales. My hands tremble. "They torture them until they are dead or vegetables." She turns another shovelful of dirt over. "After they are done experimenting with them, they go to the gas."
RENA'S PROMISE
By Rena Kornreich Gelissen with Heather Dune Macadam
Real hunger soon gripped Konigsberg…Eyes grew dull, cheeks hollow, skin turned grey and limbs were no longer round. "Mina, a beautiful strong young Swiss woman, in two months had become a wrinkled bent and haggard old lady; she had lost her morale and had to be led about like a very young child."… Most lost their minds [at Konigsberg]. Before the snows came there was a potato patch at the end of the field and sometimes you could steal potatoes. One day a Polish woman crept there and was seen by one of the guards, who warned her to come back. "Perhaps she didn't hear or perhaps she was partly mad.  Anyway he shot her in the back and she died right there on the ground.
RAVENSBRÜCK
By Sarah Helm
An informant in the German Army who described how this detachment had occupied another small Polish town, bringing along their wounded. The local Pharmacist and his wife, who were Jews, "worked like Trojans to help us dress the wounds," the informant told Lochner. "We all respected the people." The grateful soldiers assured the couple they would be protected by the German Army. Then the detachment was ordered to move on. "Even before we had time to depart, the SS were there," he added. "A few minutes later the Jewish couple was found by one of our men with their throats slashed. The SS had killed them."
HITLERLAND
By Andrew Nagorski
In the defense of the cold-heartedness of the Slovak women: these young women had been dragged from their homes by the Nazis two years earlier, and some told us – to our immense horror – they had been sent to the front to service the soldiers. We hadn't wanted to believe these atrocities, but now we found out they were true. Most of them suffered through this miserable ordeal and were transported to Auschwitz once they became ill. What they must have been through, the human mind cannot grasp. Some had witnessed their friends being torn to pieces by dogs, which in those days used to be the favorite sport of the henchmen of the SS.
AS THE LILACS BLOOMED
By Anna Molnar Hegedus
The faces of the older men, the ones with families were set in deep apprehension [the first night in Auschwitz.] a middle-aged man standing near to me and Pierre gave way to tears. "Where could they be?" he asked pleadingly, as if I might have an answer. "I have a wife and a child, three years old." He shook his head…There were religious people among us who had arrived with their large families, and they started to cry out, wail and beat their chests. They faced east and chanted Kaddish, the Jewish prayer for the dead.
DESPERATE JOURNEY
By Freddie Knoller with John Landaw
Monotonous days rolled into weeks at the camp [Barthold]. Our bread rations decreased, and our soup rations grew more foul. My stomach, weakened by the severe attach of jaundice over a year ago, rebelled against the diet; I could eat very little…Other suffered more from heat exhaustion; it was the hottest, driest summer and fall in German history. My heart went out to those who collapsed daily in the mid-afternoon sun. They were given little mercy or relief. A pail of water might be dumped over them, followed by a stern lecture on the strength of the pure Aryan race and the weakness of us despicable Jews. With that, a pick was forced back in their hands and a gun butt drove them back into the trenches.
TRAPPED IN HITLER'S HELL
By Anita Dittman and Jan Markell
After a while, I learned that if a person in the clinic [Langinbilau] were sick more than one week, he or she was injected with kerosene. Death came a few minutes later. As time went on, many people arrived from different places. One group of several hundred people were from Holland, including youngster's ages 16 and 17 years old. Within a short period of time they became sick with dysentery. They were so sick that they did not have enough time to run to the bathroom. Instead, they defecated on the floor. We had to bring pails to clean up; chlorine was spread on the floors. For several weeks there was a terrible smell. About 20% were helpless, laying on the floor. Within a short time they died.
MEMOIRS OF A HOLOCAUST SURVIVOR: ICEK KUPERBERG
By Icek Kuperberg
If I look at a map today, I see that the distance from Theresienstadt to Auschwitz is not very great. Yet it was the longest trip I have ever taken. The train stood around, it was summer, the temperature rose. The still air smelled of sweat, urine, excrement. A whiff of panic trembled in the air… An old woman who sat next to my mother gradually fell apart: first she cried and whimpered, and I grew impatient and angry with her, because here she was adding her private disintegration to the great evil of our collective helplessness. A defense reaction: I could not face or assimilate the reality of a grown-up losing her mind before my eyes. Finally this woman pushed herself onto my mother's lap and urinated. I still see the tense look of revulsion on my mother's face in the slanting twilight of the car, and how she gently pushed the woman from her lap. Not brutally and without malice. At that moment my mother became a role model for me, which she generally was not. It was a pragmatic, humane gesture, like a nurse might employ to free herself from a clinging patient. I thought my mother should have been indignant, but for her the situation was beyond anger and outrage.
STILL ALIVE
By Ruth Kluger
One day, I saw something that left me shaken to my core. I heard some noises in the street, and I peeked around the corner. I saw the father of a family I knew well. This family had been butchers for generations. The Nazis also saw the family and started chasing after them. The father stopped and turned around, and one of the Gestapo raised his pistol and fired from four feet away. The German shot the man in the head, and I could see a pink and red color near his ear. But even though blood was pouring from his ears, he was still breathing. His wife went running to him, and he was still alive. "Please, please, leave him alone," she screamed at the Germans. "He's alive. Let him go. He's done nothing to you."  The Germans shot her and she fell to the ground like a sack of wheat. Then their daughter came, screaming, "Look what the murders are doing." They shot her, and she fell backward. Then their son, a schoolmate of mine, came running up, screaming and waving his arms. They shot him. He fell in a heap. I was frightened. For the first time, I could feel deep, cold fear rush through my bones. I realized the Gestapo would return and kill others, including my family. I ran into our house and vomited in the toilet.
DEFY THE DARKNESS
By Joe Rosenblum with David Kohn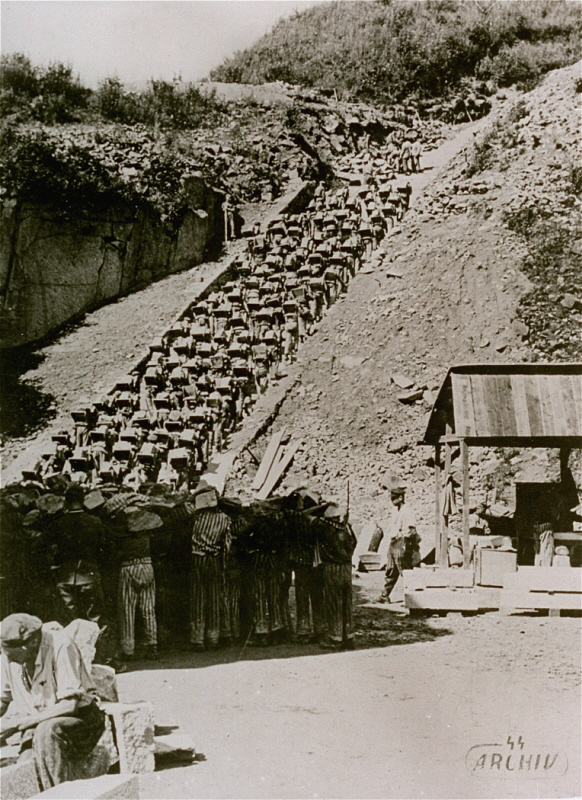 Prisoners carry large stones up the "stairs of death" (Todesstiege) from the Wiener Graben quarry at the Mauthausen concentration camp.
The platform and the nearby square were filled with corpses, removed from the cars and the bodies of those shot on the spot. Oskar Berger who was brought to Treblinka on August 22, describes the scene: "As we disembarked we witnessed a horrible sight: hundreds of bodies lying all around. Piles of bundles, clothes, valises, everything mixed together. SS soldiers, Germans, and Ukrainians were standing on the roofs of barracks and firing indiscriminately into the crowd. Men, women, and children fell bleeding; the air was filled with screaming and weeping. Those not wounded by the shooting were forced through an open gate, jumping over the dead and wounded, to a square fenced with barbed wire."
BELZEC, SOBIBOR, TREBLINKA
By Yitzhak Arad
Chil Rajchman, who worked as a barber and later in the removal of bodies, describes the state of the victims after the doors of the gas chambers had been opened: "There was a difference in the appearance of the dead from the small and from the larger gas chambers. In the small chambers death was easier and quicker. The faces often looked as if the people had fallen asleep, their eyes closed. Only the mouths of some of the gassed victims were distorted with a bloody foam visible on their lips. The bodies were covered in sweat. Before dying, people had urinated and defecated. The corpses in the larger gas chambers, where death took over, were horribly deformed, their faces all black as if burned, the bodies swollen and blue, the teeth so tightly clenched that it was literally impossible to open the, and get to the gold crowns we had sometimes to pull out the natural teeth – otherwise the mouth would not open."
PERPETRATORS
By Guenter Lewy
"We heard the Germans and the Polish police going by. I couldn't help wondering who they were taking this time, who they would find. Later, when it seemed safe, my sister sneaked out to see if the roundup was over. A little while later she came back and said, 'The Germans took quite a few people.' Then, in a very soft voice, she said, 'Mother and Nusia are gone.' Neither one of us cried. We just sat there…and looked at each other. You might wonder why we didn't cry. After all, I was just a little boy of seven or eight! But by then I was already numb! I had lost so many people: an aunt one day, a cousin the next."
THE HIDDEN CHILDREN
By Jane Marks
Ala showed us her right hand which had a missing finger. "You see, Elly, from this hand they tore my baby Rochele away from me, and for screaming so much they cut off a finger. I fought for my child but they were stronger." She described other horrors to me – babies cut up or their backs broken and thrown into garbage cans, all in front of their crazed mothers' eyes.
A SMALL TOWN NEAR AUSCHWITZ
By Mary Fulbrook
One day in midsummer 1942, I was scrubbing the Zbanski stables when my brother Hymie came running in. I was shocked. Hymie never visited the farm without advance notice. His face was flushed, and was gasping for every breath. His eyes bulged. His face filled with pain. I knew I didn't want to hear what he was going to tell me, but I faced him. "Our family has been taken to Treblinka. I escaped from the market square where they took everybody. But they took our whole family, Mother, Father, Fay, Rachel, Benny, and our nephew Harry. They pushed them into train cars filled with the smell of chemicals. They were going to push me in, too, but I ran away from the marketplace. Mother yelled, 'Run, Hymie, run. Try to save yourself. This is it. Run to Joe.' They were shooting after me, but I zigzagged and escaped."
DEFY THE DARKNESS
By Joe Rosenblum with David Kohn
The German occupants began their bandits' work in Slavuta with the persecution and destruction of the Jews. All the Jews were made to wear special armbands. They were driven out to do the heaviest physical labor and were often shot there on the spot. Shootings were carried out both in an organized manner, by the orders of the German commandant of the town of Slabuta, and in a disorganized manner – at the whim of any soldier or officer. In this way, by the close of September 1941, the Germans had killed around five thousand Jews in Slabuta. Among them were women, old people, children. Those that survived – around seven thousand people – were wiped out by the Germans through mass shootings near the water tower of a military base.
THE UNKNOWN BLACK BOOK
By Joshua Rubenstein and Ilya Altman
There were already thirty graves in the small forest. Graves of the lovingly protected daughters of thirty mothers, the cherished darlings of thirty fathers. Young lives that had been extinguished so prematurely; how many dreams of a happy future had each of them held dear? One of the girls asked me in a weak voice, the day before her death, whether she should wear a long dress at her wedding when she went home to her fiancé. They were dreaming about bridal veils, a beautiful new home, and in their eternal home, they didn't even deserve a shroud or a coffin. Now their dreams were buried with them, and only the grim trees of this hated foreign land whispered farewell to them.
AS THE LILACS BLOOMED
By Anna Molnar Hegedus
Meanwhile, our food situation [at Auschwitz] continued at subsistence level. We learned to find worms in the soil, or swat mosquitoes, then toss them into our mouths. We'd pick up roots ad leaves to fill our stomachs. I learned to peel the bark off trees while I was still moving. Personally, I liked worms and roots best. They seemed to be the most nutritious. Even so, we were always hungry. Back at the camp, we could at least get water out of rainwater barrels. Solid food, however, was hard to come by. Fortunately, nature had provided an answer, though not an easy one. The thousands of acres we worked consisted of mostly grass, and the sounds of frogs croaking after a spring or summer rain were never far from our consciousness. Of course, they disappeared in winter. I quickly learned the French Jews considered frog legs a delicacy. I saw one of them popping a live frog into his mouth and I almost vomited – until my rumbling stomach told me any food would do. The French Jew showed me how to peel off the skin, even while the frog was still alive. After I learned, it took only seconds to skin an entire frog. I could only catch the smaller ones because I was younger and had small hands. The Germans, French, and Dutch were generally bigger and older. They caught the big frogs. I also quickly learned there was no time to peel off the skin. You had to pup the frog into your mouth fast, or another prisoner would grab it from you and eat it. That happened often because many prisoners didn't have the strength to chase the creatures. These prisoners were just waiting to grab frogs somebody else had caught.
DEFY THE DARKNESS
By Joe Rosenblum with David Kohn
So this is it. Liberation. It's come. I am cold. The trembling in my stomach…Too much air…it's too light. I am very tired. A middle-aged German woman approaches me. "We didn't know anything. We had no idea. You must believe me. Did you have to work hard also?" "Yes," I whisper. "At your age, it must've been difficult."  At my age. What does she mean? "We didn't get enough to eat. Because of starvation. Not because of my age." "I meant, it must have been harder for the older people." For older people? "How old do you think I am?" She looks at me uncertainly. "Sixty? Sixty-two?"  "Sixty? I am fourteen. Fourteen years old." She gives a little shriek and makes the sign of the cross. In horror and disbelief she walks away.
I HAVE LIVED A THOUSAND YEARS
By Livia Bitton-Jackson
2 May 1945, Four a.m. Five a.m. Six [the day of liberation]… We step into dawn's light nervously, wondering what new trick this is that our captors are playing. There is no roll call. There is no one but us in camp, just one lone guard still in the watchtower. Not one SS woman, no wardress, no camp elder anywhere to be seen. We stand on the camp road gazing at the guard in the watchtower, wondering what to do. He is the only thing between us and freedom, and his gun is aimed directly at us. I look at my watch. It's ten o'clock. How long must we wait here when freedom is laughing just on the other side of these gates?  A mother and daughter decide they were hungry enough to brave getting to the pile of potatoes. They run across camp toward the only food left. A gunshot rips through the girl's heart. She collapses. Her mother screams, rending her clothes and cursing God. No one dares to go comfort her. A second shot rips her throat out.
RENA'S PROMISE
By Rena Kornreich Gelissen with Heather Dune Macadam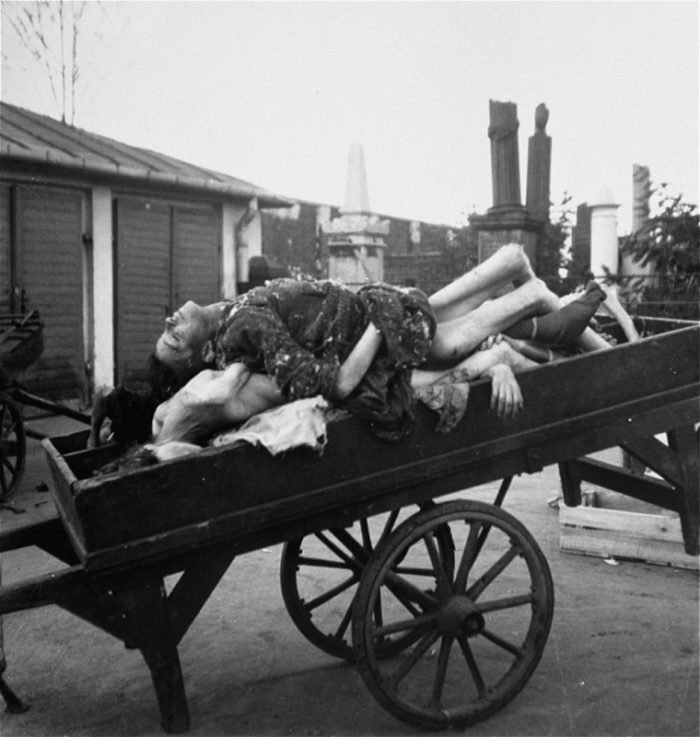 Emaciated bodies piled on a cart await burial in the Jewish cemetery in the Warsaw ghetto.
[Camp director Percival Treite] said that the extermination at Ravensbrück began with mass shooting in the winter of 1944-5. "First of all fifty prisoners [women] were killed daily in front of the crematorium by a shot through the neck," he said. A doctor had to be there because "one bullet doesn't always kill the prisoner immediately." In a second statement, on 14 August 1946, he described how the victims were not only the old and sick, but also "young women capable of work," who were brought to  a place near the crematorium and shot in the back of the neck with a small-caliber gun from a short distance to the Genickschuss.
RAVENSBRÜCK
By Sarah Helm
We received a big transport of potatoes and they were unloaded from the railroad into a storage room…We were all lined up and everyone was searched. About 20 people who unloaded the potatoes were picked from the group when it was discovered that they had one or two potatoes in their pockets. They had to line up one by one; each received 25 lashes on their bare behinds from the German soldiers. As they began crying and screaming, they were whipped on their heads so that they would stop screaming. The rest, in line to receive lashes, tried to be calm. Yet, we and they could not help but tremble while we were watching their pain and horror. Again, I cannot adequately describe the cruelty of the Germans. We were not able to lift a finger or say a word. After we were dismissed, a few strangers and I picked the others up from the ground and brought them to their rooms. We helped undress them and put them into their beds. They did not eat any food that night since they could not walk to the kitchen to receive their meal.
MEMOIRS OF A HOLOCAUST SURVIVOR: ICEK KUPERBERG
By Icek Kuperberg
During the summer and fall of 1944, the annihilation of several hundred thousand Hungarian Jews overloaded the system. It was hindered by a shortage of Zyklon B, and the crematoria could not cope with the huge number of corpses. Hence several open-air pyres were set up to burn bodies. According to the survivor Hermann Langbein, who served as clerk and became a key witness at the Auschwitz trial in 1963-1965, there was at least one instant in 1944 when Jewish children were thrown alive into the huge fires. Another witness testified to having seen several trucks with about five hundred children driving up and dumping the children into the burning pit. There were screams and then silence. The Jewish inmate Dr. Ella Lingens also saw how small children were thrown alive into the pyre.
PERPETRATORS
By Guenter Lewy
Shortly before the stickiness [inside the box car] became truly unbearable, the doors unsealed, and within minutes we were unloaded…You had to jump… I got up and wanted to cry, or at least sniffle, but the tears didn't come. They dried up in the palpable creepiness of the place. We should have been relieved – and for a few moments we were – to be outside the sardine box where we had been suffocating and to be breathing fresh air at last. But the air wasn't fresh. It smelled like nothing on earth, and I knew instinctively and immediately that this was no place for crying, that the last thing I needed was to attract attention. So I swallowed the terror which filled my throat like vomit and concentrated on the hope for a little rest, a cup of water, a chance to recover. None of these were to be. We were surrounded by the odious, bullying noise of the men who had hauled us out of the train with the monosyllables "raus, raus" (get out), and who simply didn't stop shouting, as they were driving us along, like mad, barking dogs.
STILL ALIVE
By Ruth Kluger
Hershl Zukerman, who arrived at Sobibor on May 13, 1942, described the process of forming groups of men to be sent to the gas chambers: "Every few minutes some SS men approached an inquired who among us was a shoemaker, tailor, etc. People believed it was worthwhile to appear as a skilled worker and therefore responded. Then they marched in groups consisting of 300-400 men who believed they were being sent to a labor camp. Actually they were taken directly to Camp III, to the gas chambers.
DEFY THE DARKNESS
By Joe Rosenblum with David Kohn
At night another transport arrived at the camp [Treblinka]. We ran toward the cars. I was shocked. All the cars were filled only with dead – asphyxiated. They were lying on top of one another in layers, up to the ceiling of the freight car. The sight was so awful, it was difficult to describe. I asked where the transport had come from; it turned out from Miedzyrzec…There was nowhere to place the corpses. Near the railroad tracks were large piles of clothing, and under these were still-unburied bodies. We laid the bodies in layers, near the railway. Occasionally, moans could be heard from under the piles of clothes as people recovered consciousness and asked in a weak voice for water. There was nothing we could do to help; we were dying of thirst ourselves…those still alive were moved to the side, nearer to the clothes. It was dark, and the Germans didn't notice. Among those living I found a baby, a year or a year and a half old, who had woken up and was crying loudly. I left him by the side. In the morning he was dead.
BELZEC, SOBIBOR, TREBLINKA
By Yitzhak Arad
Soldiers at times volunteered for the shooting of Jews. A thirty-six-year-old police officer from Vienna, the father of two infants, happily reported such an opportunity to his wife: "For tomorrow I have volunteered for a special operation."…Three days later he described what it had been like: "With the first truck [of victims] my hand shook a bit while shooting, but one gets used to it. By the tenth truck I calmly took aim and shot comfortably at the many women, children and infants…Infants were flying in big sweeps through the air and we blew them away while they were still flying and before they hit the pit and the water. Away with this brood, who have plunged all of Europe into war and now even stir up America."
PERPETRATORS
By Guenter Lewy
We could hear soldiers climbing up on the roof, and the clicking of safety catches on their machine guns. My armpits started to gush. When the train started up, the guards started firing into the cattle cars, and we all tried to hide behind each other. Two people near me were killed. I cringed, along with the rest of my family, and wondered whether I would live to see out the day…Germans, Ukrainians, and Lithuanians – again started firing mercilessly into the cars. Two of my neighbors were wounded. The screaming and shrieking filled my ears. People huddled up against each other as protection, crouching as low as they could. Still, the blood welling up around my feet felt as though it were going to wash over my shoes. The smell of people dying and letting go of their bladders and bowels, the sound of screaming and wailing, were almost like being in hell itself. Six or seven of us were killed, and twice that many were wounded. I felt numb, but I was never touched. I crouched down, lying between the dead and wounded, waiting for the Germans to shoot again.
DEFY THE DARKNESS
By Joe Rosenblum with David Kohn
Another time, after their latest pogrom [in Devaltsevo], the Germans loaded up a truck with a group of Jews and drove them to an anti-tank ditch, where they began dealing with them savagely. They stripped men, women, and children naked, beat them, and then threw them half alive into the ditch, piled straw on them and set it alight. Infant children were taken from their mothers and thrown alive into the fire.
THE UNKNOWN BLACK BOOK
By Joshua Rubenstein and Ilya Altman
The Czech Lager [at Auschwitz] used to be the object of our envy. There, the families – men, women, children and the elderly – were allowed to live together, and apparently no selections had been made because there were even some invalids in wheelchairs among them. Compared to us they were doing extremely well; they were dressed in their own clothes and their hare was not shorn. Then, one day during a July Appell we saw that there was a big selection going on among the Czechs. Young women and men were separated out and immediately taken away in a transport. From that day on, those left behind were not given anything to eat. They were condemned to death, a waste to feed. In a few days their eyes grew hollow from hunger. They perished by the hundreds every day, allegedly from typhus, but in reality they starved to death.
AS THE LILACS BLOOMED
By Anna Molnar Hegedus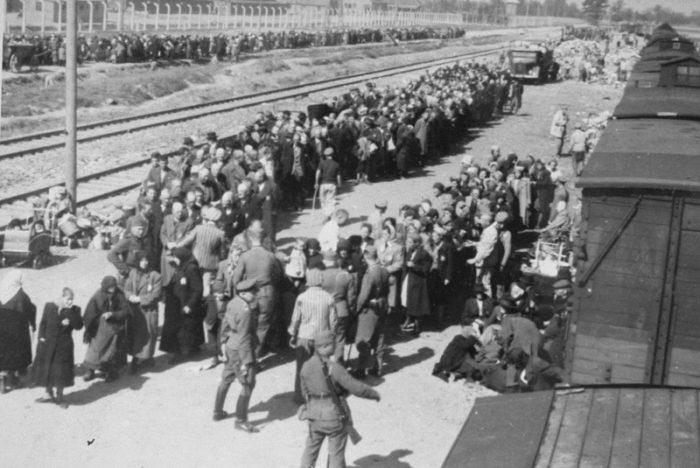 Jews from Ukraine undergo a selection on the ramp at Auschwitz-Birkenau. Look further down the ramp and across the tracks to see the vast number of people to be processed. It's likely more trains will be unloading this day. About 1/3 of these victims will be used for labor until they die of starvation and disease. The rest will be sent to one of the five gas chambers at Birkenau. The Germans easily murdered thousands of people in a day. 
"I saw in the yard five wheelbarrows [at Ravensbrück] that were normally used to cart manure; each one contained one woman. They were Jews who had dropped from exhaustion in the road on their way from work at Siemens and who'd been beaten to the brink of death by the Aufseherinnen in charge of them. Their comrades had been forced to pick them up and take them back to the camp. The Oberschwester forbade anyone to touch them. Two of them were dead when I saw them, the others were on the point of death."
RAVENSBRÜCK
By Sarah Helm
After a few weeks a new transport arrived [at Graditz] from different towns. These new people told us how they were rounded up and had to leave behind everything they brought to the railroad station. There, they were also separated from their loved ones. One such story involved a couple. The husband did not want to leave his wife because she was eight months pregnant. A German soldier stabbed her in her belly and killed her.
MEMOIRS OF A HOLOCAUST SURVIVOR: ICEK KUPERBERG
By Icek Kuperberg
One evening Susi told me [age 13] that the kitchen staff had some leftovers, which they were saving for the children. I ran to the back entrance of the building and stood around for a while; a few women who must have heard the same rumor joined me. I got impatient, thinking that perhaps these latecomers would push ahead, though I was there first, and so I went up a few short stairs and then walked along the narrow, well-lit hall to the back door of the kitchen. Suddenly a door to the right opened. A tall woman guard appeared, and behind her an SS man I had never seen before. He calls me with a strong northern accent, using the polite form of address. I stand before him, my metal dish in hand, and he asks what I want. I tell him I've heard there are leftovers. He says, "Now watch out." Idiot that I am, I still think he'll let me pass, for why would he want to waste the leftovers, if indeed there are any? You don't throw away food when it's so scarce, do you now? And before I knew it he has hit me in the face, full force, so that I stumble backward along the hallway and see stars. My wooden clogs fall off my feet; the dish falls from my hands as I crash to the ground.
STILL ALIVE
By Ruth Kluger
"Two desperate Jews fell to their knees begging a German general for protection [at Bialystok]. One member of Police' Battalion 309, who observed these entreaties, decided to intervene with 'what he must have thought to be a fitting commentary: He unzipped his pants and urinated upon them. The anti-Semitic atmosphere and practice, among the Germans was such that this man brazenly exposed himself in front of a general in order to perform a rare public act of virtually unsurpassable disdain. Indeed, the man had nothing to fear for his breach of military discipline and decorum. Neither the general nor anyone else sought to stop him."
HITLER'S WILLING EXECUTIONERS
By Daniel Jonah Goldhagen
In our car, there were 107 people. Anytime anybody died, we took their clothing off, put it around us to keep warm, and put the dead bodies over to one side. When we arrived in Buchenwald, they opened up the train and the few people that were still alive could hardly walk. I, myself – my toes were frozen – have no toes left. All of them fell off.
WHAT WE KNEW
By Eric A Johnson and Karl-Heinz Reuband
The Jews that were lying on the ground did not all die straight away [Kovno, Lithuania]. After they had been led into the square they were hit on the head or in the face indiscriminately and immediately fell stunned to the ground. Then they were beaten by the convicts until they no longer shoed any sign of life. Then yet more Jews were led to the square and they too were beaten in the same way. I stayed in total some ten minutes at the scene of this cruel event and then left and continued my journey. While I stayed in the square I witnessed the beating to death of some ten to fifteen Jews…Before they were beaten to death, the Jews prayed and murmured to themselves. Some of them also said prayers to themselves as they lay badly wounded on the ground.
"THE GOOD OLD DAYS"
By Ernst Klee, Willi Dressen, and Volker Riess
"Above all there was beating," she said. "Beating for any reason and for no reason. Beating over the head with a bullwhip at roll call, with a fist to face, over a special stool with a piece of rubber or cane…They all beat us"… "But it was a female guard called Else Ehrich who "probably broke all the records. She beat women with a passion with frigid cruelty in her eyes. No SS woman could match her for strength or inflicting pain. She always beat us until she drew blood."
THE HOLOCAUST
By Laurence Rees
Tadeusz Smreczynski was well aware of the functions of Auschwitz was to murder Jews. Indeed, once in the middle of the night he witnessed the emotional aftermath of the mass killing when he heard "some commotion" outside his block: "I peeped through the window very discreetly so as not to be seen and shot. There were men – only young and middle-aged all naked. Their families had been gassed and they were brought to the main camp. They were ordered to stand in compact groups of five, but they were in panic and each wanted to be close to his nearest relative: brother, father or a friend. SS men with dogs and Kapos were beating them. It was a teeming mass of human bodies reflected in the light of the lamps. It was a horrible sight." He imagined how he would have felt if "my parents had just been gassed and I stayed alive. It must have been a terrible experience – that sense of helplessness in the face of fate. One could do absolutely nothing to save one's loved ones."
THE HOLOCAUST
By Laurence Rees
"I was so sick that I remember hoping I would just die. At times we were jealous of the people who died naturally, but we were very afraid of being sent to the gas chamber. I don't know why, but even when I hoped I would die, I was afraid of going to the gas chamber. A lot of the girls died in our barracks. Some took their lives by grabbing the wire at the edge of camp, but it was the ones who died in their sleep that we envied."
THE BLEEDING SKY: MY MOTHER'S JOURNEY THROUGH THE FIRE
By Louis Brandsdorfer
"At the appointment time the patients I had selected were led into the same end [at Auschwitz] block [at Auschwitz] and taken to the room on the other side of the corridor, opposite the room where they had originally been examined and selected. The patient was laid down still alive on the dissection table. I would go up to the table and ask the patient to give me some details essential for my research. For example, for his weight before his detention, how much wait he had lost since his detention, whether he had taken any medication recently, etc. After I had been given this information a medical orderly would come and kill the patient with an injection in the heart area. To my knowledge all these patients were killed the phenol injections. The patient died immediately after being given such an injection. I myself never administered fatal injections."
"THE GOOD OLD DAYS"
By Ernst Klee, Willi Dressen, and Volker Riess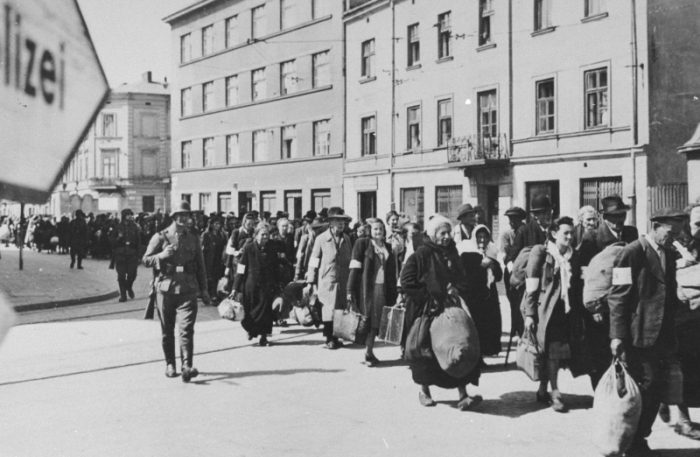 A column of Jews March with bundles down a main street in Krakow during the liquidation of the ghetto. SS guards oversee the deportation action. Those who could work were sent to Plaszow labor camp. If they could not work, they were shot or sent to Auschwitz.
"With the approach of the eastern front, the Germans evacuated the camp, probably on January 20.  This was not the first death march for these women, who had already survived the one that had brought them there from Auschwitz. Of the approximately 970 Jewish women who began the Schlesiersee evacuation march, lasting eight or nine days and covering only sixty miles along their circuitous route to Grunberg, about 150 died along the way. Of these, perhaps 20 fell dead from starvation and exhaustion, which is not surprising given the debilitation that they had suffered at Auschwitz and Schlesiersee. The other 130 who did not survive the march were shot by the Germans along the way. On this march, their German keepers immediately killed anyone who was too exhausted to carry on."
HITLER'S WILLING EXECUTIONERS
By Daniel Jonah Goldhagen
"Fourteen days after my arrival, I already experience real hunger, the chronic hunger that free men do not know, that produces dreams at night and dwells in every limb of our bodies. My own body is no longer mine; my belly is bloated, my limbs are withered, my face is swollen in the morning and hollowed in the evening."
PEOPLE IN AUSCHWITZ
By Hermann Langbein
Five thousand, one hundred were selected to the left, taken off to the village of Skridlevo, beaten up on entering the forest and ordered in parties of 50 to lie face down on the ground. If anyone lifted their heads up they were severely beaten; from there again in parties of 50 they had to give up all their valuables, undress in the bitterly cold weather and be driven by these terrible people to the pits where they were shot by the Einsatzgruppe. That day, we lost my uncle Moshe, my aunt Shoshke, Leizerke, and a cousin staying with us, Berele Kapushevski from Karelitz. It was an appalling blow to us all.
SURVIVING THE HOLOCAUST WITH THE RUSSIAN JEWISH PARTISANS
By Jack Kagan and Dov Cohen
In spite of the cold, wet, winter, which drained every bit of strength from my body, I was alert enough to avoid a serious infraction of SS rules. I saw my comrades, one after the other, becoming Muselmen (a term used to describe a man barely alive whose skin loosely covered his bones), men too weak from diarrhea to keep themselves clean. These pitiful comrades were the ones who suffered the most. Death or thoughts of dying were constant companions of everyone in Auschwitz. Many a time when I was squeezed in between two people in my bunk for the night, I found that one of them had not awakened in the morning.
MY DARKEST YEARS
By James Bachner
The work was the stuff of nightmares. As Reder and the other Jewish workers tried to bury the dead, "We had to walk across from one edge of the grave to the other, to get to another grave. Our legs sank in the blood of our mothers, we were treading on mounds of corpses – that was the worst, the most horrible thing…" the effect of all this was that "We moved around like people who had no will anymore. We were one mass…We went mechanically through the motions of that horrible life."
THE HOLOCAUST
By Laurence Rees
I jumped to my feet and stood on the dirt floor. I felt a dizziness come over me and fell back on to the straw bed. The torture, the separation from my family, the continuous hunger…I don't care anymore, I thought. I have suffered as much as any human can, and now I have no more to give. My courage has run out and I cannot find it in my heart to stay alive any longer. But it didn't matter, for as much as I suffered, cried and begged to die at times, I continued to survive. God only knows how.
OUTCRY: HOLOCAUST MEMOIRS
By Manny Steinberg
When quotas [of those being sent to the death camps] were not being met, Eichmann personally went through the hospital picking those to be taken. He assembled a meeting of the hospital staff at which he went through the ranks pointing at people: "You, you, you," he said, as his assistant wrote names on a clipboard. My mother noticed that he was singling out those who were fat and wore glasses.  She fit both categories. As his gaze was turning to her area of the group, she bent down behind a taller nurse standing in front of her. She was passed over.
REFUGE IN HELL
By Daniel B. Silver
Abel Gimpel, at the time a young man barely twenty years old, describes how he was humiliated by a German soldier: "He said, 'You have to wash the car…' I said, 'Give me a bucket and a cloth.' He said, 'No.' I had on a coat that I had owned for less than two weeks. He said: 'Take your coat and wash the car with it.' When I was finished, he screamed, 'Get lost.' I wanted to take my coat with me. But he wouldn't let me have it. – I stood there in winter without a coat."
JEWISH FORCED LABOR UNDER THE NAZIS
Translated by Kathleen M. Dell'Orto
On the second day of the Anschluss three SA troopers, Brown Shirts… proceeded to march up one floor and arrest our neighbor, an Aryan, that is, a pure non-Jewish Christian with no Jewish ancestors. The reason for this arrest was Rassenschande (Shame of the Race), because he had a Jewish girlfriend. The brutes beat him, then sent him to a concentration camp where he died.
CHILDREN OF SEPARATION AND LOSS
By Gertrude Pollitt
"How they look at me, these freezing skeletons, as if I could help them, as if I were to blame for what is to come. I quickly close the door again. How must such a human being feel, standing naked in a corridor and waiting to be loaded on a truck that will take him to a gas chamber…It was in the morning, after the early roll call, that I saw them being herded together in front of my window. Now it is evening, and they haven't had anything to eat all day. And why should they still be fed? If they want to drink, their only resource is water from the toilets. Now many are lying down. They are too weak to fear the blows that are intended to shake them awake. Three of them are lying in front of my door, and I have to step over them if I want to leave the room. One is dead, but the two next to him are still alive. There is little difference among these three."
PEOPLE IN AUSCHWITZ
By Hermann Langbein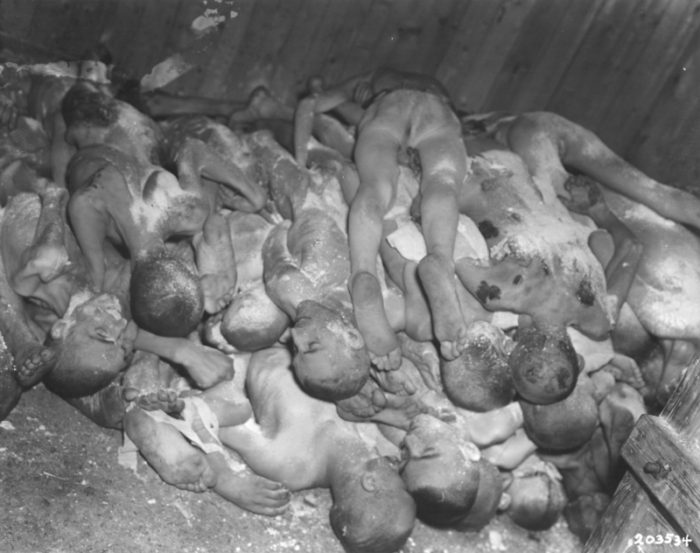 Bodies of victims of Nazi brutality are piled in a shed at Ohrdruf prison camp. Too ill to be moved, they were murdered when the U.S. Third Army advance made German retreat necessary.
A great plague, as the survivors described it, spread over Dachau in the last months when frantic mass transports stream in from the Balkans and from evacuated concentration camps. It was those last months of overcrowding, of disease brought by prisoners from other camps, and of decreased availability of food that caused the horrifying conditions described by the liberation teams…Overnight, masses of starving men jammed into the barracks, bringing with them millions of lice and fleas. They threw up make-shift huts and tents in the pathways between the barracks. Bodies piled up on the ground as the small crematorium strained to keep up with the torrent of diseased corpses. All services broke down. Men lay in their bunks, relieving themselves on those below. One survivor recalls lying ill from typhus. Believing him dead, the SS threw him on a heap of corpses. Using all his willpower, he crawled out of the corpse heap and back to his bunk. A Jew on the Dachau burial squad spoke of the mounting piles of bodies in the last days when anyone exhausted or sick was thrown directly into the ovens: "This was the system at Dachau: bury the dead and burn the sick."
HITLER'S DEATH CAMPS
By Konnilyn G. Feig
"The beasts forcibly separated fathers and mothers from their children. They needed working people; as for the children, let them have a rest, they said. Mothers hid their children under their skirts, pleaded, and wept. But what could touch the heart of a fascist? The selected ones were taken to the village of Karlovka to do convict labor. The orphans left behind perished. People were dying like flies. Typhus, dysentery, scurvy, the bullets and whips of the Romanians, and death, death, death. People covered in boils, scabies, many frostbitten hands and feet. Thousands of people died from gangrene…Sometimes they gave out 'rations' – half a spoonful of gruel. Only forty people survived among all the martyrs of the death camp."
THE UNKNOWN BLACK BOOK
By Joshua Rubenstein and Ilya Altman
"My brother had gone to the well for a bucket of water without permission. They had beaten him on the head for this so badly that he had suffered a brain hemorrhage…My brother soon died, and my father after him from hunger, cold, and the loss of hope and any interest in life."
THE UNKNOWN BLACK BOOK
By Joshua Rubenstein and Ilya Altman
The whole area of the [Warsaw] ghetto was grim: there were hardly any trees, no parks, no open spaces – just grey and depressing buildings wherever you looked. Not surprisingly, given the density of population, some of the streets, such as Karmelicka and Smocza Street, looked like enormous anthills. On the pavements and in the middle of the road one had to elbow one's way through crowds of people, many in rags, some wrapped for warmth in dirty blankets, hawking their belongings – used household objects, worn-out clothes, dog-eared books, broken furniture. Whatever the weather, the streets were lined with beggars, whole families with children and babies, leaning against the buildings or lying at the edge of the pavement, their hands feebly reaching out for alms. In the less crowded streets the most popular form of transport was rickshaws, their emaciated drivers pedaling as hard as they could to cope with their human cargoes. And then there were smells – a smell of decay and dust in the summer, of mud and slush in the winter; the stench of poverty, unwashed bodies of rags serving as clothing. Sometimes, early in the mornings there was also a sickly smell of corpses barely covered with newspapers, awaiting collection. But above all there was a smell of fear from which you were never free, a fear of ending up in a concentration camp.
SAVED BY MY FACE
By Jerzy Lando
After a while, I learned that if a person in the clinic [Langinbilau] were sick more than one week, he or she is injected with kerosene. Death came a few minutes later.
MEMOIRS OF A HOLOCAUST SURVIVOR: Icek Kuperberg
By Icek Kuperberg
"One day I walked through a barracks and saw naked corpses on the floor. Something was stirring among the dead; it was a young girl who was not naked. I pulled her out to the camp road and asked her, 'Who are you? She answered that she was a Greek Jew from Saloniki. 'How long have you been here?' 'I don't know.' 'Why are you here?' 'I can't live with the living any more, and so I want to be with the dead.' I gave her a piece of bread. In the evening she was dead."
PEOPLE IN AUSCHWITZ
By Hermann Langbein
The boycott of Jewish businesses in Gelnhausen/Kurhessen has taken on dimensions rarely seen in German towns. The majority of the indigenous Jewish businesses – many of which have operated for decades and to some extent even several generations – are poised to go under. Only thirty Jewish families remain in Gelnhausen out of the fifty that once lived here, and they are for the most part threatened with financial ruin…
For quite some time windowpanes, including the shop windows of Jewish-owned houses, have been smashed, and the houses have also suffered damage: door locks have been tampered with, acid has been poured into door locks, foul-smelling liquids have been sprayed into houses through the door. And in recent days Jews have also suffered bodily harm. For instance, at the end of June the physician Dr. Schwarzschild was struck in the face by the leader of the Jugvolk [Hitler Youth], Schmidt, as he was on his way to deliver a child.
On May 31, 1935, the 65-year-old Arthur Meyer was coming out of the [Berlin] synagogue and suffered an acid attack. Three young men, whom he and his two accompanying sons recognized, poured acid in his face, which resulted in burns on his skin and eye irritation. Charges have been filed with the prosecutor's office in Hanau. In addition to this, a number of Jewish residents have been knocked down and ill-used.
JEWISH RESPONSES TO PERSECUTION
By Jurgen Matthaus and Mark Roseman
"Sich Auskleiden! Alles Herunter!" Everyone undress! Everything off! "Los!" The room is swarming with SS men. Get undressed? Right here? In front of the men? No one moves. "Didn't you hear? Take off your clothes. All your clothes!" I feel the slap of the whip on my shoulders and meet a young SS soldier's glaring eyes. "Hurry! Strip fast. You'll be shot. In five minutes anyone with clothes on will be shot!" I look at Mommy. She nods. "Let's get undressed." I stare directly ahead as I take my clothes off. I am afraid. By not looking at anyone I hope no one will see me. I have never seen my mother in the nude. How awful it must be for her. I hesitate before removing my bra. My breasts are two growing buds, taut and sensitive. I can't have anyone see them. I decided to leave my bra on. Just then a shot rings out. The charge is ear shattering. Several women begin to scream. Others weep. I quickly take my bra off. It is chilly and frightening. Clothes lie in mounds on the cement floor. We are herded, over a thousand shivering, humiliated, nude bodies, into the next hall, even chillier, darker. Even barer and more foreboding. "Los! Schneller, blode Lumpen!" Move. Faster, idiotic whores. We were lined up, and several young women in gray dresses started shaving our hair – on our heads, under our arms, and in the pubic area.
I HAVE LIVED A THOUSAND YEARS
By Livia Bitton-Jackson
All women recalled scenes that were especially ugly to them. Reska Weiss, a survivor of eight camps, spent most of her time in the Neumark women's labor camp. She never forgot the women called Stutthofers. The SS named them as a joke: the very sick, those about to be shot, were told that they would be "transported to Stutthof." No one was allowed into the tents of the Stuffhofers. They were seldom given food. Stumbling accidentally into the Stutthofer tent one day, Weiss was overcome by what she saw. "I screamed in horror and shut my eyes to the sight. My knees trembled, my head began to swim, and I grasped the central tent prop for support. It was hard to believe the women on the ground were still human beings." Their eyes blazed from their starved skeletons. For two months they had lain naked on the ground. Their own urine and excrement covered their straw mats. Wounds, bites, and blood covered their frozen limbs, and lice had found a home in the short hair on their head. No stretch of the imagination, no power of the written word, can convey the horror of that tent. And yet…they were alive…They were hungry and they tore at their skeletal bodies with their emaciated hands covered in pus and dirt. They were beyond help.
HITLER'S DEATH CAMPS
By Konnilyn G. Feig
Many prisoners [at Majdanek] remember the largest camp execution, a mass slaughter of the Jews that occurred on November 3 1943. On that day, the SS shot 18,400 Jews in ditches near the crematorium. The massacre started early in the morning and went until evening. First, the guards herded the Jews into Field Five and ordered them to strip. Then they drove the naked Jews to the ditches and forced them to lie, face down. The SS machine-gunned them. The next group of victims had to place themselves atop the layers of corpses before they were shot. That process went on until the ditches filled.
HITLER'S DEATH CAMPS
By Konnilyn G. Feig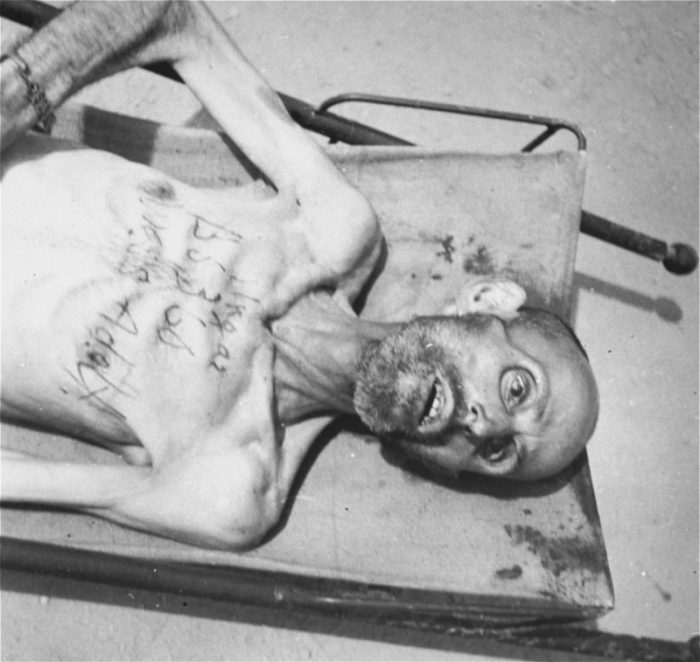 A dead Jewish prisoner from Hungary, whose prisoner number and name were written on his chest in ink, lies on a stretcher.
"Around eight in the morning, the local police [Vinnitsa Region] and the Germans went on a rampage: they smashed windows, fired guns, and finally began driving people from their homes. They formed them into groups and drove them out into the pine forest. I did not know what to do or where to go with the children. I hid my older son, Misha. My three-year-old, Isaiah, and I were beaten and driven out on to the street, where I saw an awful sight. Corpses were strewn everywhere, the snow was red with blood, the barbarians were running around and shouting like wild animals: 'Beat the Kikes! Jude Kaput!' then they fired into the crowd. They only had to see a small child before throwing themselves upon it and cutting it to pieces with daggers. The cries of the children: 'Mama, I'm afraid, Mama, hide me!' ring in my ears to this day.
"When they had gathered two hundred people together, they drove us into the pine forest. The whole way they were beating and shooting anyone who even thought to step out of the crowd.  A large pit had been dug in the forest, and a mound of clothing was lying to one side. One by one, people were forced to undress, then take their places on the edge of the pit, where a burst of machine gun fire awaited them. It was a dreadful scene: the wild cries of the children and the moans from the pit of those who had been shot made me think about escaping. I grabbed my terrified son by the hand and broke into a run, thinking they would quickly kill me. But a heavy snowfall helped me. I ran, not knowing where, and felt as if my strength would leave me at any moment, and that I would fall with my child and freeze to death in an open field since there was a heavy frost. But just then, I spotted a broken down, empty barn. I made my way up to the loft, wrapped my headscarf around my child, and sat there like that until the evening of January 11."
THE UNKNOWN BLACK BOOK
By Joshua Rubenstein and Ilya Altman
They led Khanys, a beautiful nineteen-year-old teacher, the daughter of Itsik Bludy, up to the pit [at Chudnov]. The soldiers made her strip naked and let her long hair down. They themselves just could not get enough of such beauty. They took her out of the line and told her to get dressed and walk away, leaving her alive. "Zuruck!" [Move back!]The German beast shouted. She stubbornly refused, demanding immediate death, in order to take her place alongside her loved ones. So then an explosive bullet took away her upper part of her skull, which flew up in the air along with her long, luxuriant golden hair and landed in the branches of a pine tree.
THE UNKNOWN BLACK BOOK
By Joshua Rubenstein and Ilya Altman
We stand evening Zahlappell together. But when the bowl of food is handed to me, I am unable to take a gulp. It is dark green, thick mass in a battered washbowl crusted with dirt. No spoons. You tilt the bowl until the mass slides to the edge, then gulp. The dark mush smells and looks repulsive. The edge of the bowl is rusty and cracked and uneven with dried on smut. My nausea returns in a flash. I quickly hand the bowl to mommy. She takes a gulp and begins retching. I try again. This time I take a mouthful but cannot swallow it. It has grains of sand in it, just like the bread, and something else – pieces of class…and wood…and cloth. I spit it out and begin to vomit. My empty stomach feels as if it were rising through my gullet. "Never mind. We all threw up at first. But then we learned to swallow it. It's food. You must eat to live. Close your eyes. Hold your nose. Now, gulp." Suri's gentle but firm admonition gives me impetus. I gulp. And again. Four times.
I HAVE LIVED A THOUSAND YEARS
By Livia Bitton-Jackson
We also had something else in our favor that helped us survive: We understood German, the language of the camp. When the SS men started bellowing, we knew immediately what they were talking about. But many other inmates were brutally beaten simply because they couldn't understand a word of what was being said. Most of the dangerous confrontations with the SS took place in the morning and in the evening as we marched from the Buna works. As soon as we passed the chain of guard posts enclosing the camp, the SS would look for a recently arrived inmate to victimize. They could generally tell a newcomer because of his clean clothes and his shaved head. They would remove his cap, throw it over their shoulder, and issue an order: "Pick up your cap!" The loss of one's cap could entail the severest punishment. While desperately trying to retrieve a discarded cap, a prisoner would often be shot dead "while attempting to escape." Anyone who had been in the camp for a while knew that any SS man who shot a prisoner "While trying to escape" got three days' leave, twenty cigarettes, and a quarter-liter of schnapps.
THE UNWELCOMED ONE
By Hans Frankenthal
"There were two half-fallen-down stables on the outskirts of Domanyovka. They began herding Jews into them in April 1942. They did not allow them out of the barracks, they were in filth up to their knees, people were executed on the spot. Corpses lie there as though at the morgue. Hungry children are crying, women were sobbing. The prolonged, dreadful moans of the dying. Typhus. Dysentery. Gangrene. Death… People were dying by the thousands, rotting alive in the barracks. The corpses were tossed into heaps. Half-mad people stripped them naked so they could exchange clothing for rusks later. And there gradually arose such mountains of bodies that it was horrible to look at them. I do not put the word – mountains – in quotation marks. I remember those bodies piled on top of one another as though they were before me now. Old people, men, women, children entirely naked and gone blue lay there in various poses. A dead mother held her dead children in an embrace. The wind ruffled the gray beards of old men. I wonder today: How is it that I did not lose my mind? It is not by chance that they say that nothing is stranger than a man! Day and night, dogs came here from every direction. The dogs of Domanyovka got as fat as rams! Day and night these dogs gnawed at human meat and human bones! The smell in the air was unbearable."
THE UNKNOWN BLACK BOOK
By Joshua Rubenstein and Ilya Altman
Food was also a major problem [at Theresienstadt]. The prisoners' diet consisted primarily of moldy bread and rotting potatoes…Starving elderly men and women begged for watery soup made of synthetic lentil or pea party, and dug for food in the garbage heaps rotting in the courtyards of the barracks. At a certain period the main characteristics of the Ghetto were combined stench of decay and chlorine from the latrines, and groups of aged people shuffling through the streets until they collapsed and died of starvation.
HITLER'S DEATH CAMPS
By Konnilyn G. Feig
"Then they found our place – and that was basically it. We were trapped! People started filing out. There was a space boarded up where there had once been a window. As most of the people were going out, my mother suddenly ripped off one piece of board. She whispered for me to get in there and put the board back. When I got in, had to hold the nail in place with my hand. Then my mother hid under some bedding. By then it was dark, and the police were lighting matches. One had a rifle with a bayonet on it. He was right next to me. Suddenly he took that bayonet and stabbed my mother, who was still hiding under the bedding. She screamed. I don't know how badly she was hurt, but they took her away. I sat there frozen! They were only inches away from me – so close I had to stop breathing.
THE HIDDEN CHILDREN
By Jane Marks
"Vyest Moyshe-Meyer, left alone after the murder of his family, could not stand it and lost his mind. There he was, running through Chudnov, filthy, with an overgrown beard, like an animal, emaciated, looking for something. He was not the only one to go crazy: the wife of Libov followed his example. The daughter-in-law of Aron Kilup got dressed up and went to the scaffold singing and dancing."
THE UNKNOWN BLACK BOOK
By Joshua Rubenstein and Ilya Altman
Snatched up by a kapo eager to fill her numbers, we line up behind this stranger and set off to work. Her eyes are bright and cruel. Her face is grim. She is all we have been trying to avoid. Her triangle is green. This capo is a murderess. The tension in our ranks is palpable. We march in perfect unison. "We have to be careful," I warn Danka, daring only the briefest of whispers. "Very careful." It is a day without end. This kapo delights in finding fault and brutalizing us for it. She has a nose for the weak, and these she tortures unmercifully until they collapse and she can finish them off with one quick kick. By lunch she has killed three prisoners. She is as deft at killing…
Won't she tire of her abuses? No, she continues throughout the afternoon, beating, destroying, demolishing us like little dolls. One girl is crippled beyond belief, and then, as an added measure of spite, the kapo leaves her broken and suffering on the ground next to the dead, knowing her turn will not come until she is dragged to the gas.
RENA'S PROMISE
By Rena Kornreich Gelissen with Heather Dune Macadam
Those marked for death [at Lida] were lined up and marched to the edge of the city. One man fled the procession as it neared the execution ditches. "A member of the guard ran after me and kicked me to the ground," he later said at a war crimes trial. "He then shot at me a number of times with a machine pistol…Two shots hit the back of my head. I lay, covered in blood, and pretended to be dead. In reality, I was so shocked and weak I couldn't have stood up. I lay in this site, about a hundred meters from the execution place. In the course of the day. I briefly looked up and toward the executions now and then. I saw that the Jews were forced to disrobe a short distance from the execution site and then walk over boards that had been laid over the graves. Then they were shot with fixed machine guns…I saw Windisch and Hanweg at the execution site. I do not know if [Rudolf] Werner was there or if he shot at fleeing Jews. I did see how Windisch shot a child that had been thrown in the air by a Lituanian or Latvian." … Of a total of three trenches, one was reserved for children, many of whom had been torn from the hands of their parents just before they were killed… By five P.M. that evening some fifty-five hundred Jews had been killed, more than half of the approximately eight thousand Jews who were living in the city.
THE BIELSKI BROTHERS
By Peter Duffy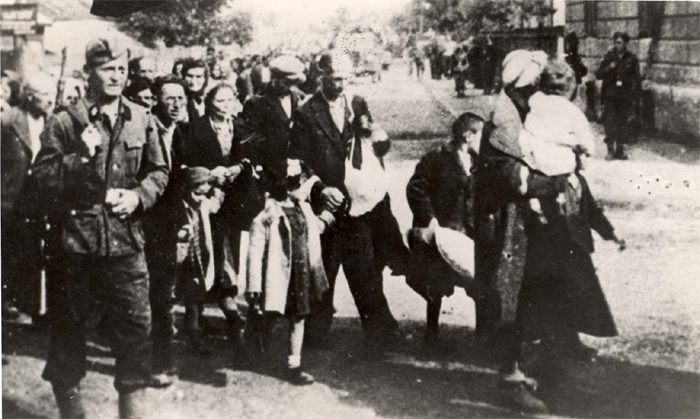 One of thousands of deportations to the death camps.
One day, when I returned to my family's house [Międzyrzec, Poland], I walked the streets. They were all paved with cobblestones, but now the cobblestones were littered with corpses and blood. I couldn't tell which people had been shot and which ones had starved to death. I didn't want to know. After a while, all corpses looked the same. They seemed as though the last ounce of life had been wrung out of them until their heart gave out.  Their cheeks were sunken, their teeth bared into a hideous grin underneath shriveled lips. Their contorted features displayed the pain they'd been in. their skin tone was the color of ashes, and they were always, always skinny to the point of resembling shadows.
DEFY THE DARKNESS
By Joe Rosenblum with David Kohn
An SS man arrived [at Treblinka] and selected ten young men out of our group; he didn't want older men. A while later another SS man demanded sixty men; I was among that group. They marched us two by two through the square we traversed when we left the freight cars, then to the right, to a larger square, where we were confronted by a staggering sight: a huge number corpses, lying one next to the other. I estimate there were 20,000 corpses there… most of whom had suffocated in the freight cars. Their mouths remained open, as if they were gasping for another breath of air…Hundreds of meters away, a scoop-shovel dug large quantities of earth from the ditches. We saw a lot of Jews busy carrying the dead bodies to these huge ditches. Some of them transported bodies in handcarts to the ditches at the edge of the square. These Jews did everything at a run…The bodies were laid in the ditches, row upon row. A group of laborers were pouring chlorine on the corpses… I should mention that those buried at this square were not gas-chamber victims, but rather the bodies removed from the transports and those who had been shot at Treblinka…Often we heard pistols shooting and bullets whistling. We didn't hear the screams of those shot; the Germans fired at the nape of the neck, and the victim never even moaned."
BELZEC, SOBIBOR, TREBLINKA
By Yitzhak Arad
The atmosphere for those remaining in the Bedzin ghetto is captured in the notebook of Rutka Laskier. Her diary consists of notes written between 19 January 1943 and 24 April 1943…The little faith I used to have has been completely shattered. If God existed, he would have certainly not permitted that human beings be thrown alive into furnaces, and the heads of little toddlers be smashed with the butt of guns or be shoved into sacks and gassed to death…Big flakes of snow…Nevertheless, the usual children's cries of joy announcing the arrival of winter were not heard on the streets. For most of the ghetto's inhabitants, the winter was a nightmare of terrible poverty and hunger. Everywhere people are standing in line, lines for potatoes, coal, bread. Children dressed in worn-out clothes stretch out their hands to those passing by. These children are the most predominant symbol of the grey ghetto. The parents have been deported, and the children were left abandoned to their destiny, to go astray in the streets. The people's faces express sadness and worry.
A SMALL TOWN NEAR AUSCHWITZ
By Mary Fulbrook
I could see the women, the children, and the old and sick were being sent to the left. They were headed toward the crematoriums. Sara's and Rachel's children were crying. As young as they were, they could see what was coming. They could see the ashen looks on their mothers' faces, and they were afraid…The gas chamber and the crematorium were in the middle of the camp. There were two lines. One led straight to the gas chamber. I saw my uncle and his family start to shuffle into it. "Uncle, I don't know what to say and what will be for all of us. This is the end of the road," I yelled. Yudel was speechless, the women were speechless, the cousins knew this was it. Yudel, Rachel, Sara, all were walking with their heads down. They knew. Then they entered the building.
DEFY THE DARKNESS
By Joe Rosenblum with David Kohn
The German occupants began their bandits' work in Slavuta with the persecution and destruction of the Jews. All the Jews were made to wear special armbands. They were driven out to do the heaviest physical labor and were often shot there on the spot. Shootings were carried out both in an organized manner, by the orders of the German commandant of the town of Slabuta, and in a disorganized manner – at the whim of any soldier or officer. In this way, by the close of September 1941, the Germans had killed around five thousand Jews in Slabuta. Among them were women, old people, children. Those that survived – around seven thousand people – were wiped out by the Germans through mass shootings near the water tower of a military base.
THE UNKNOWN BLACK BOOK
By Joshua Rubenstein and Ilya Altman
Girls, young women who had arrived [at a German work camp] from Auschwitz in good condition – since only the strong and healthy had been selected from there – were lying on lice-infested, rotting straw, starved to skeletons, helpless. They had stopped fighting the cold, hunger, lice and sickness. And what for? None of them suffered from a severe disease, let alone a fatal disease, yet they were perishing by the day, succumbing to diarrhea, abscesses, general weakness. The death toll kept increasing. As they complained about their ailments to me, I would console them, without much conviction, knowing there was no help for them.
AS THE LILACS BLOOMED
By Anna Molnar Hegedus
Sometimes prisoners would notice a friend going "mad," and then she would suddenly disappear. Micheline Maurel remembered how this happened to the twins Marie and Henriette Leger… "They were a little odd, and neither could do anything without the other, but they were the most dependable of friends. One of them became mad and was sent back to Ravensbrück. Then the other lost her mind, and she too was sent away.
RAVENSBRÜCK
By Sarah Helm
The guards, male and female, virtually without exception, all beat the wretched Jews. One survivor remembers: All of the women guards had rods and clubs, which they, at their pleasure, would put to use at the drop of a hat.' This was substantiated by Hegel shortly after her capture by the Americans: 'All the 'SS' women guards carried rods and all of them beat the girls.' Another woman guard confesses: 'I beat the women often and hard. I used for that purpose my hands and sometimes also an implement of one sort or another. I beat a girl quite brutally, in consequence of which she died the next day.
HITLER'S WILLING EXECUTIONERS
By Daniel Jonah Goldhagen
"The procession, numbering some 10,000 people, and proceeding from the Little Ghetto to the Ninth Fort, lasted from dawn until noon… In the fort, the wretched people were immediately set upon by the Lithuanian killers, who stripped them of every valuable article – gold rings, earrings, bracelets. They forced them to strip naked, pushed them into pits which had been prepared in advance, and fired into each pit with machine guns which had been positioned there in advance. The murderers did not have time to shoot everybody in one batch before the next batch of Jews arrived. They were accorded the same treatment as those who had preceded them. They were pushed into the pit on top of the dead, the dying and those still alive from the previous group. So it continued, batch after batch until the 10,000 men, women and children had been butchered."
MASTERS OF DEATH
By Richard Rhodes
One day they were beating us, but not severely. Then three SS and some murderers decided to try a different game. A group of twenty of us were called to a part of the camp where barracks were to be built. One of the murderers had a steel plumbing pipe, about four inches in diameter and fourteen feet long. They told everybody to straighten some lumber piles, and I tell something was going to happen. We were spread out among fifty piles, one prisoner to a pile. A few SS were there, too. Suddenly, one of the murderers leaped for a prisoner and threw him to the ground. Then he and another murderer took the piece of pipe and forced it under the screaming prisoner's chin and into his throat. Then the murderers stood on each side of the pip, rocking it back and forth while pressing down harder and harder. The boy screamed and yelled, but that sound turned into gurgling as the pipe slowly crushed his windpipe. The screaming deafened me. Then they grabbed the prisoner in front of the next pile and did the same thing. The SS sometimes would take a turn at standing on the pipe. If they weren't participating, they were applauding, laughing, and having a good time. They acted as though this was a carnival game. When I saw what was happening, I kept moving farther and farther away. I had been standing in front of the fourth pile, but when they started murdering people, I was always one or two piles away. Every time they grabbed one prisoner I would duck around the back of the piles and move three or four piles away from them…I and the other prisoners who survived all found each other in a matter of minutes. We didn't say anything. We just looked at each other and knew this was not the end of our misery. We surveyed the field in front of us, the broken bodies, black faces, tongues sticking out, bulging eyes, bruised and broken arms and legs.
DEFY THE DARKNESS
By Joe Rosenblum with David Kohn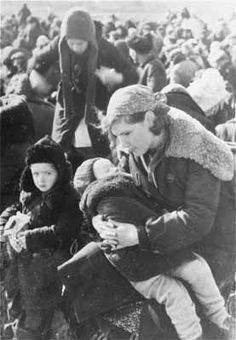 A Jewish mother just before being shot.
During my time at Dachau I was familiar with many kinds of medical experiments carried on there on human victims. These persons were never volunteers but were forced to submit to such acts. Malaria experiments on about 1,200 people were conducted by Dr. Klaus Schilling between 1941 and 1945. Schilling was personally ordered by Himmler to conduct these experiments. The victims were either bitten by mosquitoes or given injections of malaria sporozoites taken from mosquitoes…Thirty to forty died from the Malaria itself. Three hundred to four hundred died later from diseases which were fatal because of the physical condition resulting from the malaria attacks.
THE NUREMBERG TRIALS: THE NAZIS BROUGHT TO JUSTICE
By Alexander MacDonald
Men were separated from women. The men were told to undress before they were forced straight through the 'tube' to the gas chambers. The women were taken to a barracks where their hair was cut. The Germans used the women's hair after their deaths in a variety of industrial processes – for example, in the making of felt. It was as their heads were shaved, says Reder, that the women realized that they were to die, and 'there were laments and shrieks. Once their hair had been cut, the women followed the men into the gas chambers. Just like death in the back of a gas van, death in the gas chambers of Belzec was not quick. Reder remembers hearing the 'moans' and 'screams' of those trapped inside the gas chambers for up to fifteen minutes.
THE HOLOCAUST
By Laurence Rees
I now saw that slightly to one side there was a coach with two horses, a landau [Paneriai, Lithuania]. On the box of the coach stood a second SD man whom I did not look at more closely. In the coach sat two very well-dressed elderly Jews. I had the impression that these were high-class or important people. I inferred this because they looked very well groomed and intelligent and 'ordinary Jews' would certainly not have been transported by a coach. The two Jews had to climb out and I saw that both were shaking dreadfully. They apparently knew what was in store for them. The SS man who had initially gestured to us to keep away was carrying a sub-machine-gun. He made the two Jews go and stand at the edge of the pit and shot both of them in the back of the head so that they fell in.
"THE GOOD OLD DAYS"
By Ernst Klee, Willi Dressen, and Volker Riess
The Jews were given spades and told to dig a trench. It began to rain. After a while I could only see the tops of their heads. An SS man was hitting them to make them dig faster. When the trench was deep enough, he picked up a Russian machine gun and fired, shooting several salvos into the trench. We could hear them moaning. Then some more SS men turned up and finished them off. They were killed only because they were Jews.
THE HOLOCAUST
By Laurence Rees
The inmates destined to be killed with phenol injections in the infirmary behaved much like those selected to die in the gas chambers. Klehr, a medic who killed more people by means of such shots than any other SS man, later gave his expert explanation in the courtroom: "They knew what was in store for them, but they did not offer any resistance. They were completely worn out, all skin and bones."
PEOPLE IN AUSCHWITZ
By Hermann Langbein
Despite the desire of the Nazis to keep their activities a secret, there were rumors about "what was going on in Belzec." On board the train en route to the camp, "No one said a word. We were aware that we were headed for death, that nothing could save us; apathetic, not a single moan." Once they arrived at Belzec they were ordered to jump down from the trucks – more than 3 feet off the ground – in one huge mass. Some, particularly the elderly and young children, "broke arms and legs."
THE HOLOCAUST
By Laurence Rees
"New columns keep streaming out of the camp, and they are easily counted. The first thousand have marched past, two thousand, ten thousand. They march and march. If your father, your brother, or your son were among them, you would not recognize him, for these emaciated figures are all alike. A young lad has the same furrowed face as an old man."
PEOPLE IN AUSCHWITZ
By Hermann Langbein
On that day [7 August 1942] 5,500 men, women and children were killed in Litovka. My cousin Srolik Sucharski tried to escape and was shot at the gates of the barracks. The 500 that remained were kept for three days and nights without food or water and given no toilet facilities. That same evening, everybody in the workshops had to line up and be inspected. I stood next to my father, dressed in my father's jacket and long trousers to look older. The Nazi chief passed and did not say anything but all the children hidden in the loft, and some in the basement, were found and thrown out of the windows and then taken by lorry to Litovka where they were killed.
SURVIVING THE HOLOCAUST WITH THE RUSSIAN JEWISH PARTISANS
By Jack Kagan and Dov Cohen
"One day a women's transport arrived from Zamosc, and it included five or six pregnant women. They gave birth in the infirmary. At first the mothers and the children received milk and white bread as additional rations. The children were added to the inmate population, and as a block elder I had to give a daily accounting of the numbers. One evening, when the children were about two weeks old, the SS medic Klehr remained in the block when we marched off (the male nurses slept in the men's camp). When I came to the block the next morning, those five or six children were no longer there. I found their corpses in the morgue and was able to determine they had been given injections in the cardiac area."
PEOPLE IN AUSCHWITZ
By Hermann Langbein
Stark naked, we were tied with rope and ordered to lean against the table. Then the prisoners were told to start counting, one, two, three, and so on to one hundred. With each count, we were whipped with a heavy leather strap. During this beating, I'm sure I heard Papa calling: "My sons, my sons!" I felt Mama's hand on my cheek asking me to wake up for school and I heard Jacob crying. After the final count the ropes holding us were removed and we fell to the ground, a mass of wounded and bleeding flesh.
OUTCRY: HOLOCAUST MEMOIRS
By Manny Steinberg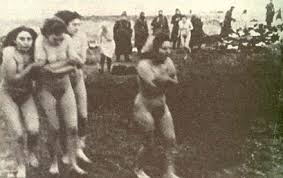 Libau (Liepaja), 15 December 1941: Jewish women are made to undress in the cold before the very eyes of their murderers.
Eight hundred sixty-three children were born in Ravensbrück between 1943 and 1945. Without nourishment, diapers, or water, most babies died within a few days of birth by "natural" means. In addition, the midwives drowned or smothered them. One day Mrs. Gluck saw a Nazi guard carrying a bag over his arm. She asked him what it contained and he told her: "Dead babies."
HITLER'S DEATH CAMPS
By Konnilyn G. Feig
In some cases the proximate cause of suicide is known. Aron Bejlin, a physician interned in Birkenau, was asked by a Dutch physician who had just arrived in the camp where he could meet his wife and children, from whom he'd been separated. Bejlin told his colleague the truth, which the Dutchman at first did not believe; but when he was able to confirm it, he touched the electric fence. Vera Alexander remembers a Hungarian Jew who was able to smuggle her small child into the camp. When the SS took it away from her, she went into the wire at night.
PEOPLE IN AUSCHWITZ
By Hermann Langbein
It seems that Stutthof manufactured soap. Some historians claim that the Nazi manufacture of soap from human fat is just a grim rumor. However, cakes are on display. And witnesses have testified that soap was made at Stutthof from the fat of dead Jews. At the War Crime Trials Sigmund Mazur, laboratory assistant at the Danzig Anatomic Institute, testified that the institute conducted experiments. In producing soap from human bodies…I boiled the soap out of the bodies of women and men. The process of boiling alone took several days – from 3 to 7. During two manufacturing processes, in which I directly participated, more than 25 kilograms of soap were produced. The amount of human fat necessary for these two processes was about 70 to 80 kilograms collected from some 40 bodies…I used this human soap for my personal needs, for toilet and for laundering. For myself I took 4 kilograms of this soap.
HITLER'S DEATH CAMPS
By Konnilyn G. Feig
In the morning trucks transported 150 people in each load to Chelmno, about a kilometer away. By keeping the process going, 1,000 victims could be disposed of by early afternoon… An officer told the visitors that they were going to work in the east. He promised them fair treatment and good food. He explained that first they must take a bath and give up their clothes to be disinfected. From the courtyard the Jews moved inside the house to a heated room where they undressed. Then they walked down the corridor with signs directing them "to the bath." At the end, through the front door, a large van awaited them. Guards explained that they were taking them in the van to the bathhouse. They climbed into the van, the door clanged shut, and the van drove away. Theoretically the victims died in fifteen minutes. The van would then drive to Rzuchow woods, 3 kilometers away, where the corpses were unloaded and buried. While those trucks were bringing in the next batch from Powiercie.
HITLER'S DEATH CAMPS
By Konnilyn G. Feig
"Thousands of peaceful citizens, women, the elderly, and children were herded into prison. Here we saw no small number of horrors. At night there was the constant sound of shots and soul-rending, inhuman cries. They would gather people every day and take them off somewhere unknown. The Romanians taunted the women. The beasts tossed one girl into a latrine, cursing her all the while. They told the Bessarabian Jews that they were sending them home. Four thousand Bessarabians were taken out and shot."
THE UNKNOWN BLACK BOOK
By Joshua Rubenstein and Ilya Altman
"On December 17 or 18, 1941, the police, acting on orders [at Bogdanovka], set fire to two barracks in which there were more than 2,000 people. They were all burned; only a tiny number managed to save themselves."
THE UNKNOWN BLACK BOOK
By Joshua Rubenstein and Ilya Altman
Mindzia Schickman was only 7 years old when the war started. Her memory of her loss of the family home and possessions was traumatic. The SS came initially, she thought, just to take all the furniture: "There was no power and there was no saying no, we were really helpless." One SS man started playing with her mother's hair, then physically grasped her mother, at which point Mindzia's father became very angry. The SS officer too his pistol out, and continued to take Mindzia's mother towards the bedroom, but Mindzia's father grabbed and lifted the SS officer and threw him down the steps, while her mother started shaking she was not the only one: "We were all shaking, we didn't know from where [my father had] the courage…but this policeman stood up and took his gun and walked away. The next day they came and took all the furniture's [sic], and a few days later they came and took my mother away." Mindzia was not home when her mother was taken away, "but when I came home I was told it's okay, that she was taken to work." This was a common experience: "From every family they took one or two people out and they sent them away to work…it was something that we accept, we had to accept that, you cry, you wipe your ears, you have to accept, those are the facts, but nobody knew where they were taking them." She never heard from her mother again. "No. Never. Never never."
A SMALL TOWN NEAR AUSCHWITZ
By Mary Fulbrook
Seventy-eight people from New Chudnov are lying there. Not far from the center, on the rock, lies Moyshe-pamp, who, with a cry of: "Listen to me, listen, I have ten children!" jumped from the moving truck and made for the rock where he was killed on the run.
THE UNKNOWN BLACK BOOK
By Joshua Rubenstein and Ilya Altman
On the following day, the…execution commandos traveled to nearby Zheludok…killing at least eleven hundred Jews. Eighty-two skilled workers were spared. On May 10, the executioners went to Vasiliski and organized the deaths of eighteen hundred more Jews. About two hundred Jews were allowed to live. In Voronovo, on May 11, about two thousand Jews were killed. "We, the noble German race and our fuhrer, will not rest until we do away with you," Vindisch told the small group of Voronovo Survivors. "In the meantime, Jews, the select few among you are still alive. If you disobey our laws and rules, not a trace of you will remain." On May 12, in Ivye, twenty-three hundred Jews were killed. After the executions were completed, Windisch watched as a Jewish burial squad covered the graves with calcium oxide (quickline) and dirt. "Quick, quick, away with the Jewish shit!" he shouted.
THE BIELSKI BROTHERS
By Peter Duffy
By the end of the year, the death rates [at Ravensbrück] were rising not only in the Revier but throughout the camp. A woman in the sandpit who could no longer work was shot and killed on the spot. Tuberculosis was rampant; many in the sewing shop were afflicted, but it spread especially fast at the Siemens camp. Prisoners said that the five stretchers kept at Siemens and used to transport sick women from the plant to the main camp were not enough. Richard Mertinkat, a new civilian manager, was shocked by the "pitiable" and "lamentable" state of the women's health. "Siemens could have intervened to insist on better food and decent barracks for the women. But these good gentlemen of Siemens didn't bother counting the number of dead."
RAVENSBRÜCK
By Sarah Helm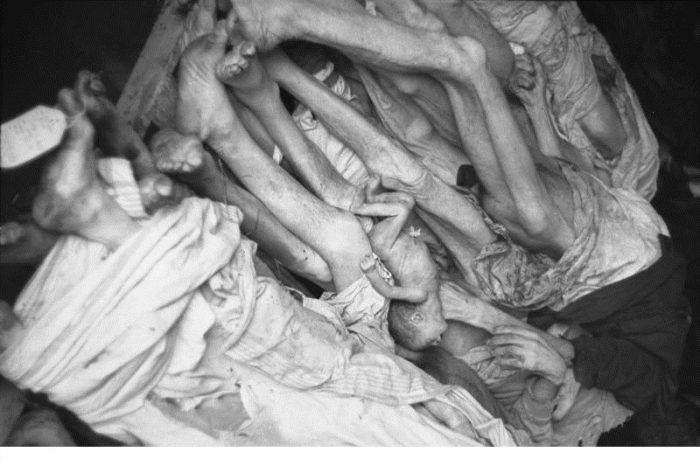 Starvation victims in the Warsaw ghetto, May 25th, 1941.
"Around December 27, I was drawing water from the well when a Jewish woman from the camp approached to draw water. At the same time, a cart came by in which there were three Romanians. One of them jumped down from the cart and began to draw his gun and shoot her. She did not beg him to have mercy on her, but asked him to let her go back to the camp; evidently she had children there. She was killed there and then, however, and her body lay beside the well for five days."
THE UNKNOWN BLACK BOOK
By Joshua Rubenstein and Ilya Altman
The soviets found only 156 children when they evacuated Birkenau in January 1945. Historians estimate the number of murdered young people below the age of eighteen at one million.
HITLER'S DEATH CAMPS
By Konnilyn G. Feig
During this early period, before mid-August, 5,000 to 7,000 Jews arrived in Treblinka every day. Then the situation changed, the pace of transports increased, and there were days when 10,000 to 12,000 deportees arrived, including thousands who had died en route and others in a state of exhaustion. This state of affairs disrupted the "quiet welcome" designed to deceive the deportees into believing they had arrived at a transit station and that before continuing their journey to a labor camp they must be disinfected. Blows and shooting were needed to force those still alive but exhausted to descend from the freight cars and proceed to the square and the undressing barracks. Abraham Goldfarb, who arrived at the camp on August 25, relates: "When we reached Treblinka and the Germans opened the freight car doors, the scene was ghastly. The cars were full of corpses. The bodies had been partially consumed by chlorine. The stench from the cars caused those still alive to choke. The Germans ordered everyone to disembark from the cars; those who could were half-dead. SS and Ukrainians waiting nearby beat us and shot at us."
BELZEC, SOBIBOR, TREBLINKA
By Yitzhak Arad
Some people couldn't wait for the Germans to kill them. One morning I was lying on my bunk, feeling both legs pounding with pain because they were swollen a fourth larger than normal. I turned around to talk with some of my friends about it. I looked up and down the rows of beds, and I saw a number of my friends missing. Inside myself, I felt more despair than I had ever felt before. I knew what had happened, even before I saw their bodies dangling on the electrified fences right outside the barracks door.
DEFY THE DARKNESS
By Joe Rosenblum with David Kohn
I had occasion to witness a horrific scene of bestial conduct toward Jewish soldiers. One day, for their own amusement, some drunken Nazi prison guards led out two Jewish prisoners and forced them at gunpoint to crawl on all fours and to bark like dogs or meow like cats. The Germans were standing right there, laughing sadistically, and forcing other prisoners to watch this inhumane scene. The next day, they forced two exhausted Jews half dead from their sufferings to fight each other, and when they began to resist, the butchers beat them up and then shot them.
THE UNKNOWN BLACK BOOK
By Joshua Rubenstein and Ilya Altman
I had known that the ghetto order was coming [at Szatmar, Hungary] and had dreaded it, but how I felt when the gates closed behind me is difficult to describe. There is no word to express the heartache of being wronged in one's human dignity…The next day, in the pouring rain, the transport of Jews to the ghetto began. The first ones arrived from the surrounding villages, broken and wretched men, women children with bundles on their backs. Their faces were full of fear, their eyes full of pain.
AS THE LILACS BLOOMED
By Anna Molnar Hegedus
"The number of incoming transports [at Theresienstadt] kept growing throughout July. 'People arrive by the thousands,' Redlich wrote on August 1, 'the aged that do not have the strength to get the food. Fifty die daily." Indeed, the mortality rate in the 'old people's ghetto' shot up, and in September 1942 alone, some 3,900 people from a total population of 58,000 died."
NAZI GERMANY AND THE JEWS 1933-1945
By Saul Friedlander