Never in the history of the KL did so many prisoners die as fast of disease and deprivation as in Bergen-Belsen in March 1945. During this one month, when the camp held an average of around 45,500 prisoners, some 18,168 lost their lives. Among the dead were Anne and Margot Frank. During their last days, the two sisters, ravaged by typhus and dysentery, had been huddled under a blanket in one of the infirmaries. When friends found them there, they pleaded with Anne to get up. But Anne, who had been looking after her dying sister, just replied: "Here the two of us can lie on a bunk, we are together and have peace."
KL – A HISTORY OF THE NAZI CONCENTRATION CAMPS
By Nicolaus Wachsmann
Prisoners were dispatched without a thought on a daily basis by guards to whom they were totally anonymous, lacking all identity. One blond-haired SS guard, only about twenty years old, casually shot a thirteen-year-old boy on a march from Sachsenhausen because he could not keep up with the fast pace, almost running speed. In their anger and despair, the boy's elder brother, a Jesuit priest, and his father tried to jump on the SS man, but he simply "fired a few volleys from his machine gun at them." "The machine guns rattled unceasingly" as many prisoners were mowed down in the first two days. When, after a night in a barn, one prisoner refused to continue the march, the same young SS brute simply shot him dead, then a few minutes later turned his gun on the prisoner's distraught brother-in-law who had lagged behind. By now, the blond SS man simply "pulled out prisoners who, in his opinion, did not walk fast enough and shot them on the spot."
THE END
By Ian Kershaw
On May 3, 1940, Gustav Sorge beat and kicked to death an elderly Jewish prisoner who had just arrived in Sachsenhausen; as Sorge broke his victim's bones, he screamed: "Oh, you swine, you're a Jew and fucked our Christian women!" Like this inmate, many Jewish men died within days or weeks of their arrival. Those who survived a little longer carried the deep marks of the SS excesses. Crushing forced labor was accompanied by extreme violence.
KL – A HISTORY OF THE NAZI CONCENTRATION CAMPS
By Nicolaus Wachsmann
As a rule [at Vaivara, Estonia], there were no children in the camp. All the children and elderly had been exterminated. There were two cases of children being born in the camp. They were thrown alive into a boiler before their mothers' eyes. In the Kurema camp, a German doctor named Gent summoned twenty-three old men to his office, including the well-known Warsaw gynecologist Fingergut and the Vilnius radiologist Ivanter. He ordered them to kneel, then took an axe and cut them in half, and ordered us to throw the body parts of the dead men into the fire. Upon arrival in the camp of Dr. Botman, the chief physician for all the camps, all the patients, whenever he came into a hospital and yelled "Achtung!" had to fold their hands on top of their blanket. Anyone who did not manage to get their hands out in time was struck by the doctor's stick. He injected all those lying ill for more than a week with evipan, which, according to him, was supposed to cure them quickly. It was an anesthetic from which the patient, of course, died.
THE UNKNOWN BLACK BOOK
By Joshua Rubenstein and Ilya Altman
Dachau turned into a nightmare. Bodies of Muselmanner who had died en route were dumped at the train station. Those who made it into the compound lay sprawled across the roll call square or inside specially cleared barracks. They were emaciated, often frostbitten hands or feet, and covered in lice, edema, and pus-filled wounds; passing SS guards were surprised when these half-dead men still showed signs of life, crying, whimpering, and begging for mercy, or when they screamed in pain as others ripped off clothing that stuck to their scabs. Many suffered from acute dysentery and an infernal stench soon filled Dachau. The prisoner Alfred Hubsch vividly recalled the arrival of one of the "horror transports" from Sachsenhausen in early September 1940: "We saw dozens [of new prisoners] with excrement running out of their trousers. Their hands, too, were full of excrement and they screamed and rubbed their dirty hands across their faces .these soiled and sunken faces, with their protruding cheekbones, had something terrifying about them." Too weak to walk and eat, many had come to Dachau only to die.
KL – A HISTORY OF THE NAZI CONCENTRATION CAMPS
By Nicolaus Wachsmann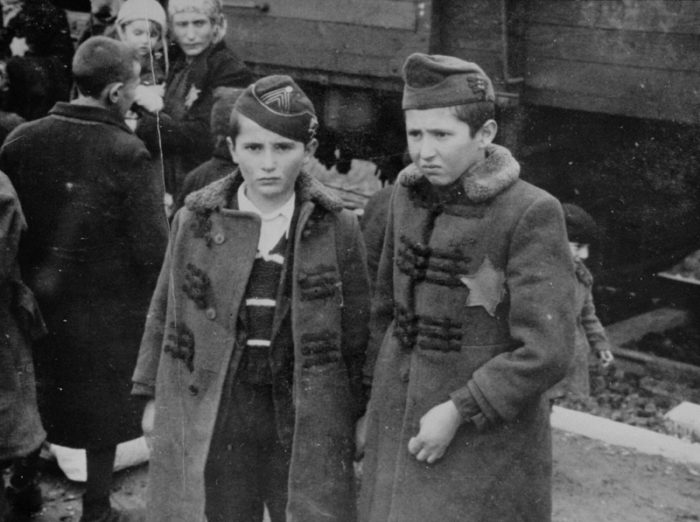 Jewish brothers from Subcarpathian Rus await selection on the ramp at Auschwitz-Birkenau.
My wife went to hide in one place, and I in another [at Simferopol, Crimea]. I went to the place of a friend of my parents' named Mateyka. Vasilisa Mitrofanovna Mateyka would help me a great deal. I spent six days and nights with them; they fed me, concealed me, and kept me informed of everything that was happening in the city. Jews were being shot on December 11, 12, and 13. Bodies were hanging in the streets bearing signs: "For not obeying the decree." These were the people who had not come to the assembly points in time. I realized that I had no right to put my friends in danger any longer, and left town. Several days before that, my wife had received papers confirming that she had been baptized. They hauled her to the Gestapo anyway, and when she was taken out to be shot, she went out of her mind.
THE UNKNOWN BLACK BOOK
By Joshua Rubenstein and Ilya Altman
"There was a well-organized school in the ghetto in Tarnow, where children went on learning just as if they were in their regular school. One day, the Germans loaded the entire school into trucks, teachers and pupils. Prepared for that eventuality, the teachers distributed poisoned chocolates to the kids, allowing them to believe they were going on a picnic. The truck stopped in the woods near a convent in a forest a few miles away, where Shmuel [Braw] believes that the Nazis intended to shoot everyone. The soldiers opened the doors to find everyone dead already. My daughter was in that transport."
OUR CRIME WAS BEING JEWISH
By Anthony S. Pitch
On her journey by train to her new position, two uniformed Germans entered [Red Cross nurse, Annette] Schucking's compartment at the station in Brest Litovsk… In the compartments candid conversations often took place among German strangers in transit. The uniformed men started to speak with Schucking and her female colleague, another nurse. "All of a sudden, one of them told us how he had been ordered to shoot a Jewish woman, in Brest," Schucking later recalled. The soldier said that the Jewish woman had begged for mercy, pleading that she had to take care of her disabled sister. He summoned the sister, and then he shot them both.
HITLER'S FURIES
By Wendy Lower
The shock of arrival in Auschwitz was overwhelming…The doors flung open, and SS men and some inmates in striped uniforms hurried the Jews off the trains… In great haste, the…Jews…spilled onto the platform, clutching each other and their belongings; left behind were the bodies of old people and children who had been crushed to death during the journey…Amid the turmoil and terror, the bewildered Jews were forced to move away from the train and leave behind their bags, bundles, and suitcases, which were then piled up by inmates from the so-called Canada Commando. The loss of their possessions paralyzed the new arrivals, but they had no time to think before the SS told them to line up in two groups, men on one side, and women and most children on the other. The order left many prisoners numb. They had arrived in large families, but the guards quickly drove them apart, as siblings and spouses, sons and daughters, frantically tried to embrace one more time. "Dreadful crying could be heard."
KL – A HISTORY OF THE NAZI CONCENTRATION CAMPS
By Nicolaus Wachsmann
A policeman named Kundelev…with perfect calm: "One day, I managed to catch two women, one young and one old. The young one had two children, one not yet weaned and the other ten years old or so. I ordered them to sit in the sled. They took their seats, and I drove the horse straight to the ravine. The ten-year-old boy was begging: 'Mister, don't shoot me. I'll polish your boots, look after your horse, weave baskets. I can weave good baskets, mister, don't kill me.' I didn't say anything. The old woman was crying, and the young one kept her mouth shut. I stopped the horse and ordered them to get out and walk. The young one got up and said:  'Just shoot us right away. You've already learned to shoot straight.' They all walked off and I killed them."
THE UNKNOWN BLACK BOOK
By Joshua Rubenstein and Ilya Altman
On September 16, 1942, Johanna Altvater entered the [Volodymyr-Volynskyi] ghetto and approached two Jewish children, a six-year-old and a toddler who lived near the ghetto wall. She beckoned to them, gesturing as if she were going to give them a treat. The toddler came over to her. She lifted the child into her arms and held it so tightly that the child screamed and wriggled. Altvater grabbed the child by the legs, held it upside down, and slammed its head against the ghetto wall as if she were banging the dust out of a small carpet. She threw the lifeless child at the feet of its father, who later testified, "Such sadism from a woman I have never seen, I will never forget this… Altvater's specialty – or, as one survivor put it, her "nasty habit" – was killing children. One observer noted that Altvater often lured children with candy. When they came to her and opened their mouths, she shot them in the mouth with the small silver pistol that she kept at her side.
HITLER'S FURIES
By Wendy Lower
"I saw the first homicide in Auschwitz within twenty-four hours of arrival. One fellow tried to throw himself in front of a German truck, but it hit him and [only] broke his arm. He was taken to the infirmary where doctors, mostly inmates, set his arm, put a big cast on it, and a sling. Then the SS made him carry huge boulders from one end of the yard to the other, with his broken arm. In the evening. Some other SS guards put him on trial and sentenced him to many lashes. He was beaten to a pulp. Whenever he fainted, he was revived with cold water. Then he was put in a barrel of cold water. They placed a board in front of his neck and one behind to keep him upright, so he wouldn't slip under the water. He was then shoved under a dripping downspout or something. It also rained on him. Of course, in the morning he was dead. That was the first death in the new camp."
OUR CRIME WAS BEING JEWISH
By Anthony S. Pitch
These monsters [at Smolensk District, Russia], stood with weapons at the ready facing defenseless women and children. Another group of police went to drive out the doomed people. They did not give them the chance to get dressed. They herded them up to the ravine barefoot and naked. Mothers were carrying their infants, clutching them to their breasts and sobbing loudly. Footprints of children of various ages were left in the snow. They were driven along, shoved, then finally shots rang out. Women hugged their children and fell. Children were crying over their dying mothers and falling as well. Here is a mother who has lost her son; she has quite forgotten that they are about to shoot her. She looks around for him, finds him, embraces and kisses him, and at that moment a policeman comes galloping up, thrusts a bayonet into the child and lifts him into the air. The mother flings herself at the bayonet and shares the fate of her son.
THE UNKNOWN BLACK BOOK
By Joshua Rubenstein and Ilya Altman
Among the children languishing here was a five-year-old girl who had been deported to Estonia in summer 1943 with her mother from the Wilna ghetto. Her mother was held in the upper part of Ereda, less than a mile away, and although it was forbidden, she tried to sneak past the SS guards every day to visit her daughter. When her girl became gravely ill, she smuggled her out of the children's compound and hid her in a barrack for adults. But the girl was discovered by the SS camp leader just before a death transport left the camp.  "I cried for a whole night," the mother later wrote, "fell to his feet and kissed the boots of the murderer, he should not take my child from me, but it was no use." The next morning the girl was taken away with several hundred other children, and she was murdered a few days later in Auschwitz-Birkenau.
KL – A HISTORY OF THE NAZI CONCENTRATION CAMPS
By Nicolaus Wachsmann
During the liquidation of the ghetto, the German commander of the nearby POW camp saw Fraulein Hanna, in her riding pants, prodding Jewish men, women, and children into a truck. She circulated through the ghetto cracking her whip, trying to bring order to the chaos "like a cattle herder," as this German observer put it. Altvater entered the building that served as a makeshift hospital. She burst into the children's ward and walked from bed to bed, eyeing each child. She stopped, picked one up, took it to the balcony, and threw the child to the pavement below. She pushed the older children to the balcony of the ward – which was on the third floor – and shoved them over the rail. Not all of the children died on impact, but those who survived were seriously injured.
HITLER'S FURIES
By Wendy Lower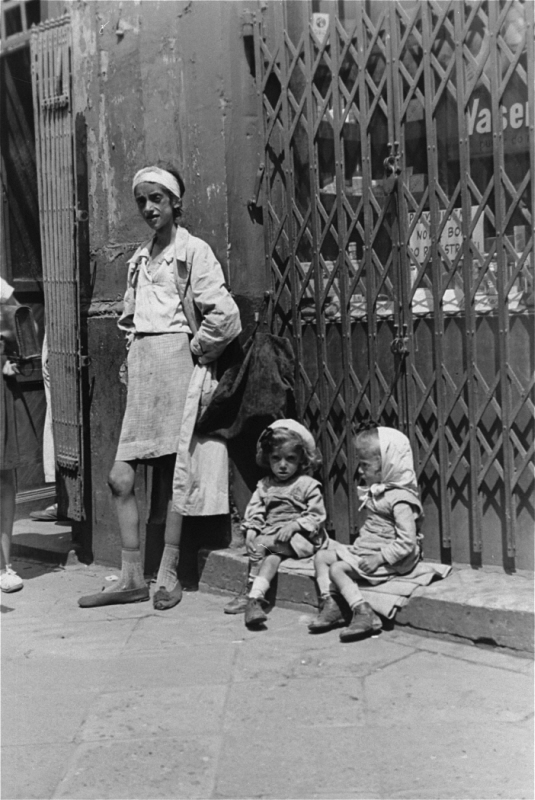 An emaciated woman stands in the Warsaw ghetto with two little girls whose pinched faces indicate starvation. 
Even people on the trains who hadn't known their final destination was a death camp realized the facts soon after they got there. Flames from the four chimneys were stabbing for the sky in the night, like giant candles burning brighter and uglier than the flames of hell. The crematorium fires gave off considerable, though wavering, orange and yellow light. The illumination wrapped the whole ramp in a radiance which flickered and danced across the terrified faces in the night. The ramp also was lit feebly by naked bulbs strung up on poles, adding a cool and eerie feeling to the hot, dancing chimney fires.  The smoke was so thick it made everyone's eyes feel they were burning into their skull; sometimes it made the light from the flames shimmer. In addition, the stench of burning flesh and bones was so nauseating that those of us who worked on the ramp had to wrap towels around our faces in order to breathe. We just left the towel loose, leaving our eyes exposed. The fastidious Germans clamped white handkerchiefs over their faces. Occasionally, when the fire diminished a little and the smoke started to rise, ashes would fall upon us. These were soft, black, wavy flakes of what had been breathing, living human beings only minutes before. Such sights and sounds, happening as they did while the camp was wrapped in the black shroud of night, terrified everyone there to their marrow.
DEFY THE DARKNESS
By Joe Rosenblum with David Kohn
The overwhelming majority of those who were murdered in Auschwitz never even entered the camp, for they were escorted to the gas chambers immediately after leaving the trains.
PEOPLE IN AUSCHWITZ
By Hermann Langbein
The specialty of Dr. Mengele was the torture of twins… To change the twins' eye color, apparently Mengele and his staff injected liquid into their eyes, causing swelling and burns. The SS also infected them with illnesses to test their reactions. In addition, Mengele carried out grotesque surgical experiments, often without anesthetic, to compare the children's susceptibility to pain. Once, two boys, no more than three or four years old, were stitched together like Siamese twins; they screamed night and day before they died. Death offered Mengele yet another opportunity for his search, and he often set lethal injections himself.
KL – A HISTORY OF THE NAZI CONCENTRATION CAMPS
By Nicolaus Wachsmann
One day a transport consisting of 1,500 children between six and fifteen years old arrived in Theresienstadt. The Germans closed off the streets and prohibited the Jews from making any contact with the newcomers. From the station came a heartbreaking procession of children in dirty rags, marching to the brewery for delousing. Here and there a little boy would support a tired little girl. Some looked like adults, others like trapped animals, and still others seemed apathetic or indifferent. All whispered and none smiled. Evidently they had lived through horrors. At the delousing station they had to be dragged into the rooms. One orderly learned from the children their story. They had come from Bialystock where the SS had gassed their parents and many children.
HITLER'S DEATH CAMPS
By Konnilyn G. Feig
Every day in Buchenwald [after Kristalnacht in 1938], the Jews suffered from dirt and disease, thirst and hunger. Food was only handed out at irregular intervals, as the SS struggled to maintain any semblance of order, while the persistent water shortages caused terrible dehydration. The men could not wash either, or change their damp and soiled civilian clothes; "one was covered up to one's knees with a thick crust of clay," reported Dr. Adler. Inside the barracks, the stench soon became unbearable, especially after a mass outbreak of diarrhea. There were no sanitary facilities to speak of, just two overflowing ditches, where murderous SS men tried to drown several Jewish men. Inevitably, many Buchenwald prisoners suffered from infections and injuries, including frozen limbs, as well as mental illness, but the SS initially refused them any medical care. Instead, the sick were dumped in a rickety shed – "a hovel stinking of excrement, urine, and pus," as prisoner orderly remembered; it was nicknamed the "barrack of death."
KL – A HISTORY OF THE NAZI CONCENTRATION CAMPS
By Nicolaus Wachsmann
"Like the adults, the children were all skin and bones, without muscles and body fat; their thin, parchment-like skin was chafed everywhere from being stretched over the hard bones of the skeleton and produced inflammation and ulcerous wounds. Scabies covered the malnourished bodies from top to bottom and drained them of the last bit of energy. Their mouths were corroded by noma ulcers that gnawed at the skin, hollowed the jaws, and riddled the cheeks like a cancer. In many children hunger filled the disintegrating organism with water, and they became swollen shapeless lumps that could not move. Weeks of diarrhea dissolved their unresisting bodies until the constant drainage of substance left nothing."
PEOPLE IN AUSCHWITZ
By Hermann Langbein
For several weeks in autumn 1942, the SS forced Special Squad prisoners to unearth all the corpses buried in Birkenau, working day and night with their bare hands. By the end, prisoners had pulled out more than one hundred thousand bodies (by the estimate of Rudolf Hoss). One of the Special Squad prisoners, Erko Hejblum, later described the task: "We waded in a mix of mud and decaying bodies…Several prisoners who refused to carry on were shot point-blank. The others had to continue to stack the decomposing bodies for burning, first in huge pyres, later in long rectangular ditches.
KL – A HISTORY OF THE NAZI CONCENTRATION CAMPS
By Nicolaus Wachsmann
"The Hungarian Jews were driven into the gas chambers at night and it sounded like a jungle. It was a horrible noise. I can still hear it today. They were screaming like lions. But it didn't help them. They had to go in. that was the night they gassed and burned fourteen thousand people. We went on top of a building and could see the chimneys with fire coming out. It looked like a building was on fire. And it stank too. Flesh smelled like burnt steak. Ash settled on our shaven heads. We came back at night with ash on our heads and we couldn't take showers because we were allowed only one a week. So most of the ash stayed, even though we tried to get it off."
OUR CRIME WAS BEING JEWISH
By Anthony S. Pitch
Deprived of any worth or dignity as human beings, Jews became the slaves and playthings of their German overseers. Killing Jews became a source of amusement in Lida, like killing rabbits. As one Jewish survivor recalled: "On one Sunday all the Jews of Lida were called out to go into the nearby forest to clear out the rabbits hiding in the bushes, and chase them in the direction of the hunters. A group of several hundred men were recruited for this job, and a long line of Jews marched down the road to the forest in the deep snow, shaking from cold and fear of what they would encounter. Suddenly a group of winter carriages appeared, including the local commissar Hanweg and his staff, senior officials, and women wearing beautiful fur coats. They were all drunk, lying around their seats in the carriage hugging and shouting, their peals of laughter echoing in the distance. The carriages galloped between the rows of marchers, and the shouting grew louder. The wild Germans mocked the Jews, laughed at them, and struck those nearby with whips. One of the drunken officers aimed his hunting rifle and started shooting at the Jews to the raucous pleasure of his staff. The bullets struck some marchers who collapsed in pools of blood.
HITLER'S FURIES
By Wendy Lower
"Two of my brothers were married in the Latvian ghetto and their wives gave birth almost a week apart. When the Germans came, the first thing they did was go to the hospital. The fathers were imprisoned, but they had to throw the babies out the window into a pile of bodies. Then they threw out the women who had given birth. Some were still alive. They gave us shovels, and we had to dump the bodies in an excavated grave. One of my brothers recognized his wife and baby on that pile, and he had to help bury them."
OUR CRIME WAS BEING JEWISH
By Anthony S. Pitch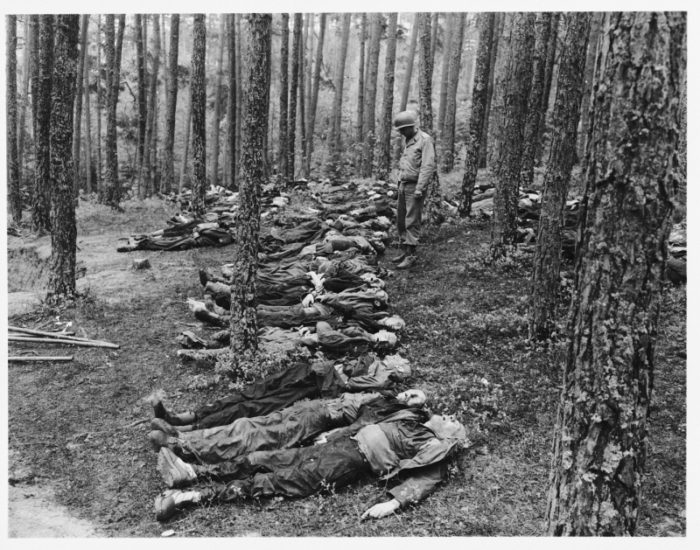 An American soldier looks at the corpses of Polish, Russian, and Hungarian Jews found in the woods near Neunburg vorm Wald.
"In the afternoon of August 5, they took us in trucks to the outside of a movie theater, where I saw a woman cradling a tiny baby. One of the commandos grabbed the baby by a leg and smashed his head against a wall. There were dogs, and the Germans and Ukrainian police were using the butts of their guns to hit us and chase us into a corner. There were no toilet facilities and we had to do it on the floor. A young girl went berserk, screamed, and they shot her through the head. I volunteered to take her body outside, thinking I might be able to escape. But she was still alive, with blood oozing out of her head and spilling over me. Then they shot her again and she died."
OUR CRIME WAS BEING JEWISH
By Anthony S. Pitch
Under the code name Action "Harvest Festival," some eighteen thousand Jews were murdered here [Majdanek] on November 3, 1943. That morning, the eight thousand Jewish prisoners in the camp had been isolated; those who tried to hide were pulled out by SS men and guard dogs. Driven on by the Camp SS, the prisoners were marched along the main camp street, joined by some ten thousand prisoners from nearby Lublin labor camps. They stopped behind the building site of the new crematorium, at the far corner of the camp. Here, the men, women, and children were forced to undress and lie in large ditches; then they were shot in the back of the head or mown down by machine guns; any wounded survivors were buried alive under the bodies of those shot after them.
KL – A HISTORY OF THE NAZI CONCENTRATION CAMPS
By Nicolaus Wachsmann
"A Hungarian woman with a little girl came into my block. I don't know how. It was forbidden. I kept her in the block for several weeks. One day SS men came and took the child. Subsequently, we learned from men who worked in the Sonderkommando that the little girl had been thrown in the fire. That night, the mother went to the electrified fence."
OUR CRIME WAS BEING JEWISH
By Anthony S. Pitch